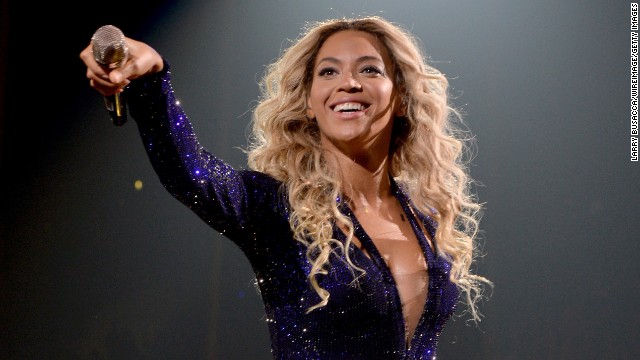 Beyonce performs on stage during "The Mrs. Carter Show World Tour" at Staples Center on December 3, in Los Angeles. She surprised fans by dropping her fifth LP, entitled "Beyonce," exclusively on iTunes with no advance notice. Here is a look back at her life and career:
In 1998, Beyoncé was known simply as another member of Destiny's Child, a four-member girl group who released a self-titled debut that year and had a breakthrough with the remix of their single "No, No, No, No."
Seen here with the final version of the group that put her on the map, Destiny's Child, Beyoncé performs with Kelly Rowland and Michelle Williams for President-elect George W. Bush during a pre-inaugural event in Washington on January 19, 2001.
When Beyoncé took the stage in Melbourne on April 29, 2002, she was just a year away from releasing her first solo album, "Dangerously In Love."
Back in November 2002, before they tied the knot, Jay-Z and Beyoncé fueled rumors that they were dating by becoming musical collaborators. Bey appeared on Jay-Z's 2002 single, "03 Bonnie & Clyde," and he appeared on her single "Crazy In Love" the following summer.
A decade before she wowed viewers at the 2013 Super Bowl Halftime Show, Bey jammed with Carlos Santana during the Super Bowl XXXVII Pregame Show in San Diego on January 26, 2003.
Having stepped out on her own, Beyoncé presents the humanitarian award to Michael Jackson at the 2003 Radio Music Awards in Las Vegas on October 27, 2003.
The singer is affectionately referred to as Queen Bey, not in the least because of her heralded work ethic, which is often put to good use on stage. Here, she performs during the 2003 MTV Video Music Awards in New York on August 28, 2003.
Beyoncé was right back at the Super Bowl in 2004, as she performed the the national anthem to kick off Super Bowl XXXVIII on February 1 of that year.
At the 46th Grammy Awards Show in February 2004, she joined Prince on stage to perform a medley of his hits. The singer left the ceremony with five Grammys in hand.
Although her solo career had taken off by 2005, Beyoncé still performed with Destiny's Child that year in Sydney, Australia on the heels of their 2004 album, "Destiny Fulfilled."
After releasing another best-seller with 2006's "B'Day" and starring in "Dreamgirls" that same year, Beyoncé was readying to release a third solo album, "I Am ... Sasha Fierce" when she took the stage at the 50th Grammy Awards Show on February 10, 2008. Somehow, she snuck in a secret marriage to Jay-Z that April.
In this publicity image Beyonce Knowles is shown during the filming of her music video "Single Ladies (Put A Ring on It)."
Just months after giving birth, Beyoncé was red carpet ready at the Costume Institute Gala at the Metropolitan Museum of Art in New York on May 7, 2012.
In 2011, Beyoncé stole the show at the MTV Video Music Awards when she walked the red carpet and, with the careful placement of her hands, revealed that she was expecting. The star and husband Jay welcomed Blue Ivy in January 2012.
In this undated image released by Beyonce.com, Beyonce Knowles holds her daughter Blue Ivy in a recent family photo. A hand-written note accompanying the photos reads, "We welcome you to share our joy."
In April 2012, Bey stepped out for a stroll in New York with her daughter, 4 months old at the time.
Earlier this year, Beyoncé found herself at the center a firestorm after it was revealed she used a "backup track" to sing the national anthem at the inauguration of President Barack Obama on January 21.
After the inauguration dust-up, Beyoncé had something to prove when she held a news conference for her Pepsi Super Bowl XLVII Halftime Show on January 31. After belting out "The Star-Spangled Banner," the singer paused and turned to the press and asked: "Any questions?"
Kelly Rowland, Beyonce Knowles and Michelle Williams reunited as Destiny's Child to perform during the Super Bowl XLVII Halftime Show on February 3, in New Orleans.
In March, the singer reveled in her "Queen Bey" image with the song "Bow Down."
In early April, the singer and her husband were once again the subject of critical headlines when they took a trip to Cuba to celebrate their fifth anniversary.
In early May, Beyoncé was the subject of pregnancy rumors as observers noted that her dress to the Metropolitan Museum of Art's Costume Institute Gala conveniently covered her midsection. The speculation grew stronger after she had to cancel a concert due to exhaustion and dehydration. She denied that she was pregnant.
Beyonce through the years
Beyonce through the years
Beyonce through the years
Beyonce through the years
Beyonce through the years
Beyonce through the years
Beyonce through the years
Beyonce through the years
Beyonce through the years
Beyonce through the years
Beyonce through the years
Beyonce through the years
Beyonce through the years
Beyonce through the years
Beyonce through the years
Beyonce through the years
Beyonce through the years
Beyonce through the years
Beyonce through the years
Beyonce through the years
Beyonce through the years
Beyonce through the years
Beyonce through the years
Beyonce through the years