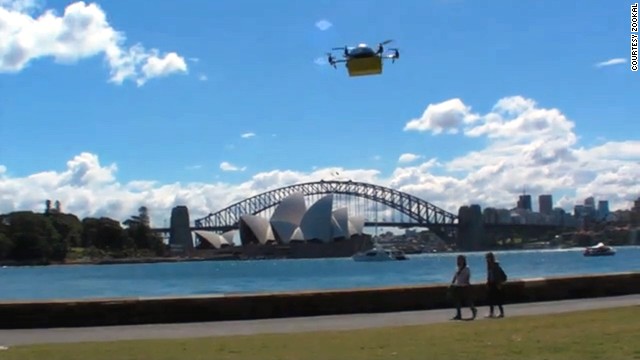 Express delivery:
Australian textbook rental service
Zookal
make good on UAV's (unmanned aerial vehicles) promise to provide lightning-speed personal deliveries. French postal service La Poste claimed to be launching a newspaper delivery drone service in April --
only to reveal it as a hoax
. But Zookal looks to be the real deal, offering Sydney students the chance to have their textbooks dropped at any location.
Airborne aid:
U.S. start-up
Matternet
aims to create a network of drones capable of
transporting potentially lifesaving goods to rural and under-developed areas
. The Bill & Melinda Gates Foundation is backing rural drone transport too -- funding a project that aims to
transport vaccines to hard-to-reach and disaster-struck locations
.
Fast food:
so what if Domino's were only joking when they announced their
Domicopter delivery service
. London's
Yo Sushi restaurant
, California's
Burrito Bomber
, and
an ingenious Shanghai baker
are already capable of putting UAVs to good use, bringing fresh food to hungry mouths.
Drone ranger:
efforts to protect four of the world's last remaining northern white rhinos have been boosted by a $70,000 drone. The Ol Pejeta Conservacy in Kenya is planning to use the UAV to
monitor the location of its wildlife and deter poachers from harming the animals
-- and other conservationists are
following suit
.
Shooting the stars:
one group sure to be seeing more drones in the near future are Hollywood's stars. Whether acting in front of
drone-mounted cameras
or being
chased by UAV paparazzi
, wherever celebrities go, the drones will be watching.
Search and rescue:
need a tireless search party? Why not drones, which could be pre-programmed to scan an area, leaving no stone unturned. Los Angeles County Sheriff's Department began experimenting with the SkySeer Search and Rescue drone
as early as 2006
, and British mountain rescue teams are testing a
crowd-sourcing approach to spotting stranded climbers
.
Lay of the land:
time-draining agricultural tasks such as spraying pesticides could soon be left to UAVs, while surveillance drones are capable of
provide crucial information to help boost harvests
. This French drone is scanning crops to help farmers optimize water levels and fertilizer use. Or you could always use a heat-sensing drone to route out pests,
as one Louisiana hog-hunter has done
.
Capturing the action:
whether you're searching for
the big scoop
, capturing
live sports
, or taking part in the action, drones promise to bring a new angle to the day's events. UAV enthusiasts
brought a unique perspective to this summer's Burning Man festival
with their camera-equipped creations.
Saving the world?
As engineers at the Fukushima nuclear plant
embark on another terrifyingly hazardous mission
to correct damage sustained during the 2011 tsunami, the benefits of disaster response robots are clear. UAV disaster teams, capable of flying into hazardous zones and saving lives, could turn around perceptions of "killer" drones. Oklahoma-based
Fireflight are leading the way
with their wildfire battling bots.
Protect and serve:
after the military, police forces were among the first to declare an interest in drones. In May, Colombian police revealed this surveillance quad-coptor -- designed to protect Latin American heads of state at the VII Pacific Allianz Summit -- and UAVs have been
used in counter-narcotics operations in the country since 2006
.
10 friendly neighborhood drones
10 friendly neighborhood drones
10 friendly neighborhood drones
10 friendly neighborhood drones
10 friendly neighborhood drones
10 friendly neighborhood drones
10 friendly neighborhood drones
10 friendly neighborhood drones
10 friendly neighborhood drones
10 friendly neighborhood drones
STORY HIGHLIGHTS
The Federal Aviation Administration announces sites for testing
Drones are used overseas in counterterror operations
But they are also becoming more popular in domestic security, law enforcement
FAA looks to develop standards for their use in domestic airspace
(CNN) -- Not there yet, but the future of drone flight in the United States took another important step on Monday.
The Federal Aviation Administration (FAA) selected six research sites to help it test and map out the best way to safely bring unmanned aircraft into the heavily used U.S. airspace.
FAA Administrator Michael Heurta said the facilities, strategically located, will work with the agency to develop standardized procedures and regulations -- elements that govern all areas of aviation.
"With these sites, what we have is the platform to conduct broad based research considering a wide variety of different factors, and we'll see where the research takes us as we introduce these into the national airspace system," Huerta told reporters.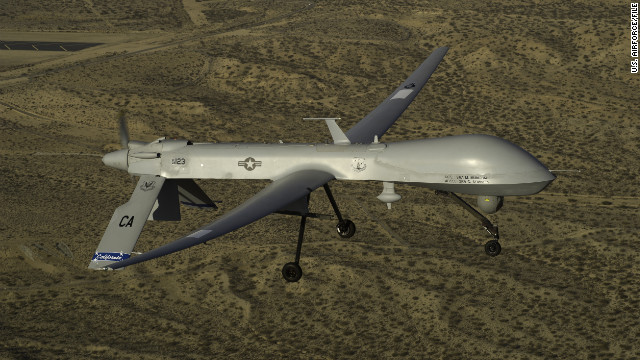 A U.S. Air Force MQ-1 Predator UAV assigned to the California Air National Guard's 163rd Reconnaissance Wing flies near the Southern California Logistics Airport in Victorville, California, on January 7, 2012.
A model of of the European "Neuron" UAV at the Paris Air Show in Le Bourget, France in 2005. The UAV is an European Research project led by Dassault Aviation.
An MQ-9 Reaper unmanned aircraft vehicle (UAV) sits in a shelter at Joint Base Balad, Iraq, after a mission on November 10, 2008. According to the U.S. Department of Defense, the Reaper can carry up to 3,750 pounds of laser-guided bombs and missiles.
A British MQ-9 Reaper sits on a runway on March 17. Both British and American Reapers are deployed to Afghanistan.
U.S. Marines perform operational checks on a Marine Squadron Two (VMU-2) UAV before a launch at Speed Bag Airfield, near Niland, California, on October 25, 2011.
An Iranian-made drone is displayed during the Army Day celebrations in Tehran on April 18, 2010.
A model of a surveillance drone built by Dassault Aviation and BAE Systems is displayed at the International Paris Air show in 2011.
An Israeli Hermes 500 UAV flies over the Hatzerim air force base near Beersheva, Israel, during an air show at the graduation ceremony of Israeli pilots on June 30, 2011.
Chinese visitors examine an unmanned helicopter drone at the China Aviation Expo in Beijing on September 21, 2011.
Israeli soldiers prepare to launch a Skylark drone during a drill on January 16, 2012 near Bat Shlomo, Israel. The Skylark can carry a camera payload of up to 1 kilogram, has an operational ceiling of 15,000 feet, and allows users to monitor any designated point within a 15-kilometer radius. The Skylark unit consists of a ground control element and three drones, which provide battalion-level commanders with real-time information.
An Israel Aerospace Industries UAV on display at the Singapore Airshow on February 15.
A model of China's "Dark Sword" UAV. According to Jane's Defense & Security Intelligence & Analysis, the drone remains only a model, but offers an example of where China may go with its drone technology.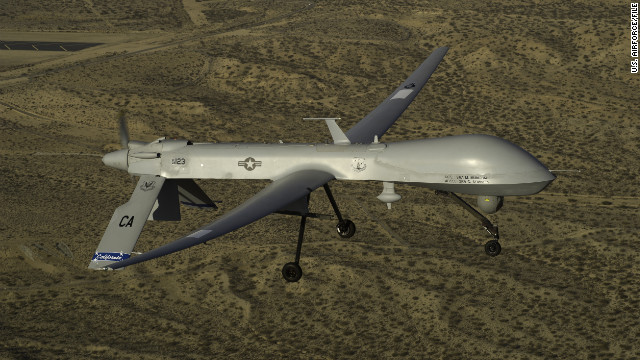 Photos: Military drones
The six sites are: the University of Alaska, the state of Nevada, Griffiss International Airport in Rome, New York, the North Dakota Department of Commerce, Texas A&M University -- Corpus Christi, and Virginia Tech. Virginia Tech's research will also include a collaboration with Rutgers University in New Jersey.
The FAA said it considered a number of factors in selecting the sites, including differences in climate and geography, available infrastructure, aviation experience, aviation traffic volume, and specific research proposals.
It is currently working with the selected applicants to determine the airspace for conducting research, including test flights.
Research will cover safety and logistical concerns, including that drones can detect and avoid other aircraft, and that they operate safely if they lose their link to their pilot, who is at the controls in another location.
The research will also concentrate on environmental impact of drone use, and developing pilot training and standardized regulatory requirements.
Current law requires a case-by-case certificate of authorization in order to fly an unmanned aircraft in U.S. airspace.
The facilities are part of a comprehensive roadmap that the FAA has developed at the behest of Congress to develop a plan to safely integrate privately operated unmanned aircraft by 2015.
Huerta said the FAA will work to get all six facilities up and running as soon as possible, but Congress requires at least one facility be operational within six months. The sites will operate until February 2017.
Unmanned aircraft systems are currently used for a variety of reasons, including border surveillance, scientific and environmental research, and to support law enforcement.
Overseas, drones have become a key counterterror tool.
But rapidly changing technology has opened the door to privately operated drone use for recreational and commercial purposes domestically.
Not without a warrant: Illinois bans the use of drones for law enforcement
Amazon recently announced 30-minute package delivery system using drone-like "octocopters." The FAA has not yet signed off on Amazon's plans, which CEO Jeff Bezos says he hopes to have in place by 2015.
There also have been concerns raised in Congress and elsewhere over privacy issues involving expanded domestic drone use.
Huerta said he envisions a staged process as drone technology and usage evolves, and as "we learn a lot more about what these aircraft are, how they interact with other aircraft, and what are the things that we have to consider as we integrate them into differing airspace and climatic considerations."
"The important thing about today's announcement is it provides the platform for this research to really be carried out a very large scale across the entire country," Huerta said.