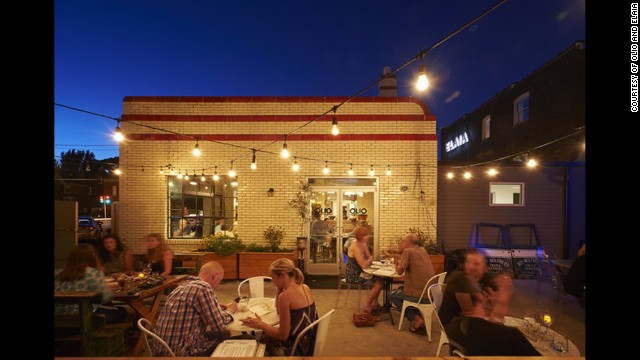 Chef Ben Poremba renovated a Standard Oil gas station built in the 1930s into a wine bar and restaurant in St. Louis, Missouri. Olio opened in November 2012.
The vacant gas station was located in a neighborhood of St. Louis that had fallen on hard times. After Poremba opened Olio and neighboring restaurant Elaia, customers began moving into homes nearby. "The restaurant didn't alone change the neighborhood -- the people that came to visit the restaurant changed the neighborhood,' he said.
Located in the Virginia Highland neighborhood of Atlanta, Diesel Filling Station is a restaurant and bar that was repurposed from an old Pure Oil filling station. The restaurant preserved the original structure and blue roof.
Diesel owner Justin Haynie believes this photo of the original Pure Oil filling station was taken in the 1950s. The gas station housed several different restaurants over the years, he said.
In addition to its location, Haynie says, the restaurant's appearance is a draw for some customers. "Having a building with so much history and age to it is so unique," he said.
The Red Truck Bakery in Warrenton, Virginia, was adapted into a bakery from a vacant 1921 Esso filling station. Red Truck Bakery opened in 2009.
The building appealed to Red Truck Bakery owner Brian Noyes because it was centrally located in the heart of Warrenton. Even in the 1920s, the gas station was a place for locals to meet and socialize, he said.
Noyes gutted the interior, painted the walls and added lighting fixtures. He chose to preserve the gas station's restroom and overhead sliding garage doors.
Gas stations become restaurants
Gas stations become restaurants
Gas stations become restaurants
Gas stations become restaurants
Gas stations become restaurants
Gas stations become restaurants
Gas stations become restaurants
Gas stations become restaurants
STORY HIGHLIGHTS
Many gas stations are being repurposed into restaurants
Gas stations-turned-restaurants are often near residential neighborhoods
They often offer great locations and unusual structures and history
(CNN) -- The dilapidated 1930s Standard Oil gas station was in the perfect spot -- a corner not far from the Missouri Botanical Garden, a medical school and a beautiful park.
That was enough to catch Ben Poremba's eye. In November 2012, he decided to turn the vacant St. Louis gas station into a wine bar and eatery, Olio.
"It was a part of town that was just run down, and it was sandwiched between two highways," said Poremba, the chef-owner of Olio. "It was a bad neighborhood, but we were right there on the corner."
Poremba isn't alone. Around the United States, old gas stations have inspired restaurateurs to launch businesses and invest in communities.
But why serve food where they used to service cars? It turns out that those old filling stations are sitting on prime real estate for restaurants and bars.
"Gas stations are almost always on corner sites, they have good visibility and great accessibility, so they make great locations for restaurants," said Ellen Dunham-Jones, a professor of architecture and urban design at the Georgia Institute of Technology and co-author of "Retrofitting Suburbia: Urban Design Solutions for Redesigning Suburbs."
Although the population and the number of cars have increased, there's been an 8.2% decline in the number of gas stations throughout the country from 2002 to 2012, according to National Petroleum News' MarketFacts 2012.
Dunham-Jones, who studies adaptive reuse of many types of buildings, said gas stations repurposed into eateries tend to be near residential neighborhoods -- and many of those households do not have kids at home, she said. That makes aging gas stations, strip malls and office parks prime sites for the eateries and coffee shops where they now spend their time.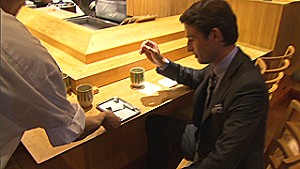 New York restaurant: No tipping allowed!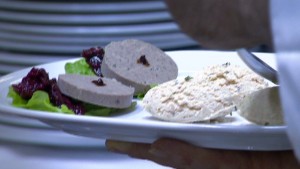 Reviving 'lost' Ottoman cuisine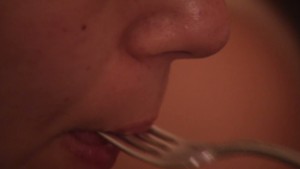 Eat, don't speak at this restaurant
"More people are eating out. And, instead of the school as the anchor of social life, those childless households are eager for more alternatives and options of places where they can be social," Dunham-Jones said.
Justin Haynie, the owner of Diesel Filling Station in Atlanta, said his restaurant is a place that residents can easily walk for a meal or just to hang out. The Diesel Filling Station is in Virginia Highland, a neighborhood popular for dining and drinking.
"Ninety percent of our clientele comes from walking distance," he said. "The lifeblood of my business is locals and people from nearby neighborhoods."
The casual bar and restaurant offers specialty burgers and brews, but it was formerly a Pure Oil filling station. Haynie fell in love with the location -- it's one of the only free-standing buildings remaining in the increasingly upscale neighborhood -- and bought it in 2008. Although many people don't think of gas stations as historic landmarks, Haynie said the architecture makes his restaurant unique.
The building still sports a steeply pitched blue roof and a restored gas pump outside. Haynie said he believes the building will withstand the test of time because the original Pure Oil structure has been preserved throughout the years.
"There is something to be said about keeping our history intact -- locations such as Diesel are being torn down on a daily basis," he said. "You can't 'build' history, nor can you recreate it.
"I think people see the space and are intrigued by it. It's got that old charm to it and people really want to experience it and see what it's all about."
A few years ago, Brian Noyes went looking for an old, rural destination in Virginia, away from a busy city with strip malls -- perhaps an old country store, where he could create a fun atmosphere and special food.
But when his prospective investors bailed as the Great Recession hit, Noyes had to find a place quickly and renovate it by himself. He decided to look for spot closer to customer support. That's when Noyes considered the 1921 Esso filling station in Warrenton, Virginia.
"The old Esso service station was about to be vacated ... I liked that it was next door to the courthouse, across the street from the library and adjacent to the county offices," Noyes said.
The Red Truck Bakery opened in 2009. Noyes wanted to preserve the feel of the Esso filling station by keeping the sliding overhead garage doors and gas station restroom. But repurposing a building that used to sell gasoline to a place that now sells pies has its challenges.
Years before Noyes bought the space, there was a serious leak in the underground fuel storage tanks. He wanted to be absolutely sure there wouldn't be more problems with the old equipment. He gutted the interior and made it homey with buttery-yellow paint, a tile floor and many large aluminum lighting fixtures.
Don't miss out on the conversation we're having at CNN Living.
Follow us on Twitter
and
Facebook
for the latest stories and tell us what's influencing your life.
"I've always had an interest and appreciation for old buildings, and I sure hate to see them torn down," said Noyes, who worked for years as the art director of Preservation magazine. "This one was loaded with warmth, charm and character -- it sounds funny saying that about a gas station -- and I can't imagine not taking advantage of that."
Poremba, the chef-owner of Olio in St. Louis, tried to preserve elements of the old Standard Oil filling station, as well, but it's sometimes difficult to describe dining in a former gas station.
"Of course, it's not a natural setting for a restaurant," he said. "It's interesting that once you give people a complete version of what the space looks like, they get it. When you try to describe it to them, they think you're crazy."
Poremba said people still think he's crazy for opening a high-end wine bar in a once run-down neighborhood, but since opening last year, many of Olio's patrons have bought houses near the restaurant and helped grow the community.
"Just the notion that you can open a restaurant and invest in this neighborhood seemed very farfetched, but the results were incredible," he said. "The restaurant didn't alone change the neighborhood -- the people that came to visit the restaurant changed the neighborhood."