Pregnant nurse: I was fired for refusing flu vaccine
updated 6:40 PM EST, Sun December 29, 2013
STORY HIGHLIGHTS
Dreonna Breton is a pregnant nurse who was working in Lancaster, Pennsylvania
She says she was fired from her job when she rejected taking a flu vaccine
It's unconscionable for a health care worker not to be immunized, employer says
Breton, who says she's had three miscarriages, fears vaccine could trigger another
(CNN) -- A pregnant nurse tells CNN she was fired from her job after she refused to get a flu shot for fear of miscarrying.
"I'm a healthy person. I take care of my body. For me, the potential risk was not worth it," Dreonna Breton told CNN Sunday. "I'm not gonna be the one percent of people that has a problem."
Breton, 29, worked as a nurse at Horizons Healthcare Services in Lancaster, Pennsylvania, when she was told that all employees were required to get a flu shot. The Centers of Disease Control and Prevention advises that all health care professionals get vaccinated annually.
She told her employers that she would not get the vaccine after she explained that there were very limited studies of the effects on pregnant women.
Breton came to the decision with her family after three miscarriages.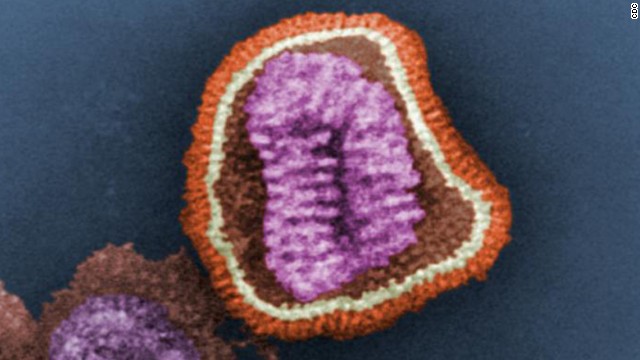 This is an influenza virus particle, also known as a virion, according to the Centers for Disease Control and Prevention. Virions are made up of an outer protein shell and an inner core of nucleic acid: in this case, eight single-stranded RNA segments.
This illustration from the CDC is a 3-D graphical representation of an influenza virion's structure. Influenza viruses are members of the Orthomyxoviridae family, according to Encyclopedia Britannica, meaning their virions measure between 80 and 120 nanometers in diameter. Each virion contains hemagglutinin and neuraminidase antigens, substances that cause our bodies to produce antibodies. The amount of each antigen determines the strain of the virus, which is where the H#N# naming structure comes from.
This image depicts a number of influenza A virions. There are three basic types of influenza viruses -- A, B and C -- but only influenza A can infect animals, such as pigs or birds. When a virus strain enters an animal, it may change, causing a more serious epidemic when it returns to humans.
In 1997, scientists took lung tissue from five 1918 Spanish flu victims and extracted the nucleic acid to sequence the flu strain's genome. This image shows the re-created influenza virions that caused the outbreak, infecting close to a fifth of the world's population and killing an estimated 30 million to 50 million people in less than a year, according to the U.S. Department of Health and Human Services.
These virions belong to the H3N2 flu virus that started in Hong Kong in 1968, according to the CDC. H3N2 infected an estimated 50 million Americans and killed 33,000 people in the United States, "making it the mildest flu pandemic in the 20th century," according to the Department of Health and Human Services.
Mexico and the United States first reported human cases of the H1N1, or swine flu, virus in April 2009, according to the World Health Organization. "Because there are human cases associated with an animal influenza virus, and because of the geographical spread of multiple community outbreaks, plus the somewhat unusual age groups affected, these events are of high concern," WHO said at the time. The disease spread to more than 200 countries and has caused more than 18,000 deaths since 2009.
H1N1 was called "swine flu" because it was similar to the virus seen in pigs, as this photo illustrates. The WHO officially called an end to the H1N1 pandemic in August 2010, but cases with the strain still appear each year. "It is likely that the 2009 H1N1 virus will continue to spread for years to come, like a regular seasonal influenza virus," the CDC says.
The latest flu outbreak started in China in April. H7N9, or Avian Influenza A, was seen in poultry and in people who worked closely with poultry. A few cases of human-to-human transmission were reported, but the virus didn't spread beyond China. The CDC suspects that the virus will return again in the fall as temperatures drop.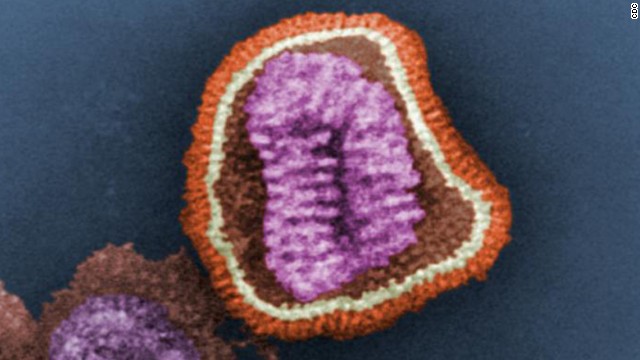 Photos: Flu under the microscope
CDC: More states reporting widespread flu
The mother of one submitted letters from her obstetrician and primary care doctor supporting her decision, but she was told that she would be fired on December 17 if she did not receive the vaccine before then.
Horizons Healthcare Services spokesman Alan Peterson told CNN affiliate WPVI that it's unconscionable for a health care worker not to be immunized and that pregnant women are more susceptible to the flu.
The CDC website states that getting a flu shot while pregnant is the best protection for pregnant women and their babies.
"I know that the CDC says to get it, and that's fine, but it was our choice to avoid the flu vaccine and the unknowns that come with that," Breton said.
Breton offered to wear a face mask at work, a practice that is used if employees are exempted for religious reasons. The hospital did not approve, according to Breton.
Breton has no interest in taking legal action, she said. She stated she only wants the company to reevaluate their policy on vaccines for pregnant employees and to continue working as a nurse.
Flu vaccine may work better in women, study suggests
New York City requires flu vaccine in city preschools and day cares