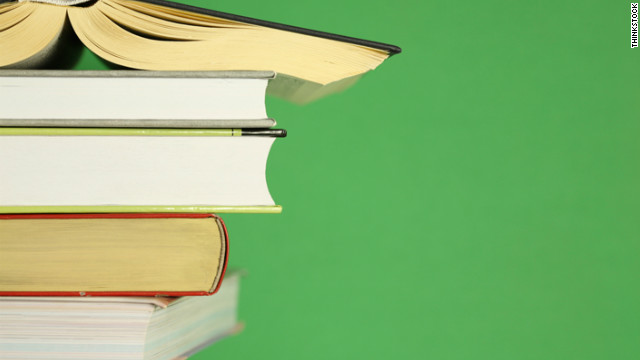 In December, we asked our readers to tell us which books were their favorites in 2013. After counting up thousands of votes, these were your top 10:
No. 10: Author Brian Jay Jones' thorough examination of the life of Jim Henson was the lone non-fiction title that our readers loved this year. If it held up against some of the most-read books -- like one from Dan Brown, for example -- you know it must be good.
No. 9: With comparisons to 2012's runaway bestseller, "Gone Girl," it's no wonder that Kimberly McCreight's tightly wrought thriller made its way onto our favorites list. The plot unravels the supposed suicide of a 15-year-old girl but -- as her mother begins to discover by delving into her daughter's private life -- perhaps it's true that Amelia is still alive.
No. 8: We're going to go out on a limb and guess that the reason why Donna Tartt's highly anticipated return didn't land a higher spot on our list is because most readers are still trying to work their way through it. With a hardcover edition weighing in at nearly 800 pages, we wouldn't be surprised if the book doesn't really take off until 2014.
No. 7: Kate Atkinson is best known for her mysteries, and while "Life After Life" isn't a thriller it's just as hard to put down. The novel follows a woman named Ursula Todd who, in an intriguing twist of fate, continues to die only to be reborn again and again.
No. 6: Let this list be a witness to the power of author John Green, long before the movie adaptation of this title hits theaters in June 2014. "The Fault In Our Stars" actually arrived in January 2012, but the gut-wrenching impact of its story, which follows the blossoming love of two teens facing cancer, has left a still-lingering mark with CNN's readers.
No. 5: When you're the guy who wrote "The Kite Runner," it must seem impossible to write a book as widely beloved. Yet author Khaled Hosseini has managed to come close to his prior success with his 2013 release "And the Mountains Echoed," which several of you are naming their favorite of the year.
No. 4: Neil Gaiman has done it again. With "The Ocean at the End of the Lane," this fan-favorite author has created a bone-chilling world of mysterious supernatural events intricate enough for adult readers to sink their teeth into.
No. 3: "Divergent" trilogy author Veronica Roth has had to beat back angry fans who weren't happy with the way she ends the third and final book, "Allegiant." Nonetheless, in spite of the uproar, CNN readers still called this installment their third favorite book of the year.
No. 2: Bestseller list king Dan Brown is no stranger to mainstream success, and his latest effort, "Inferno," has been welcomed with open arms. The only guy who could beat him to the title of favorite book of the year is ...
No. 1: ... Stephen King. With 2013's "Doctor Sleep," the legendary writer returned to his haunting story "The Shining" and dug up a new thread. Dan Torrance is now a middle-aged drifter who's settled for living in a New England town where he works at a nursing home. When he encounters a 12-year-old girl with unique gifts, Dan's old demons begin to surface once again.
CNN readers' favorite books of 2013
No. 10: 'Jim Henson: The Biography'
No. 9: 'Reconstructing Amelia'
No. 8: 'The Goldfinch'
No. 7: 'Life after Life'
No. 6: 'The Fault in Our Stars'
No. 5: 'The Kite Runner'
No. 4: 'The Ocean at the End of the Lane'
No. 3: 'Allegiant'
No. 2: 'Inferno'
No. 1: 'Doctor Sleep'