Newtown mementos incinerated to make bricks for memorial
updated 7:51 PM EST, Fri December 27, 2013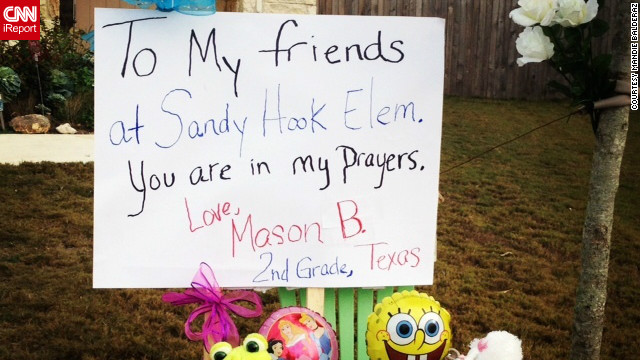 Mandie Balderaz's 8-year-old son was inspired to create his own memorial on his New Braunfels, Texas front lawn.
When Stephen Kales told his daughter the news, she went into her room and created these memorials.
Jennifer Wallace's son replaced his 12 birthday candles with 27 tea lights in honor of those lost in Newtown.
Ryan Emrich rearranged his house's Christmas lights to memorialize the 27 lives lost in Newtown.
Katie Ayala helped her son, Aaron, make a t-shirt to show his support for the victims. On the back of the shirt, they put a tree with Newtown's "core character attributes" they found on the school district's website, including "respect" and "caring". Aaron's first grade teacher, Mrs. Botino, died suddenly a few months ago and he was affected greatly by her loss, Ayala said. "When he learned of the Newtown tragedy, the first thing Aaron said to me was, 'Heaven must have needed teachers to take care of the of the children killed.' He then said, 'I wish they surrvived but Mrs. Botino will take care of them.'"
Donna Gusavitch took her two boys, ages 6 and 8, along with her friend's two boys, to Jones Beach in Wantagh, New York., to make a memorial for the victims. They picked out 20 angel ornaments for the children killed, along with seven doves for the adults. "We all held hands and we each said a prayer. My friend's 11-year-old son wrote 'Pray for these angels' in the sand. A piece of me died that Friday."
Megan Miller, a nanny in Alexandria, Virginia, was inspired by Ann Curry's online campaign to do 26 acts of kindness for each of the 20 children and six adults killed at Sandy Hook Elementary School. For her first act, she passed out candy to strangers in honor of Caroline Previdi. For her second, she is collecting thank-you notes for veterans and returning soldiers.
Mike Kirouac and his wife bought 27 flags they plan to place on their lawn every December 14.
Within an hour of hearing the news of the shooting, Deepthy Alias was moved to write a poem in tribute.
Shane Read is a graphic designer in Murfreesboro, Tennessee. As a father of two, he said he was moved to design this graphic showing that the spirit of America "is still here." He said: "I wanted to ... share it with everyone and give them a means to visually illustrate and share their love for Newtown and all those affected. Right now, it's a simple image on social media and it has been shared a humbling amount of times. It's doing its job for the 26 from Sandy Hook Elementary."
A second grader's prayers
A 9-year-old girl's condolences
Instead of birthday candles
Christmas light memorial
A first grader's t-shirt
Tribute on the beach
Notes for Noah
A promise to remember
A poem for the lost
'Wrapped in love'
STORY HIGHLIGHTS
Newtown residents collected mementos that poured into town from throughout the world
Items were incinerated, with the ashes to be used in the making of bricks for memorial
Four tractor trailer cargo containers hold ashes of incinerated mementos
(CNN) -- After the massacre at Sandy Hook Elementary School in Connecticut, hundreds of thousands of cards, letters, drawings, stuffed animals and other sentimental items poured into Newtown from throughout the world in a show of support.
Newtown resident Yolie Moreno said Friday that she plans a unique way to turn those sentiments into the actual building blocks of a future memorial.
Moreno started an initiative called Embracing Newtown which will make use of the massive amounts of material that turned up starting in January at the town's municipal center. She wanted to ensure that well wishes were preserved.
Moreno enlisted the help of more than 100 volunteers to sort through the piles of mementos. The items were incinerated, with the ashes, or what Moreno called "sacred soil," to be used in the making of bricks to serve as the foundation of a future memorial honoring the 26 who lost their lives.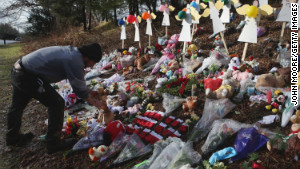 A mourner places a carved wooden cross at a memorial in Newtown, Connecticut, a week after the school shooting.
The incarceration occurred in garbage facility that allowed volunteers to be present, Moreno said.
"Every single thing was [incinerated] to make sure it was not thrown away," she said. "I'm talking the tags from every teddy bear. Nothing ended up in a landfill."
Four tractor-trailer cargo containers hold the incinerated mementos, Moreno said.
Moreno described the process as energy being transformed into a testament to the love and goodness of the people who reached out to Newtown in so many ways.
The kindness of strangers was also documented on the website embracingnewtown.com, where galleries of the artwork and letters can be viewed as well as at Newtown's Library. The letters that appear on the website have also been archived, according to Moreno.
"You will be in my dreams tonight," says the writing on one drawing on embracingnewtown.com, with a list of the names of 26 who were killed on December 14, 2012 and the image of a sleeping child.
Another letter states, "Not one kid will be forgotten."
"The letters were for students as they're processing this through their life," she said. "They'll see these inspirational letters and that people really care. That's my goal."
The letters came from every state as well as dozens of countries.
"This was never about me," Moreno said. "This is about what happened to Sandy Hook. This was just an important thing to do. "