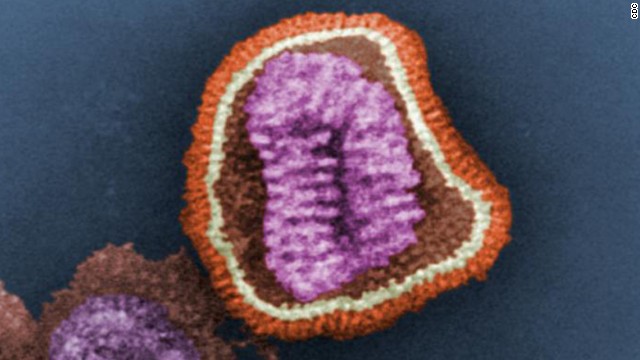 This is an influenza virus particle, also known as a virion, according to the Centers for Disease Control and Prevention. Virions are made up of an outer protein shell and an inner core of nucleic acid: in this case, eight single-stranded RNA segments.
Orthomyxoviridae family
, according to Encyclopedia Britannica, meaning their virions measure between 80 and 120 nanometers in diameter. Each virion contains hemagglutinin and neuraminidase
antigens
, substances that cause our bodies to produce antibodies. The amount of each antigen determines the strain of the virus, which is where the H#N# naming structure comes from.
This illustration from the CDC is a 3-D graphical representation of an influenza virion's structure. Influenza viruses are members of the
This image depicts a number of influenza A virions. There are three basic types of influenza viruses -- A, B and C -- but only influenza A can infect animals, such as pigs or birds. When a virus strain enters an animal, it may change, causing a more serious epidemic when it returns to humans.
killing an estimated 30 million to 50 million
people in less than a year, according to the U.S. Department of Health and Human Services.
In 1997, scientists took lung tissue from five 1918 Spanish flu victims and extracted the nucleic acid to sequence the flu strain's genome. This image shows the re-created influenza virions that caused the outbreak, infecting close to a fifth of the world's population and
according to the World Health Organization
. "Because there are human cases associated with an animal influenza virus, and because of the geographical spread of multiple community outbreaks, plus the somewhat unusual age groups affected, these events are of high concern," WHO said at the time. The disease spread to more than 200 countries and has caused more than 18,000 deaths since 2009.
Mexico and the United States first reported human cases of the H1N1, or swine flu, virus in April 2009,
H7N9
, or Avian Influenza A, was seen in poultry and in people who worked closely with poultry. A few cases of human-to-human transmission were reported, but the virus didn't spread beyond China. The CDC suspects that the virus will return again in the fall as temperatures drop.
The latest flu outbreak started in China in April.
Flu under the microscope
Flu under the microscope
Flu under the microscope
Flu under the microscope
Flu under the microscope
Flu under the microscope
Flu under the microscope
Flu under the microscope
STORY HIGHLIGHTS
Widespread seasonal activity is increasing, the CDC says
The cases appear to be those of a typical season
H1N1 is the primary strain seen; it's no longer called "swine flu"
(CNN) -- The number of states reporting widespread seasonal flu activity jumped from four to 10 last week, the Centers for Disease Control and Prevention said Friday.
Widespread activity was reported in Alabama, Alaska, Kansas, Louisiana, Massachusetts, New York, Pennsylvania, Texas, Virginia and Wyoming, according to the CDC's weekly flu advisory report, covering the week ending December 21.
The previous week, only Alabama, Louisiana, New York and Texas reported widespread flu.
"Widespread" means that more than 50% of geographic regions in a state -- counties, for example -- are reporting flu activity. It addresses the spread of the flu, not its severity.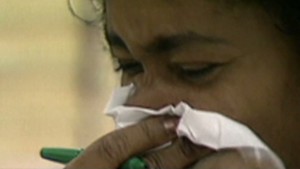 Flu kills five in Texas
However, six states -- Alabama, Louisiana, Mississippi, Missouri, Oklahoma and Texas -- reported a high proportion of outpatient visits to health care providers for flu-like illnesses.
So far, "it's a typical influenza season, if I can use that word," said Dr. Michael Jhung, a medical officer in the CDC's flu division.
The season usually begins in the winter months and peaks in January or February.
The only atypical thing seen this year is that the most common strain has been H1N1, which became known as swine flu during a 2009 outbreak.
"It's the same virus that we saw in 2009 that caused the pandemic," Jhung said. At the time, it was called swine flu since it was seen for the first time in humans.
But since then, "it's established itself very nicely in the human population," Jhung said. "We've seen it every season since 2009 in people." The virus is no longer referred to as swine flu but instead as a human seasonal virus.
The strain is so common that it's included in the flu vaccine, including this year's vaccination, he said.
5 ways to combat flu in your home
Four pediatric flu deaths have been reported since September 29, according to the CDC. The agency does not track adult deaths related to the flu, although some states do, and deaths have been reported.
The exact number of flu-related adult deaths is hard to track and varies from year to year. The CDC has estimated that from 1976 through 2007, between 3,000 and 49,000 people died of flu-related causes.
"It depends on the season; it depends on the virus," Jhung said.
Last year, 381,000 people were hospitalized and 169 children died in what's being called a relatively severe season.
However, the CDC estimates that flu vaccination prevented 6.6 million illnesses last year, 3.2 million doctor visits and at least 79,000 hospitalizations.
Flu vaccines are recommended for everyone 6 months and older, especially pregnant women and those at high risk of complications, including the elderly, children younger than 5 years and those with underlying medical conditions such as asthma or diabetes.
Antiviral medications are a good treatment if you do get sick, Jhung said, particularly those at high risk for complications. Ideally, antivirals should be started within two days of when symptoms appear.
CNN's Caleb Hellerman contributed to this report.