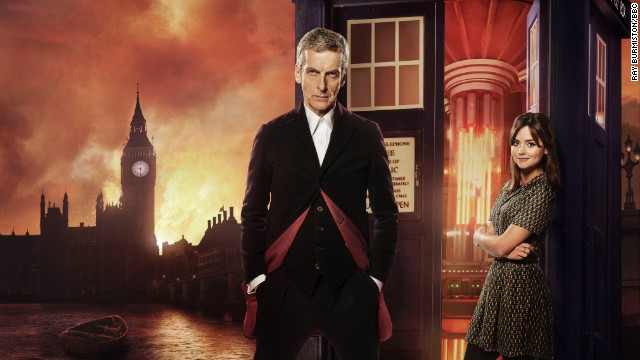 On November 23, 1963, "Doctor Who" was first broadcast on the BBC. Today, it remains a cult favorite among science-fiction fans young and old. Peter Capaldi (pictured with Jenna Coleman) took over as the Twelfth Doctor this season. Click through the gallery to see the men who have played the title character.
The Doctor -- a Time Lord from the planet Gallifrey who traveled through space and time -- was first played by William Hartnell, who took along his granddaughter on his adventures.
Patrick Troughton took over the role in 1966, and it was explained on the show that Time Lords can regenerate into new bodies upon their death. Troughton's Second Doctor was more of an oddball, prone to playing his recorder and fooling enemies into thinking he was a simpleton.
Jon Pertwee's Third Doctor dove headlong into the 1970s. He was the closest to James Bond of any of the Doctors, earthbound and a big fan of traveling in flashy vehicles.
The Fourth Doctor, played by Tom Baker, is a favorite of many fans, having played the character the longest starting in 1974. Baker brought back some of the childlike aspects of the Doctor in a big way, and he gained a robotic dog companion, K-9.
Peter Davison's Fifth Doctor brought the character into the 1980s as a young, well-dressed cricketer, leading a team of companions on his adventures.
The no-nonsense Sixth Doctor, Colin Baker, took over in 1984. Despite his outlandish, colorful costume, he was one of the least approachable-seeming Doctors.
The Seventh Doctor, starting in 1987, ended the original series of "Doctor Who." Sylvester McCoy's take on the character returned him to the quirky mannerisms of the Second and Fourth Doctors, though this one was more of a schemer.
Up until recently, the Eighth Doctor's adventures on screen lasted all of one TV movie, a failed attempt to resurrect the series on Fox. Paul McGann returned on a "Webisode" just last week, explaining what became of his character when he regenerated.
The show was rebooted in 2005, and Christopher Eccleston's Ninth Doctor was the first one many new fans saw. Wearing a leather jacket, this Doctor was stripped down to his bare essentials.
After Eccleston's departure at the end of the first new season, David Tennant brought back some of the quirkiness with his Tenth Doctor, a trenchcoat-wearing adventurer with a great sense of humor. He was recently voted fans' favorite Doctor by readers of the UK's Radio Times.
Matt Smith brought a youthful appearance to the Eleventh Doctor starting in 2010. His penchant for wearing bow ties and fezzes and dancing like a "drunken giraffe" plays against the fact that he is determined to save the day, and his companions, no matter what.
'Doctor Who' through the years
William Hartnell
Patrick Troughton
Jon Pertwee
Tom Baker
Peter Davison
Colin Baker
Sylvester McCoy
Paul McGann
Christopher Eccleston
David Tennant
Matt Smith
STORY HIGHLIGHTS
Matt Smith portrayed the Doctor one final time on a special episode of 'Doctor Who'
Peter Capaldi took over the role at the end of the episode
Social media had a highly emotional response to the episode
Editor's note: Warning: The following article contains spoilers about this year's Christmas episode of "Doctor Who."
(CNN) -- "And now it's time for one last bow, like all your other selves. Eleven's hour is over now, the clock is striking Twelve's."
With those poetic words, Jenna Coleman's Clara Oswald summed up the stakes of Wednesday night's Christmas episode of "Doctor Who." Following a hugely successful, well-received 50th anniversary episode last month, it seemed fitting that the show would bid goodbye to Matt Smith for an encore.
The episode certainly ran the gamut, at various times showing the Doctor bald, naked and growing very old. It was a bittersweet night for "Who" fans (or "Whovians"), to say the least.
Of course, we've known for several months that this was coming, but the reactions on social media made clear that many in the audience weren't ready to say goodbye to Smith's Eleventh Doctor.
"Oh gosh. I'm emotionally wrecked," tweeted Kyle Williams.
"MY FEELINGS ARE NOT OK," is how Vera Raposo put it.
So without further ado, here are five moments from the episode that had us feeling all of our feelings:
1. The Doctor leaves Clara (twice)
Things started off smoothly enough, with the Doctor pretending to be Clara's boyfriend at Christmas dinner.
A few sitcom-ish moments (and Daleks, weeping angels and Cybermen -- including one disembodied) later, and soon the Doctor learned that Gallifrey and the other Time Lords could soon return, using a crack in the wall, in a small town called Christmas -- a time field seen in the Eleventh Doctor's first episode.
The Daleks, Cybermen and more were ready to take on the Time Lords, however, and the Doctor was prepared to literally save Christmas (not to mention the entire planet, Trenzalore). But he didn't think he could protect Clara and sent her back home without her knowledge.
As centuries went by on Trenzalore, the Doctor started to show his age and finally, Clara returned with the TARDIS and the "feels" came along with her.
Seeing the Doctor and his companion -- who had earlier unwittingly declared her feelings for him -- reunited was a hugely uplifting moment, though soon the Doctor sent her away again, after saying he wouldn't. (Sorry, Clara, the Doctor lies.) But she returned one last time...
Looking back on 50 years of 'Doctor Who'
2. The last Doctor?
Those who've followed "Doctor Who" for a while will remember there's a limit to the number of regenerations he gets, exactly 12.
After Clara returned the first time, the aging Doctor told Clara that he had used them all up, counting John Hurt's War Doctor from the previous episode, and a time when the Tenth Doctor regenerated into himself.
Could this be the end of the Doctor for good?
After her second return, having read the aforementioned poem from a Christmas cracker, and as the Doctor began to die of old age, she pleaded with the time field to save him.
As the Daleks prepared to attack, the time field appeared, granting the Doctor more regenerative energy, which he used to lay waste to all of the invading armies ("Love from Gallifrey, boys!") -- but it also meant that his time was up.
3. Goodbye, Eleven
Clara returned to the TARDIS, finding the Doctor back to his old self again. But despite his reset youthful appearance, he was still dying.
He had a lot to think about in his final moments in this body.
"We all change. When you think about it, we're all different people all through our lives," he said.
"And that's OK, that's good, as long as you keep moving, as long as you remember all the people that you used to be. I will not forget one line of this, not one day, I swear. I will always remember when the Doctor was me."
Lump in the throat, anyone?
4. 'Raggedy man'
Then the Doctor remembered his first companion, the first face he saw in this body: Amy Pond.
In a surprise appearance, Karen Gillan returned for a cameo as Amy, to say, "Raggedy man, good night."
Is it any wonder that "Raggedy man" trended worldwide for hours on Twitter?
Eleven knew his time was up, and took off his trademark bowtie. And at this point, the Internet had a good cry.
5. Enter Twelve
As Clara begged the Doctor not to go, he suddenly had a brand new face. Clara's "anime eyes" said it all.
This was a brand new Doctor indeed. Peter Capaldi is now the Twelfth Doctor, and he just had one question for Clara: "Do you happen to know how to fly this thing?"
(Oh, and apparently he's got new kidneys.)
So that was enough of an emotional roller coaster for an entire season's worth of some shows. Perhaps Smith's final words to the fans will help a little:
"To the Whoniverse, thanks a million," he said.
"You're the best. I'll miss you. And I'll miss the madness."
'Doctor Who' turns 50 and fans will never be the same