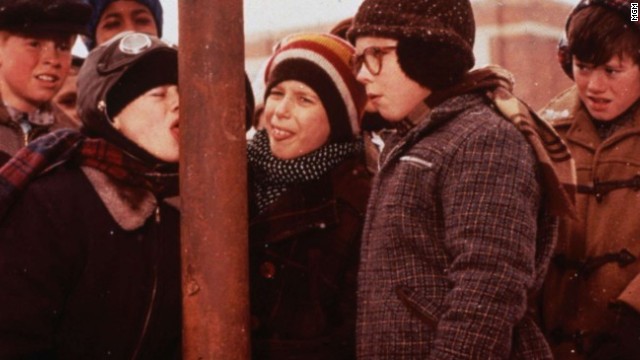 Believe it or not, it's been three decades since the world could fully grasp the fear that a BB gun might "shoot your eye out kid." With the 30th anniversary of the holiday cult classic "A Christmas Story," we look back at what has happened to some of the stars since the film first premiered.
recently told BuzzFeed
he enjoys the movie that made him a star: "It took me a while to appreciate it as a film," he says. "But I watch it now and go, you know what, that's a damn good director. I can say without ego it's a pretty good performance. It's a good story. It's a good script. It's a well-made movie."
Peter Billingsley was just 12 when he starred as Ralphie in the beloved film. He now works behind the scenes as a producer for films such as "Iron Man" and "The Break-Up" - the latter via a production company he formed with that film's star, Vince Vaughn. He
Melinda Dillon stars as the doting mother in the film and continued to act afterward, snagging roles in "The Hendersons," "Law & Order: SVU" and as Rose Gator in the acclaimed film "Magnolia."
Darren McGavin was gruff as The Old Man Parker. Before the film, he was known for starring in "Kolchak: The Night Stalker" but later made a career playing dads as he did in the film "Billy Madison" and on the television series "Murphy Brown." He died in 2006 at 83.
in some porn films.
He recently said in an interview that he now works with his father
in the collectibles and memorabilia industry.
Scott Schwartz moved on from playing Flick to starring in the classic film "The Toy." He made headlines in the '90s when it was revealed that he appeared
R.D. Robb stars as Schwartz in the movie and has since appeared in films such as "The Brady Bunch Bunch Movie" and "Eight Days a Week." He has also produced films including "What Goes Up" and "Triple Dog."
bullied in real life
. He has had small roles in "CSI: NY" and "Transformers."
Zack Ward didn't win much love as the bully Scut Farkus. In 2012, the actor settled a suit over the use of his image and said he was
Tedde Moore plays Miss Shields in "A Christmas Story" and has worked in the industry for more than 50 years. She most recently appeared in the 2011 miniseries "The Kennedys."
house in 2005 and transformed it into a museum.
He also began selling replicas of the infamous lamp made like a woman's leg in a fishnet stocking and covered with a lampshade. Lamps can now be purchased at
RedRiderLegLamps.com.
The leg lamp continues to thrive. Fan Brian Jones purchased the original "A Christmas Story"
Happy 30th anniversary 'A Christmas Story'
Happy 30th anniversary 'A Christmas Story'
Happy 30th anniversary 'A Christmas Story'
Happy 30th anniversary 'A Christmas Story'
Happy 30th anniversary 'A Christmas Story'
Happy 30th anniversary 'A Christmas Story'
Happy 30th anniversary 'A Christmas Story'
Happy 30th anniversary 'A Christmas Story'
Happy 30th anniversary 'A Christmas Story'
Happy 30th anniversary 'A Christmas Story'