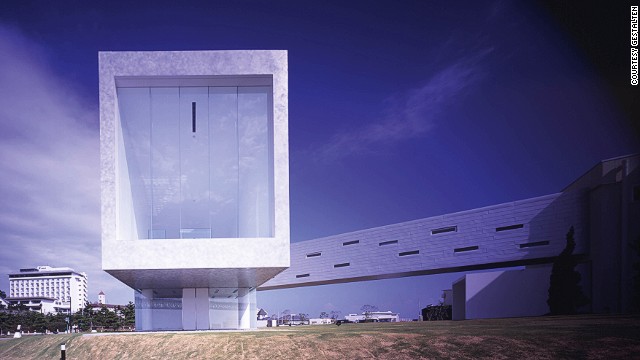 This dramatic chapel, designed by Ryyuich Ashizawa, accepts all faiths and is free from iconography. It was hoped that the huge window facing over the sea would imbue the space with a sense of the sacred. Images via
"Closer to God: Religious Architecture and Sacred Spaces"
Located next to a graveyard outside of Ljubljana, this curvaceous chapel by Ofis Arhitekti mimics the slopes of the surrounding landscape.
Located on the banks of a lake just outside of Kyoto, this minimalist white temple is in honor of maternal ancestors. Architects Takashi Yamaguchi & Associates wanted to create a space that would envelope the visitor like the inside of a womb.
This temporary chapel, by Localarchitecture and the Bureau d'Architecture Danilo Mondada, was put on site while builders spent 18 months completing a much bigger structure.
Built on the site of a demolished 18th century church, this minimalist chapel by Lassila Hirvilammi Architects was created using 18th century building techniques.
The brief for this building was to create a space without traditional Christian symbolism.
Made almost entirely of wood, the chapel features an intricate carving of a tree, a modern take on the traditional leadlight window. Designed by Vesa Oiva.
Located in the mountains of Nagano, Japan, this elegant Buddhist temple was built with a thick concrete roof to withstand heavy snowfall. Designed by Katsuhiro Miyamoto & Associates.
From the outside, this church, designed by Undurraga Devés Arquitectos, appears like a concrete bunker. But step inside and you'll find old railway sleepers line the walls, and light floods upwards from the floor.
The pine wood interior of this one-room chapel in rural Chile emanates a warm glow, a striking contrast against the gray aluminium exterior. Designed by Baladron & Grass.
The center, which incorporates traditional geometric Islamic design into its structure, aims to offer a cultural space for the progressive Ismaili community in Europe, to promote better understanding amongst its people and others of different background and origin.
Munich's new Church of the Sacred Heart is an open, bright and lively building with a flowing modular transition from the churchyard through the vestibule into the nave -- a rejection of the restrictive symbolism of a massive enclosure.
"Create an interdenominational chapel, a space for people in search of God, a place for quiet reflection, but also one that welcomes hikers and cyclists who appreciate a rest stop with a sense of beauty." This was the brief given to 12 students from the Illinois Institute of Technology who designed this simple structure.
Effortlessly opening to the surrounding desert, the innovative 250-seat glass and steel prayer chapel sits atop four site-cast, pin-wheeling concrete walls. The double-skinned Pavilion of Light is composed of shading and insulating systems.
If you thought funeral parlors had to be gray and grim, think again. Designed by GJL Architekten Grube Jakel and Löffler, this building uses yellow quartz floors, oak furnishings, and skylights to create a light-filled space for reflection and celebration.
Commissioned to design a church in accordance with the ideas and requirements of the Diocesan Council of Temples and the Parish of Santa Monica, this building incorporates all the facilities pertaining to the church, the parish offices and the priest's accommodation in a single space, while simultaneously asserting itself as an architectural milestone.
This remarkable round church, by Reitermann Sassenroth Architekten, was built on the site of a former church which was near the Berlin Wall and blown up in 1985.
A wedding chapel is a place where rings are exchanged, and couples united. So it makes sense that this sleek structure in Osaka is adorned with interlocked steel rings. Designed by Jun Aoki & Associates.
Built on a strip of wasteland near another synagogue destroyed in pogroms 68 years ago, this modern complex includes a community center, synagogue, and museum.
Inside the dramatic building designed by Wandel Hoefer Lorch, a glass and steel roof floods the synagogue with light.
Over time, the copper surface of this chapel will eventually turn green, blending in with the surrounding lush landscape...
Step inside and you'll find the arched pine wood ribs leading to a back-lit alter. Designed by Sanaksenaho Architects.
This installation in the Northumberland countryside, was designed by Fashion Architecture Taste, and based on a Romanesque church. The fantastical building was covered in thousands of metal discs which created a rippling effect in the wind.
Situated in the heart of the city, this 39,000 square meter monolith towers above the Hollywood Freeway, one of the major traffic arteries of Los Angeles.
Situated on the site of multiple earthquakes in Perugia, Italy, the San Paolo Parish Complex was given the go-ahead in 2001 after winning a national competition. In announcing its decision, the jury hailed the project as "a sign of innovation ... and symbol of rebirth for the city after the earthquake."
Setre Chapel, Japan
Farewell Chapel, Slovenia
White Temple, Japan
Chapel for the Deaconesses of St. Loup, Switzerland
Karsamaki Church, Finland
Chapel of Silence, Finland
Lilja Chapel of Silence, Finland
Chushinji Temple, Japan
Chapel del Retiro, Chile
Junquillos Chapel, Chile
Lisbon Ismaili Center, Portugal
Church of the Sacred Heart, Germany
Bodigheim Field Chapel, Germany
Effortlessly opening to the surrounding desert, the innovative 250-seat glass and steel prayer chapel sits atop four site-cast, pin-wheeling concrete walls. The double-skinned Pavilion of Light is composed of shading and insulating systems.
Karlsruhe Oberreut Funeral Parlor, Germany
Santa Monica Parish Center, Spain
Chapel of Reconciliation, Germany
White Chapel, Japan
Jewish Center, Germany
Jewish Center, Germany
St. Henry's Ecumenical Art Chapel, Finland
St. Henry's Ecumenical Art Chapel, Finland
You make me feel mighty real, UK
Our Lady of the Angels Cathedral, L.A.
San Paolo Parish Complex, Italy