They lost weight -- so can you!
updated 8:23 AM EST, Mon December 23, 2013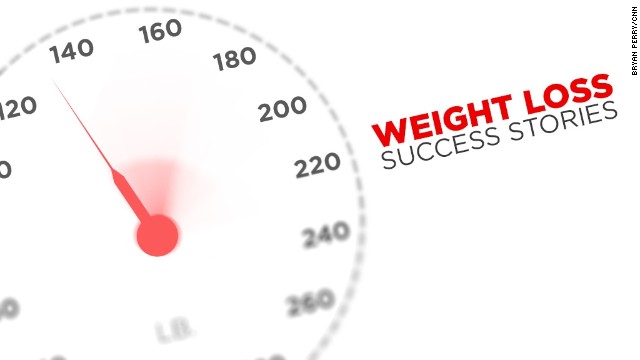 If you need some inspiration to tackle your weight loss goal, look no further. CNN regularly profiles people who have lost a significant amount of weight. See their physical transformations by clicking through the gallery, then get started on your own. When you hit your goal weight, we
want to hear about it
.
I am 276 pounds lighter
, 14 jean sizes smaller, and no longer need a wheelchair, walker or cane to get around."
At her heaviest in March 2011, Theresa Borawski weighed 428 pounds. "I could no longer participate in life's activities and was forced to become a spectator while people around me lived their life," she wrote on iReport.com. "Today,
following the "three P's."
Now he does two 70-minute spinning class back-to-back without breaking (much of) a sweat.
Marlon Gibson went from 405 pounds to 160 pounds by
lost a combined 538 pounds
by overhauling their diets and hitting the gym.
In February 2012, Justin and Lauren Shelton began a 19-month journey to take control of their health. The couple
losing 80 pounds
would be her biggest battle until she was diagnosed with stage I leiomyosarcoma. Schaaf says her gym and healthy eating habits helped get her through chemotherapy.
Melissa Schaaf thought
dropped 130 pounds
by eating small, healthy portions multiple times a day.
The doctor had flat out told Dale Benzine: "Lose weight or die." Benzine decided to get gastric bypass surgery, reducing his stomach to the size of a golf ball. He's
keeping the weight off
has proven more difficult.
Matthew Shack dropped 265 pounds with ease -- moving more and eating less. But
They got fit -- you can, too!
The Gillises
Brittni Garcia
Cherie Hart Steffen
Theresa Borawski
Marlon Gibson
The Sheltons
Melissa Schaaf
Dale Benzine
Ryan 'Mac' McDonald
Deidre Robinson
Matthew Shack