Would-be assassin John Hinckley gets longer visits at mother's home
updated 6:25 PM EST, Fri December 20, 2013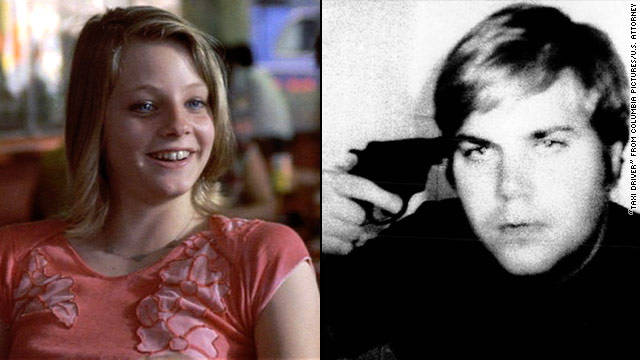 Before he shot President Reagan in 1981, John Hinckley Jr. became obsessed with actress Jodie Foster after seeing her film "Taxi Driver" at least 15 times. Defense psychiatrists said Hinckley played Russian roulette and took this photo of himself.
Hinckley wrote this poem for Foster, said prosecutors.
Prosecutors said Hinckley wrote a note to Foster on the back of this postcard which featured the president and first lady Nancy Reagan. Click on the next frame to read Hinckley's note to Foster.
Hinckley wrote to Foster that the two of them would someday occupy the White House. "... please do your best to remain a virgin." Both sides introduced this postcard in evidence at Hinckley's trial.
Prosecutors said Hinckley sent this anonymous threat to the FBI, which says Foster would be kidnapped "for romantic reasons."
On his last visit to Yale University, where Foster was a freshman, Hinckley left this note promising to "rescue" her. This also was introduced in evidence at the trial.
This farewell note was slipped under Foster's dorm room door only 31/2 weeks before Hinckley shot President Reagan. "Don't you maybe like me just a little bit? You must admit I am different," said the note, which was signed "John Hinckley of course."
Prosecutors said Hinckley left a two-page letter in his hotel room, telling Foster he planned to shoot Reagan to win her love and that he suspected he would die "in my attempt to get Reagan."
During a news conference at Yale two days after the shooting, Foster told reporters, "I've never met, spoken to or in any way associated with one John W. Hinckley."
John Hinckley Jr. and Jodie Foster
'Queen Jodie Approximately'
Hinckley's postcard to Foster
'Remain a virgin'
Kidnapping note
'I'll rescue you very soon'
'You must admit I am different'
The 'Dear Jodie' letter
Foster reacts to the failed assassination
STORY HIGHLIGHTS
Hinckley attempted to kill President Ronald Reagan in 1981
He and others were shot outside hotel in Washington
Hinckley is confined to a Washington psychiatric hospital
He is allowed limited visits to his mother's home in Virginia
(CNN) -- A federal judge will allow John Hinckley, the man who shot and severely wounded President Ronald Reagan in a 1981 assassination attempt, more time away from a Washington psychiatric hospital to visit his elderly mother in Virginia.
HIs periodic visits away from St. Elizabeth's Hospital are currently restricted to 10 days at a time. He now will be permitted 17-day visits to Williamsburg.
Hinckley was found not guilty by reason of insanity in the shootings of Reagan, White House press secretary James Brady, Secret Service agent Timothy McCarthy, and police officer Thomas Delahanty.
All survived the attack, but Brady was left permanently disabled.
Hinckley's caregivers hope he will one day get a part-time job with pay as part of a self-sufficiency strategy that will also involve expanding his ties with the Williamsburg community.
His time away from the hospital has been increased gradually over the years.
In addition, he has received art and music therapy and has had a volunteer job at another hospital, a lawyer for Hinckley said at a hearing in January that assessed a request for expanded visitation.
St. Elizabeth's is required to regularly send reports to the court, outlining Hinckley's movements and activities when he is in Williamsburg.