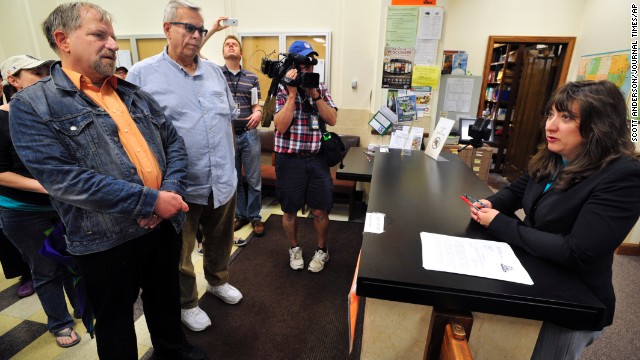 The Rev. Tony Larsen and his partner, Craig Matheus, are refused a marriage license by Racine County Clerk Wendy Christensen, right, in the clerk's office in Racine, Wisconsin, on Friday, June 13. The county does not grant marriage licenses to same-sex couples despite a judge's ruling that the state ban on gay marriage is unconstitutional.
Pastor Carol Hill from Epworth United Methodist Church speaks during a beachfront marriage equality ceremony at the Kathy Osterman Beach in Chicago, on Sunday, June 1, 2014. June 1 marked the first day that all of Illinois' 102 counties could begin issuing marriage licenses to same-sex couples.
William Roletter, left, and Paul Rowe, right, press close to one another after having their photo taken with their newly acquired marriage certificate at City Hall in Philadelphia, Pennsylvania, on May 21.
Same-sex couples get their marriage licenses at the Oakland County Courthouse in Pontiac, Michigan, on Saturday, March 22, a day after a federal judge overturned Michigan's ban on same-sex marriage.
Utah state Sen. Jim Dabakis, left, and Stephen Justesen acknowledge the crowd after being married in Salt Lake City on Friday, December 20. A federal judge struck down Utah's ban on same-sex marriage, saying it conflicted with the constitutional guarantees of equal protection and due process. Many Utah counties began issuing marriage licenses before the state appealed to the U.S. Supreme Court. The high court temporarily blocked enforcement of the lower court ruling until the constitutional questions are fully resolved.
Plaintiffs Laurie Wood, left, and Kody Partridge, center, and attorney Peggy Tomsic leave a federal courthouse in Salt Lake City on Wednesday, December 4, after a judge heard arguments challenging Utah's same-sex marriage ban.
Hawaiian Gov. Neil Abercrombie, left, and former Sen. Avery Chumbley celebrate with a copy of the Star-Advertiser after Abercrombie signed a bill legalizing same-sex marriage in Hawaii on Wednesday, November 13, in Honolulu. Hawaii's same-sex marriage debate began in 1990, when two women applied for a marriage license, leading to a court battle and a 1993 state Supreme Court decision that their rights to equal protection were violated by not letting them marry. Now the state is positioning itself for an increase in tourism as visitors arrive to take advantage of the law, which took effect December 2.
Newark, New Jersey, Mayor Cory Booker officiates a wedding ceremony for Joseph Panessidi and Orville Bell at City Hall on Monday, October 21. The state Supreme Court denied the state's request to prevent same-sex marriages temporarily, clearing the way for same-sex couples to marry.
A couple celebrates at San Francisco City Hall upon hearing about the U.S. Supreme Court rulings on same-sex marriage on June 26, 2013. The high court cleared the way for same-sex couples in California to resume marrying after dismissing an appeal on Proposition 8 on jurisdictional grounds.
In the other June 26 ruling, the Supreme Court struck down a key part of the Defense of Marriage Act, a 1996 federal law defining marriage as between a man and a woman. Jamous Lizotte, right, and Steven Jones pose for photos while waiting for a marriage license in Portland, Maine, in December 2012.
signing a same-sex marriage bill on March 1, 2012
. The law was challenged, but voters approved marriage equality in a November 2012 referendum.
Maryland Gov. Martin O'Malley, center, shakes hands with Senate President Thomas V. "Mike" Miller after
Washington Gov. Chris Gregoire celebrates after signing marriage equality legislation
into law on February 13, 2012. Voters there approved same-sex marriage in November 2012.
Olin Burkhart, left, and Carl Burkhart kiss on the steps of the New Hampshire Capitol in Concord in January 2010 as the
Maine state Sen. Dennis Damon left, hands Gov. John Baldacci the bill that the
Beth Robinson of the Vermont Freedom to Marry Task Force, who is among those who fought for marriage equality, on April 7, 2009.
Amy Klein-Matheny, left, and her wife, Jennifer, exchange vows in
Michael Miller, left, and Ross Zachs marry on the West Hartford Town Hall steps after same-sex marriages became legal in Connecticut on November 12, 2008.
Massachusetts approved same-sex marriage.
Massachusetts was the first state in the U.S. to do so.
Lara Ramsey, left, and her partner of eight years, Jane Lohmann, play with their 7-month-old son, Wyatt Ramsey-Lohmann. The two wed in 2004 after
Same-sex marriage in U.S.
Same-sex marriage in U.S.
Same-sex marriage in U.S.
Same-sex marriage in U.S.
Same-sex marriage in U.S.
Same-sex marriage in U.S.
Same-sex marriage in U.S.
Same-sex marriage in U.S.
Same-sex marriage in U.S.
Same-sex marriage in U.S.
Same-sex marriage in U.S.
Same-sex marriage in U.S.
Same-sex marriage in U.S.
Same-sex marriage in U.S.
Same-sex marriage in U.S.
Same-sex marriage in U.S.
Same-sex marriage in U.S.
Same-sex marriage in U.S.
Same-sex marriage in U.S.
Same-sex marriage in U.S.
Same-sex marriage in U.S.
Same-sex marriage in U.S.
Same-sex marriage in U.S.
Same-sex marriage in U.S.
Same-sex marriage in U.S.
STORY HIGHLIGHTS
NEW: Ruling is "a travesty of justice," National Organization for Marriage president says
Laws "demean the dignity of these same-sex couples for no rational reason," federal judge writes
Lawsuits were brought by three same-sex couples who want to marry
Decision strikes down a Utah law approved by voters in 2004
(CNN) -- It was joyful mayhem Friday night in the county clerk's office in Salt Lake City, Utah, after a federal judge struck down the state's ban on same-sex marriage, saying the law "conflicts with the United States Constitution's guarantees of equal protection and due process under the law."
"I proposed to my partner of 27 years in June, but I said, 'We're not going to get married until we can get married in Utah," state Sen. Jim Dabakis, who is openly gay, told CNN.
"He said, 'So, that's just an excuse never to get married.'"
Not so. As soon as the judge's ruling was reported, "We ran down here," Dabakis said as he surveyed the crowd. "It's a madhouse down here. There's hundreds of people, wedding certificates are being issued, there's marriages taking place all over the hallways. Everybody's embracing. It's just a warm, wonderful moment in the state of Utah."
In striking down the state law, which voters had approved in 2004, U.S. District Court Judge Robert J. Shelby wrote in a 53-page ruling that the state's "current laws deny its gay and lesbian citizens their fundamental right to marry and, in so doing, demean the dignity of these same-sex couples for no rational reason.
"Accordingly, the court finds that these laws are unconstitutional," he said.
Shelby said lawyers for the state had offered no evidence that opposite-sex marriage would be affected and that their "fears and speculations are insufficient to justify the State's refusal to dignify the family relationships of its gay and lesbian citizens."
In addition, the Constitution protects the rights of same-sex couples, including their right to marry and to have that marriage recognized by their government, he said. "These rights would be meaningless if the Constitution did not also prevent the government from interfering with the intensely personal choices an individual makes when that person decides to make a solemn commitment to another human being. The Constitution therefore protects the choice of one's partner for all citizens, regardless of their sexual identity."
The lawsuit was brought by one gay and two lesbian couples in Utah who wish to marry but have been unable to do so because the Utah Constitution prohibits same-sex marriage.
The decision was greeted with joy from a spokesman for GLAAD, formerly the Gay & Lesbian Alliance Against Defamation. "At last, loving and committed couples in Utah will have the opportunity to celebrate marriage equality this holiday season," said Wilson Cruz in a posting on its website.
"We are seeing state leaders and more and more citizens recognize that loving and committed couples should not be legally kept apart," said Cruz. "We look forward to seeing that momentum to continue in 2014."
Gov. Gary R. Herbert expressed disappointment at the ruling by Shelby, whom he called "an activist federal judge." Herbert said he was working with his legal counsel and the acting attorney general "to determine the best course to defend traditional marriage within the borders of Utah."
A spokesman for the Church of Jesus Christ of Latter-day Saints said in a statement that it supports "traditional marriage," while teaching that everyone should be treated with respect. "This ruling by a district court will work its way through the judicial process," Eric Hawkins said.
"We continue to believe that voters in Utah did the right thing by providing clear direction in the state Constitution that marriage should be between a man and a woman and we are hopeful that this view will be validated by a higher court."
The president of the National Organization for Marriage, Brian Brown, called the ruling "a travesty of justice."
In a statement, he added, "This trend of vetoing the voters from the bench must be stopped."
That view was not shared by Clifford Rosky, chairman of the board of Equality Utah. "We think it is a thoughtful and careful ruling that is based on the Supreme Court decision last summer and we expect that it will be upheld ultimately by the United States Supreme Court," he said.
By early Friday evening, Rosky told CNN he had signed as a witness to multiple marriages among same-sex couples.
Though the state has already filed a notice of appeal, the state's lawyers did not file a motion for a stay in district court, which allowed the marriages to begin at once. "Why they didn't ask the district court for a stay is a mystery, to say the least," Rosky said.
"There are hundreds of people here -- it's past 5 o'clock and the clerk is not closing the door."
Same-sex marriage is banned by constitutional amendment or state law in: Alabama, Alaska, Arizona, Arkansas, Colorado, Florida, Georgia, Idaho, Indiana, Kansas, Kentucky, Louisiana, Michigan, Mississippi, Missouri, Montana, Nebraska, Nevada, North Carolina, North Dakota, Ohio, Oklahoma, Oregon, Pennsylvania, South Carolina, South Dakota, Tennessee, Texas, Virginia, West Virginia, Wisconsin and Wyoming.
But it is legal in 17 other U.S states and the District of Columbia: California, Connecticut, Delaware, Hawaii, Illinois, Iowa, Maine, Maryland, Massachusetts, Minnesota, New Hampshire, New Jersey, New Mexico, New York, Rhode Island, Vermont and Washington.
Worldwide, 16 other countries (and parts of Mexico) have laws allowing same-sex marriage and domestic partnerships. Most of these are in Europe and South America.
Civil unions, which are legal in Colorado, grant couples most of the rights of state civil marriages, but provide none of the federal benefits of marriage, such as Social Security benefits.
These rights include spousal support, medical decision-making privileges, access to a partner's insurance, and hospital visitation rights.
Though the U.S. Supreme Court has signaled that it is reluctant to issue a national opinion on the matter, lower courts and states have not been so reluctant, said Carl Tobias, a professor of constitutional law at the University of Richmond.
"I'm just struck by how quickly this is all moving," he said. "It just seems like it's picking up steam in terms of challenges."
He attributed the change to a greater acceptance of gays and lesbians, especially among young people. "They just don't see this as a great moral issue that needs to be something codified as a prohibition in the law," he said. "Everybody knows gay people -- either in their families or friends or workplaces -- so what's the big deal?"
President Bill Clinton signed the Defense of Marriage Act banning federal recognition of same-sex marriage and defining marriage as "a legal union between one man and one woman as husband and wife" in 1996.
Last June, the U.S. Supreme Court rejected parts of DOMA, in a 5-4 decision that dismissed an appeal over same-sex marriage on jurisdictional grounds and ruled same-sex spouses legally married in a state may receive federal benefits.
On Thursday, the New Mexico Supreme Court ruled unanimously to allow same-sex marriage statewide and ordered county clerks to begin issuing marriage licenses to qualified same-sex couples.