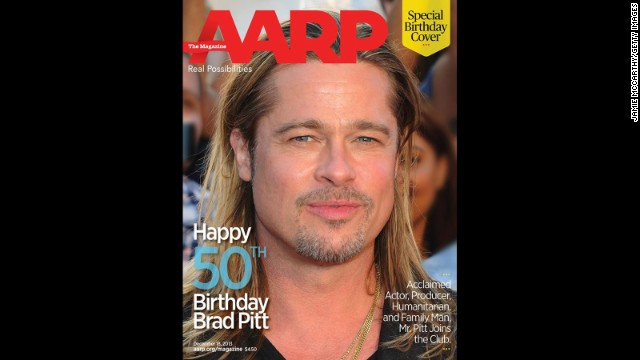 In honor of Brad Pitt's 50th birthday on December 18, The
AARP marked the occasion with a special cover
featuring the star. Take a look back at his life and career through the years.
If we had to guess, we'd bet that Pitt's celebrating the milestone surrounded by his family, like he is here in this 2011 photo.
In the 1980s, a young Pitt left the University of Missouri in Columbia, Missouri to pursue his dream of acting.
TV fans might remember a youthful Brad Pitt launching his career with appearances on "Another World," "21 Jump Street" and "Dallas" in his early 20s. Here, he's seen as a recurring character named Randy on "Dallas," a role he held from 1987 to 1988.
In 1991, Brad Pitt established himself as a sex symbol in the making thanks to his steamy shirtless work in "Thelma & Louise."
His breakout role came in 1992's "A River Runs Through It," which was directed by Hollywood great Robert Redford.
Pitt's long locks were on full display at the September 1993 premiere of his film "True Romance." Looking back, Pitt told CNN, he wouldn't have any career advice for his younger self. "I think that guy did all right. I think he figured it out quite fine. I don't think I need to tell him much."
In 1994, Pitt turned in noted performances in "Legends of the Fall," as seen here, and in "Interview With the Vampire" alongside Tom Cruise.
Brad Pitt was the vampire with the good heart, Louis de Pointe du Lac, in 1994's "Interview with a Vampire."
In 1995, Pitt had another breakout role in the thriller "Se7en," in which he co-starred with Morgan Freeman.
the "love of his life"
at the time, Gwyneth Paltrow.
Pitt attended the Academy Awards in 1996 as a best supporting actor nominee for his work in the acclaimed "12 Monkeys." It was his first Oscar nod, and the actor arrived with
After "12 Monkeys," Pitt went on to knock out "Seven Years in Tibet" (1997), "Meet Joe Black" (1998) and "Fight Club" (1999), as seen here. The then 35-year-old actor captivated audiences as the volatile Tyler Durden.
In 1999, Pitt was just as famous for his relationship with Jennifer Aniston, whom he started dating in 1998, as he was for his film career.
A match made in Hollywood A-list heaven, Pitt and Aniston tied the knot in July 2000.
By 2004, Pitt was a sculpted leading man, landing roles in comedy capers such as 2001's "Ocean's Eleven" and action epics such as 2004's "Troy."
George Clooney, Matt Damon and Brad Pitt brought back the gang from "Oceans Eleven" in the 2004 sequel "Ocean's Twelve."
When Pitt and Aniston arrived for the premiere of "Troy" at Cannes in May 2004, they were just months away from announcing the end of their marriage. That news came with a formal statement in January 2005.
reports claimed that
Pitt's "Mr. & Mrs. Smith" co-star Angelina Jolie -- seen here with Pitt and producer Arnon Milchan at a premiere of the film in June 2005 -- was a factor in the split.
Fans took sides in the Pitt-Aniston breakup as
After his split from Aniston, it wasn't long before Pitt was seen spending time with Jolie's two adopted children, Maddox and Zahara, whom Pitt carries here through the New Tokyo International Airport in November 2005.
In January 2006, the pair (seen here in Switzerland at the time) announced that they were expecting a baby. Pitt and Jolie's daughter, Shiloh, arrived that May.
Brad moved to adopt Zahara and Maddox toward the end of 2005, officially making them Jolie-Pitts. Here, the family walks along the seafront promenade in Mumbai, where Jolie was filming "A Mighty Heart," a project Pitt produced.
"The Departed," the lauded 2006 film starring Matt Damon as Colin Sullivan and Leonardo DiCaprio as Billy Costigan, was one of Brad Pitt's first successful forays into producing.
Pitt and Jolie quickly became a fixture on the red carpet and in celebrity gossip magazines as they continued to grow their family. Seen here, the pair arrive at the June 2007 premiere of Pitt's "Ocean's Thirteen."
"Make It Right"
organization, which builds sustainable homes for communities in need, he planned the construction of 150 eco-friendly homes in the Lower Ninth Ward of New Orleans.
Along with his partner Jolie, Pitt made an effort to give back. Through his
By 2008, Pitt and Jolie's family had grown to include six kids as the couple welcomed twins that July, following the May "Kung Fu Panda" premiere at Cannes, as seen here.
Pitt ages backward in the 2008 film "The Curious Case of Benjamin Button."
Brad Pitt earned rave reviews in 2009 as Lt. Aldo Raine in "Inglourious Basterds."
Pitt's influence has stretched beyond Hollywood and into politics. Here, the actor appears alongside former President Bill Clinton at 2009's Clinton Global Initiative meeting to discuss New Orleans after Hurricane Katrina.
Pitt has done voice work in kid-friendly animated films such as 2010's "Megamind" and 2011's "Happy Feet Two."
Pitt portrays a strict father, Mr. O'Brien, in the 2011 Terrence Malick film "The Tree of Life."
Every so often, photographers will catch the entire Jolie-Pitt clan all at once, which is what happened here as the family arrives at the Haneda Airport in Tokyo in November 2011. They were in town to promote Pitt's film "Moneyball," which earned him another Oscar nomination, his third for acting.
Pitt played a mob enforcer in 2012's "Killing Them Softly."
Pitt is also a passionate advocate for marriage equality. He and his pal George Clooney appeared in a play about the issue in March 2012, and he told CNN in November 2012 that marriage is "one of our last big issues of equality. ... [T]here's a certain faction of our society that is not being included."
Pitt and Jolie are supporters of marriage equality and have said that they won't marry until everyone can. Yet the couple has taken one step closer to the altar this year as Pitt and Jolie announced their engagement in April, a few months after they were seen at the 2012 SAG Awards. The two were prompted by their kids to get engaged, Pitt told CNN in November 2012, but he clarified that they're also getting married for themselves.
Brad Pitt went on a whirlwind global press tour
to promote his zombie epic, "World War Z." Critics haven't overlooked the film's flaws, but they also haven't ravaged it, as was expected. At the time of the film's release,
Pitt was hinting at possible sequels.
In June 2013,
Brad Pitt had a bit role as an abolitionist in the film "12 Years a Slave." He also served as a producer on the film.
Brad Pitt: Celebrating 50 years
Brad Pitt: Celebrating 50 years
Brad Pitt: Celebrating 50 years
Brad Pitt: Celebrating 50 years
Brad Pitt: Celebrating 50 years
Brad Pitt: Celebrating 50 years
Brad Pitt: Celebrating 50 years
Brad Pitt: Celebrating 50 years
Brad Pitt: Celebrating 50 years
Brad Pitt: Celebrating 50 years
Brad Pitt: Celebrating 50 years
Brad Pitt: Celebrating 50 years
Brad Pitt: Celebrating 50 years
Brad Pitt: Celebrating 50 years
Brad Pitt: Celebrating 50 years
Brad Pitt: Celebrating 50 years
Brad Pitt: Celebrating 50 years
Brad Pitt: Celebrating 50 years
Brad Pitt: Celebrating 50 years
Brad Pitt: Celebrating 50 years
Brad Pitt: Celebrating 50 years
Brad Pitt: Celebrating 50 years
Brad Pitt: Celebrating 50 years
Brad Pitt: Celebrating 50 years
Brad Pitt: Celebrating 50 years
Brad Pitt: Celebrating 50 years
Brad Pitt: Celebrating 50 years
Brad Pitt: Celebrating 50 years
Brad Pitt: Celebrating 50 years
Brad Pitt: Celebrating 50 years
Brad Pitt: Celebrating 50 years
Brad Pitt: Celebrating 50 years
Brad Pitt: Celebrating 50 years
Brad Pitt: Celebrating 50 years
Brad Pitt: Celebrating 50 years
Brad Pitt: Celebrating 50 years
Brad Pitt: Celebrating 50 years
Brad Pitt: Celebrating 50 years