STORY HIGHLIGHTS
NEW: Kercher family lawyer: Meredith forgotten while defendants write books, earn money
A defense statement from Amanda Knox is presented to the court in her retrial
Knox and her former boyfriend Raffaele Sollecito deny killing Meredith Kercher in 2007
Knox says she is innocent and that there is no evidence putting her at the crime scene
Rome (CNN) -- Amanda Knox again protested her innocence in the 2007 killing of British exchange student Meredith Kercher Tuesday, in a written statement to the Italian court hearing her retrial.
In the statement, presented to the appeals court in Florence by Knox's lawyer, Luciano Ghirga, the American student insisted she had done nothing wrong.
"I must repeat to you. I'm innocent. I did not rape, I did not steal ... I did not kill Meredith," Knox said.
The retrial began in September without either Knox or her former boyfriend and fellow accused Raffaele Sollecito in court. Both have maintained their innocence.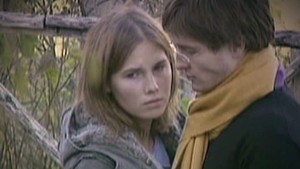 Amanda Knox: I was stunned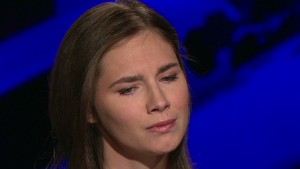 Knox: 'I feel bad for my younger self'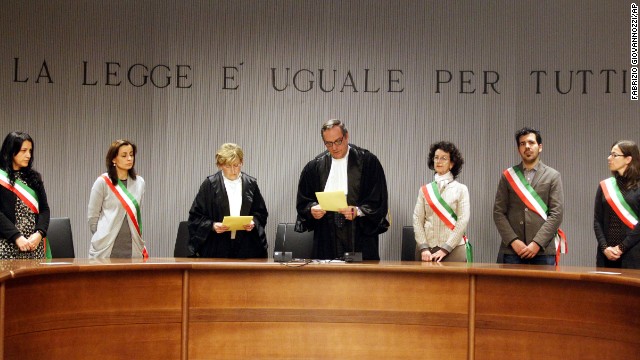 Appeals Court Judge Alessandro Nencini, center, reads out the verdict for the murder of British student Meredith Kercher in Florence, Italy, on Thursday, January 30, 2014. The appeals court upheld the convictions of U.S. student Amanda Knox and her ex-boyfriend Raffaele Sollecito for the 2007 murder of her British roommate. Knox was sentenced to 28 1/2 years in prison, raising the specter of a long legal battle over her extradition. Sollecito's sentence was 25 years.
Sollecito, left, and his father Francesco leave after attending the final hearing before the verdict on January 30. After nearly 12 hours of deliberation, the court reinstated the guilty verdict first handed down against Knox and Sollecito in 2009.
Patrick Lumumba, the Congolese bartender Knox originally accused of Kercher's murder, talks to the press outside the courthouse during a break form the appeal trial of Knox and Sollecito on September 30.
Knox appears on NBC's "Today" show. Knox spent four years in jail because of murder charges in the death of her roommate Meredith Kercher while studying abroad in Perugia, Italy.
Knox and her former boyfriend Sollecito were convicted in 2009 to 25 years in prison (Sollecito got 26 years). The conviction was overturned in 2011 for "lack of evidence." But Italy's Supreme Court decided last year to retry the case, saying the jury that acquitted them didn't consider all the evidence and that discrepancies in testimony needed to be answered.
Meredith Kercher, a 21-year-old British exchange student, was found dead with her throat slit in an apartment she shared with Knox on November 2, 2007.
When Knox was detained for questioning in 2007, she implicated Lumumba, the owner of a bar where Knox worked. Lumumba was taken into custody and released after two weeks in prison when his alibi was corroborated. He later won a libel suit against Knox.
Sollecito, Knox's boyfriend at the time of the murder, was convicted in December 2009 with Knox and released when their cases were overturned. Prosecutors testified that police scientists found Sollecito's genetic material on a bra clasp of Kercher's found in her room, while his defense claimed there wasn't enough DNA for a positive ID.
Rudy Hermann Guede, an Ivory Coast native raised in Perugia, was convicted separately from Knox and Sollecito and is now serving 16 years. Guede admitted to being with Kercher on the night she died, but said he didn't kill her. Both Knox and Sollecito argued that he was the killer, and Guede suggested the couple took Kercher's life.
Meredith Kercher's family lawyer Francesco Maresca, left, argued in court in 2011 that the multiple stab wounds implied more than one aggressor killed Kercher. Pictured from left are Maresca, Kercher's father John, sister Stephanie, brother Lyle and brother John at a press conference in 2008.
Carlo Dalla Vedova, one lawyer on Knox's defense team, argued in court that "the only possible decision to take is that of absolving Amanda Knox" in his closing argument for her appeal hearing.
Carlo Pacelli represented Patrick Lumumba in his civil suit case. He called Knox two-faced and a "she-devil."
Giulia Bongiorno, the lead lawyer on Raffaele Sollecito's defense team, compared Knox to Jessica Rabbit on the movie "Who Framed Roger Rabbit?" Knox is not bad, just "drawn that way," Bongiorno said in her closing statements in the 2011 trial.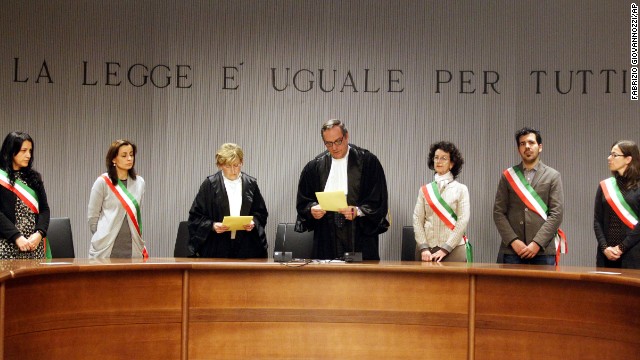 Photos: The Knox-Sollecito retrial
The presiding judge, Alessandro Nencini, read aloud Knox's statement Tuesday.
In it, Knox said "there is no scientific proof that puts me in the crime scene" and that Kercher's killer had left enough traces behind for the court to be satisfied it was not her.
"It is impossible to identify and destroy genetic traces and leave others. I was not there," she said.
Knox said that her behavior after Kercher's murder was discovered, when she could have left the country but instead stayed to help the investigation, also demonstrated she was not involved in the killing.
She complained of her treatment by police, saying she had been lied to, threatened and hit by them.
Knox also told the court that she had endured psychological pressure during her first murder trial, in 2009, because she was called many things.
"'I was called a wolf in sheep's clothing, a rapist, a thief, psychotic... Try to imagine your 20-year-old daughter being called all these things," she said. "I am not psychotic. I don't have a split personality."
Knox's ex at retrial: Life has been a nightmare
Acquittal overturned
Sollecito and Knox were convicted in 2009 of killing Kercher, 21, who was found stabbed in November 2007 in the villa that she and Knox rented in the central Italian university town of Perugia.
Their convictions were overturned in 2011 for "lack of evidence." But Italy's Supreme Court decided last year to retry the case, saying that the jury that acquitted them didn't consider all the evidence and that discrepancies in testimony needed to be answered.
Prosecutor Alessandro Crini last month said both Knox and Sollecito should be convicted and handed a 26-year sentence for homicide, with an additional four years for Knox for slander.
Knox's lawyer called Tuesday for her "acquittal verdict... to be confirmed."
A lawyer for Kercher's family, Francesco Maresca, gave his closing remarks Monday.
"No one remembers Meredith, while the two defendants write books, speak to the media and earn money," Maresca said.
The defense for Sollecito may present its arguments next month.
Knox returned to her hometown of Seattle after her acquittal and has been living there since. She says she is afraid to return to Italy, where she spent four years behind bars.
Ivory Coast citizen Rudy Guede has been convicted and sentenced for his role in Kercher's murder.
CNN's Hada Messia reported from Rome and Laura Smith-Spark wrote in London.