Angela Merkel voted into 3rd term as German chancellor
updated 8:23 AM EST, Tue December 17, 2013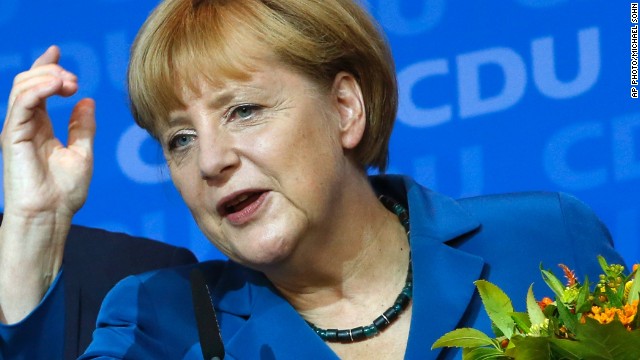 German Chancellor Angela Merkel addresses supporters at the party headquarters in Berlin on Sunday, September 22, 2013, after securing a third consecutive term as chancellor.
The election results showed again that she is one of the most popular politicians in Germany. Flip through these images to see her career in the making.
Merkel originally trained as a physicist. This picture, taken in 1989, shows her with her now husband, Joachim Sauer, and quantum chemistry professor Malgorzata Jeziorska during a summer school in the Polish city of Bachotek.
Merkel meets Alan Greenspan, the chairman of the U.S. Federal Reserve as the leader of Germany's opposition in April 2001.
November 22, 2005: Merkel is sworn in as Germany's chancellor. She became the first woman, the first East German and the youngest person to lead modern Germany.
December 2005: Merkel takes part in her first big European summit. According to her biographer, she stayed at work until 3 a.m., making sure an agreement was reached.
Russian President Vladimir Putin
, apparently aware of her dislike of the animals, made headlines by bringing his pet Labrador Koni into a meeting with Merkel in 2007.
Merkel has reportedly been afraid of dogs since she was bitten by one in 1995.
The famous trouser suit: Merkel presents U.S. Secretary of State Hillary Clinton with a German newspaper's front page photo of their trouser-suited hips in 2011.
Merkel shares a passion for opera with her camera-shy husband, Joachim Sauer. Here they are pictured arriving for the opening of the Bayreuth Wagner Opera Festival in July 2012.
Germany scoring a goal against Greece
during the Euro 2012 football championships quarter-final match in Gdansk .
A big football fan, Merkel celebrates
The 'Angela Merkel Barbie' was presented in March 2009 to mark Barbie's 50th birthday.
In photos: Rising to the top
In photos: Rising to the top
Science years
Leader of the opposition
Sworn in
First European summit
Putin's unpleasant surprise
The power suit
With husband Joachim Sauer
Football fan
Merkel Barbie
STORY HIGHLIGHTS
NEW: Angela Merkel is sworn in for a third term as Germany's chancellor
NEW: Jose Manuel Barroso says Merkel's re-election is an endorsement of her efforts
Merkel was re-elected by 462 votes, with 150 votes against and nine abstentions
The parliamentary vote follows approval of a coalition deal by SPD members
(CNN) -- Germany's parliament voted Tuesday for Angela Merkel to serve a third term as the country's chancellor, this time at the head of a grand coalition government.
The coalition is made up of Merkel's conservative bloc, her Christian Democratic Union party and the allied Christian Social Union, and the center-left Social Democrats.
Merkel was re-elected by 462 votes in Germany's lower house, or Bundestag, with 150 votes against and nine abstentions, and was sworn in as chancellor soon afterward. Her Cabinet is also due to be sworn in Tuesday.
The parliamentary vote came after members of the Social Democratic Party (SPD) overwhelmingly approved the coalition deal in a postal ballot.
European Commission President Jose Manuel Barroso wrote to Merkel to congratulate her on her re-election, saying it "constitutes both an endorsement of your past efforts and a signal of confidence for the coming years."
He added that he was looking forward to "constructive and fruitful cooperation" with the German government in the future, as the European Union continues its efforts to counter the effects of the global financial crisis.
Merkel's election to another four-year term brings to an end nearly three months of uncertainty for Germany, the eurozone's economic powerhouse.
Merkel emerged from September elections with the CDU's biggest vote in 20 years. But the CDU and CSU did not win an outright victory, requiring them to form a coalition government.
The pro-business Free Democrats, Merkel's previous coalition partner, failed to pass the 5% threshold for getting into parliament, putting a grand coalition with the SPD, the CDU's chief election rival, in the frame.
The coalition agreement, hammered out last month, includes a new nationwide minimum wage of 8.50 euros ($11.50) an hour beginning January 2015 and other measures favored by the SPD.
Merkel's third term will give the country consistent leadership at a time when the future of the euro has come under question amid the economic problems of some eurozone members.
While Germany has emerged from the crisis with its economy relatively intact, nations such as Greece have entered deep recessions while unemployment has soared.
READ: Angela Merkel, Europe's Mrs. Nein
CNN's Andrew Carey and Mark Thompson contributed to this report.