Spacewalks set to fix space station cooling pump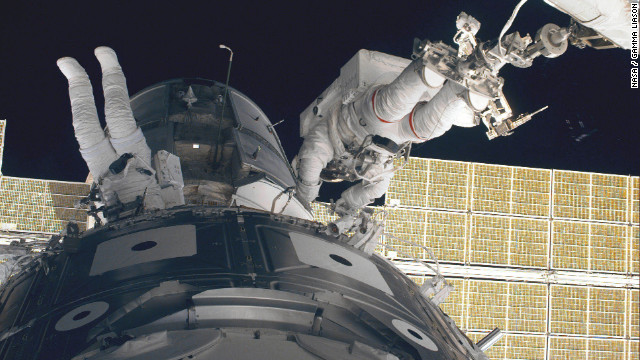 Look back at notable moments in the history of the International Space Station. Here in 1998, the Space Shuttle Endeavour crew attaches the Unity module, initiating the first ISS assembly sequence.
The Space Shuttle Endeavour crew, on mission STS-97, installs the first set of U.S. solar arrays on the station in 2000.
Carrying supplies and equipment in 2001, Leonardo is the first Multipurpose Logistics Module.
In 2006, Space Shuttle Atlantis docks with the ISS, delivering the P3/P4 truss and its solar wings.
Cmdr. Sergei Krikalev tests new hardware in anticipation of the unmanned cargo ship Jules Verne in 2008.
In 2008, Discovery undocks with the ISS after its crew successfully delivers and installs the Japanese-built Kibo lab.
In 2012, the unmanned SpaceX Dragon spacecraft connects to the ISS, the first private spacecraft to successfully reach an orbiting space station.
International Space Station
International Space Station
International Space Station
International Space Station
International Space Station
International Space Station
International Space Station
STORY HIGHLIGHTS
Three spacewalks are planned to fix failed coolant pump
Two astronauts will take part in the spacewalks
The failed pump forced controllers to scale back some station operations last week
(CNN) -- Astronauts will conduct a series of Christmas-week spacewalks to replace a faulty coolant pump aboard the International Space Station that has forced operations to be scaled back since last week, NASA announced Tuesday.
Two astronauts, Mike Hopkins and Rick Mastracchio, will start work outside the station on December 21, with follow-up spacewalks scheduled on December 23 and 25. The goal is to take out the pump that shut down December 11 and replace it with a spare already on board, the U.S. space agency announced.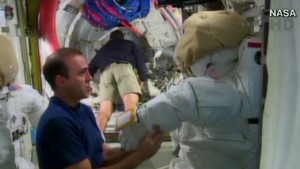 Emergency spacewalks planned at ISS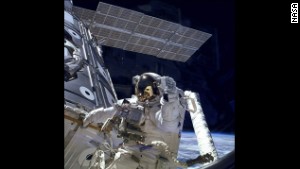 Spacewalk an 'incredible experience'
The pump circulates ammonia through loops outside the station to keep equipment cool. The space station's life support system is up and running, but ISS operations were cut back as a result of the failure, NASA said.
The station currently houses six people. In addition to Mastracchio and Hopkins, Russian cosmonauts Mikhail Tyurin, Sergey Ryazanskiy and Oleg Kotov and Japanese astronaut Koichi Wakata make up the Expedition 38 crew.
The job will force NASA to put off the first commercial supply mission by Orbital Sciences Corp.'s unmanned Cygnus spacecraft, which was successfully tested in September. The launch had been scheduled for Thursday, but has been pushed back to at least January 13, the company and NASA announced.
CNN's Mayra Cuevas contributed to this report.