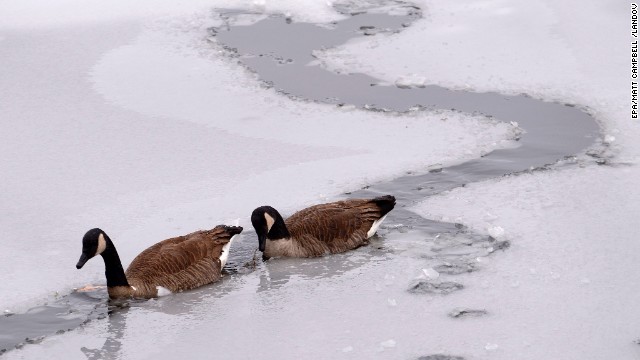 Two geese paddle along the single remaining channel in a frozen pond in Norfolk, Massachusetts, on Sunday, December 15. A fast-moving winter storm dropped about 6 inches of snow on the area during the night before changing to rain in the early morning. A winter storm covered much of the Northeast, leaving a foot of snow on parts of New England.
Apples at a Brooklyn street market are covered in snow on Saturday, December 14, in New York.
Dave Andsager, right, kicks snow out from under his car on in Champaign, Illinois, as neighbors Andy Dixon, left, and Dave Mattson help him dig out on December 14.
A woman uses an umbrella to protect herself from snow on December 14 in New York's Times Square.
Snow blankets West Market Street in Pottsville, Pennsylvania, on December 14.
Ward Bianchi, 4, sleds down a hill at Nevin Park in Easton, Pennsylvania, on December 14.
Graduates from Misericordia University make their way through the snowy campus for their commencement convocation on December 14 in Dallas, Pennsylvania.
Landon Jackloski, left, and Patrick Craig engage in a snow fight on December 14 as snow falls during the tree-lighting ceremony at Forty Fort Park in Forty Fort, Pennsylvania.
Cooper Reynolds, 3, grins as he sleds down a hill with his father, Ronnie Reynolds, on December 14 at Hudson Family Park in Portland, Indiana.
A person delivers food on a bike during a snowstorm in Brooklyn, New York, on December 14.
Winter storm covers Northeast
Winter storm covers Northeast
Winter storm covers Northeast
Winter storm covers Northeast
Winter storm covers Northeast
Winter storm covers Northeast
Winter storm covers Northeast
Winter storm covers Northeast
Winter storm covers Northeast
Winter storm covers Northeast