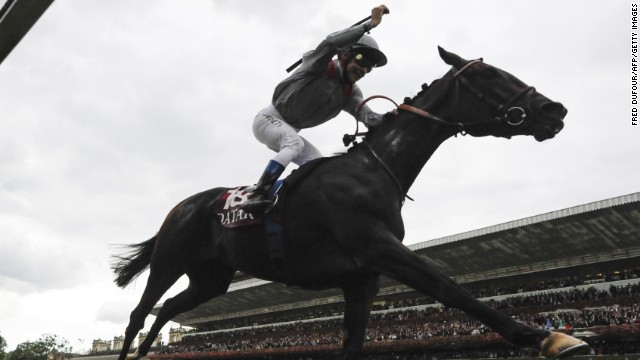 France celebrated home winner Treve in this year's Prix de l'Arc de Triomphe. The 2013 horse of the year is owned by Qatar's Sheikh Joann al-Thani, now a big player in the racing world.
Qatar has increasingly become a major player in flat horse racing, with its most high-profile presence arguably being its annual sponsorship of the the world's richest race, the Prix de l'Arc de Triomphe.
Sheikh Joann Al Thani, standing here in celebration with Treve, has invested both in horses and infrastructure in Europe as well as the oil-rich state of Qatar.
Olympic Glory is another of the horses in his stable, already a winner of the Queen Elizabeth II Stakes at Royal Ascot,with his eyes also set on winning the prestigious Breeders' Cup in the U.S.
Joann made history earlier this year when he paid a staggering five million guineas for a filly at the Tattersalls auction (the equivalent of $8.25 million) -- a world record.
The other big player in Qatar is Joann's cousin Sheikh Fahad al Thani, who founded the powerful Qatar Racing in 2011.
Fahad has also dug deep into his pockets to pay heftily for horses, and his jockeys ride in the colors of the Qatar Racing, claret with gold braid.
Qatar: The new force of horse racing
Qatar: The new force of horse racing
Qatar: The new force of horse racing
Qatar: The new force of horse racing
Qatar: The new force of horse racing
Qatar: The new force of horse racing
Qatar: The new force of horse racing
STORY HIGHLIGHTS
Relative newcomers to flat racing have taken the traditional super powers by surprise
Qatar royal family first "dipped their toe in the water" in 2010 with near immediate results
Prix de l'Arc Triomphe winner Treve is among the horses owned by the Qataris
Sheikh Joann Al Thani recently broke the European record for a yearling at $8.25 million
(CNN) -- It was an international who's who of horse racing super powers: Japan, Great Britain, Ireland, France, the United States and a resurgent Germany were all represented in the start gate of this year's Prix de l'Arc de Triomphe.
As the field entered the turn for home, the grey and maroon racing silks of Sheikh Joann Al Thani nudged ahead of early pacemaker Joshua Tree -- and from then there was only going to be one winner.
Five lengths clear, French jockey Thierry Jarnet had time to ease up past the winning post, flicking his whip in the air in celebration aboard Treve, later named horse of the year for 2013.
It was a home success for the adoring Parisian public, but the victory yet again highlighted the newest force in global horse racing.
Treve's success is merely one headline in a myriad of horse-racing moments coming thick and fast for Qatar, a country with the third richest natural gas reserves and a population of just two million people -- but a GDP of $183 billion.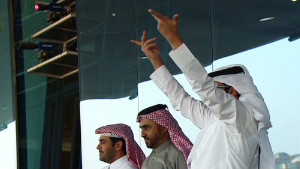 Transforming the desert into a racetrack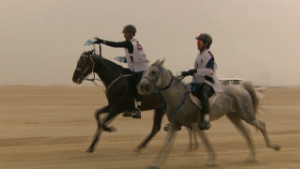 Endurance horse racing in the desert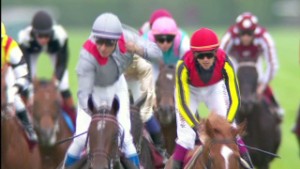 Inside the Prix de l'Arc de Triomphe
The first in the sport dated back to 2011 when the stallion Dunaden won the Melbourne Cup at the first attempt by owner Sheikh Fahad, cousin of Joann. It was a suitably dramatic event for anyone to make their mark; after a photo finish, the stewards took nearly three minutes to decide the outcome and award a prestigious victory to a horse that had cost Fahad a mere $150,000.
To highlight that fact, just a week after October's Prix de l'Arc triumph, Joann -- brother of Qatar's Emir Sheikh Tamim bin Hamad -- left attendees at auction house Tattersalls aghast by paying $8.25 million for the daughter of 2001 Epsom Derby winner Galileo, a world-record fee for a yearling filly.
And then in November, Joann announced further plans to make his mark on the sport by appointing Harry Herbert -- who runs England's prestigious Highclere stud -- as racing adviser to his Al Shaqab operation, with the ambitious stated view to be "one of the leading forces in thoroughbred racing."
Veteran champion Frankie Dettori, meanwhile, has become Sheikh Joann's retained jockey after his split with Dubai-owned Godolphin.
The rise of Qatar as a global player in the sport of kings has no previous equal. Not even Sheikh Mohammad bin Rashid Al Maktoum's Godolphin enjoyed anything like this level of success so soon despite plowing millions of pounds into it from day one.
What is truly remarkable is the speed with which the gulf state has got to this point.
The first major player was Sheikh Fahad. He watched horse racing on TV for the first time in 2008, attended his first meeting at the start of 2010 and, by April of that year, had started buying horses.
Sheikh Fahad's first move was to give British bloodstock agent David Redvers a relatively paltry £1 million to invest.
"He was looking for someone to put his toe in the water, to have a feel for it," Redvers recalls. "We had a huge amount of success in a short period of time."
In fact, in his first year of racing, Fahad's horses won 26% of the races he entered -- and that success paved the way for others to follow.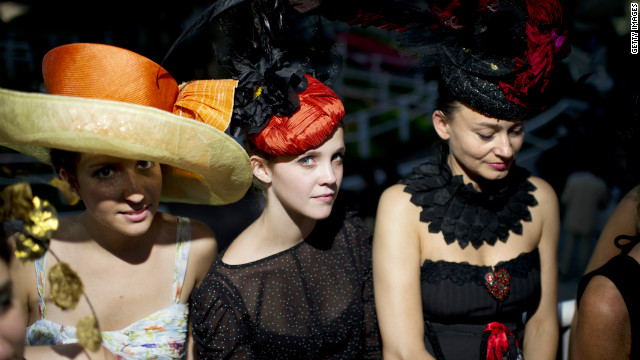 "French chic" has become synonymous with the country's powerhouse fashion labels, including Channel, Louis Vuitton and Yves Saint Laurent.
The fashion stakes are high at the Prix de 'Arc de Triomphe, with many race-goers opting for a classic, elegant style.
Spanish model Irene Salvador set the tone last year in a 1920s-inspired ensemble. The French race attracts a more demure style than the extroverted costumes seen at Britain's Royal Ascot.
Monaco's Princess Charlotte Casiraghi, the daughter of Princess Caroline, was one of the high-profile guests at last year's Arc. The prestigious race regularly attracts royalty, political leaders and business heavyweights from across Europe.
France's Industry Minister Eric Besson and wife Yasmine Tordjman also brought glamor to the stands in 2011. Politicians are a common sight at Longchamp, with many owning race horses.
Ladies at Britain's Royal Ascot tend to have a more flamboyant style than their counterparts across The Channel. "French dressing is less spectacular," says Arc spokesman Julien Pescatore.
Some fashion racing accessories appear universal -- such as the obligatory outrageous hat. A Royal Ascot punter dons a football-themed hat at this year's races.
The picturesque Parisian race track is named after the Prix du Moulin de Longchamp windmill, orginally built as part of a 13th century monastery.
The Qatar Racing and Equestrian Club-sponsored event is the richest in Europe, with almost €8 million ($10.4 million) in prize money on offer over the weekend.
Jockey Andrasch Starke celebrates on the podium after German horse Danedream wins the 2011 race. The defending champion was banned from traveling this year after training at the Cologne racecourse, which is under strict quarantine following the detection of swamp fever.
French jockey Christophe Soumillon will be riding Japan's big hope Orfevre. His chances of winning now look slim after drawing the far outside stall 18.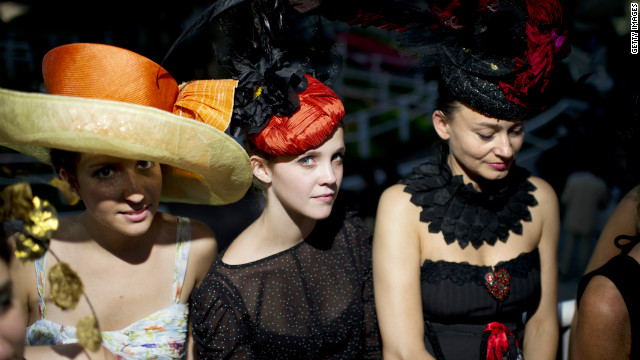 Glitz and glamour of the Arc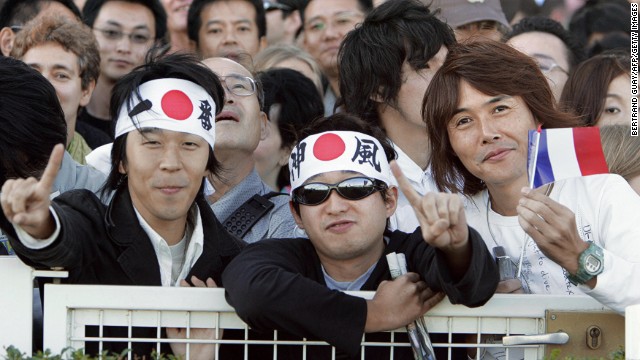 Some 5,000 Japanese fans, with individual fan clubs for horses and riders, traveled to Longchamp in Paris for last year's Prix de l'Arc de Triomphe. A similar contingent is expected this weekend.
Japan's enthusiasm for the sport is growing. Its biggest annual horse race, the Japan Cup, attracts thousands of fans -- on the whole much younger than those in Europe -- to Tokyo Racecourse in November, from early in the morning.
Japan's most famous jockey is Yutaka Take, who has been likened to the David Beckham of his sport. Here the veteran is on board a golden replica of Oguri Cap, which won four Grade One races.
One of the nation's most famous horses is Deep Impact (center), ridden by Take, which came within a whisker of winning the Prix de l'Arc de Triomphe in 2006 -- when Britain's Rail Link snatched the race honors.
Japan's best bet at Longchamp this year is Orfevre, which has competed there before and is among the favorites to win a race that has become an obsession for his country's punters.
Much of the improvement in Japanese racing is down to wholesale purchases of some of Europe's best horses, with a view to improving breeding programs. Teruya Yoshida, right, is one of the leading owners.
Arguably the best known Japanese trainer is Yasuo Ikee, who looked after Deep Impact among others before he retired in 2011. His son, Yasutoshi, has taken over the family work.
British riders are increasingly heading over to Japan to make their mark. Three-time champion jockey Ryan Moore is among the foreigners to have raced in Japan in 2013.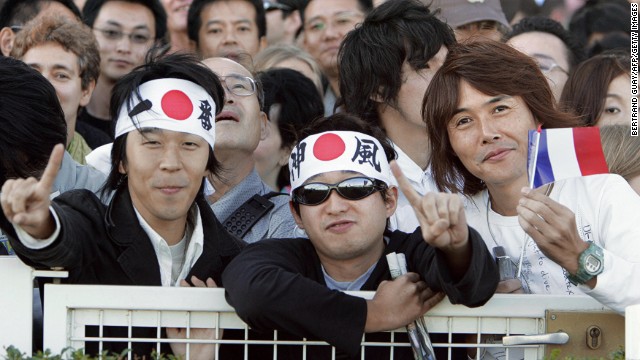 Japan's love affair with horse racing
"When he won the Melbourne Cup with Dunaden it showed to the rest of Qatar Royal Family that things just weren't down to the Al Maktoum family," Redvers adds. "So there has been greater investment from Sheikh Fahad's brothers and obviously Sheikh Joann.
"Sheikh Fahad's hunger for knowledge is extraordinary. He's an extremely good judge of horses and he's utterly fascinated, he's made some very good decisions and had some great results, particularly considering the scale of investment. It's not the case of the person with the most money wins. If it was, horse racing would lose its magic."
Sheikh Fahad has spent admirably but also wisely, pushing his acquisitions through Pearl Bloodstock and Qatar Bloodstock to feasible limits while still ensuring both are money-making businesses.
After his early successes, Sheikh Fahad has increasingly tried to take more of a back seat in horse racing, allowing his brothers to come to the forefront, but along with Joann he remains the integral figure for his country.
As well as the Arc victory with Treve, Joann has also enjoyed widespread success as an owner over the past 18 months. His portfolio of victories in 2013 includes Olympic Glory in the Queen Elizabeth II Stakes at Ascot as well as Toronado in the Sussex Stakes at Goodwood.
But as of last week, he has announced his intention to up the ante and increase his stable of 110 horses in England and France with Al Shaqab, a breeding operation set up by his brother Hamad back in 1992.
"Our ambition is to have the most successful horse racing operation in the world," says his spokesman Nasser Sherida Al Kaabi. "When he entered the race, he wanted to be number one. He doesn't accept being second."
Sheikh Fahad has also thrown his financial support behind two up-and-coming English trainers, Olly Stevens and his wife Hetta, by setting them up at Robins Farm Racing with Redvers' help.
Olly earned his license in January before enjoying his first winner with only his second runner a month later. He has since enjoyed a first Royal Ascot winner with his first runner there, Extortionist, plus a first group classification success with Green Door at Doncaster.
Stevens was first approached to take over Robins Farm on the day his twin sons were born, and describes the tie-in with Sheikh Fahad as "all quite fortuitous."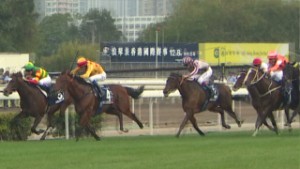 HK horse race with a $9 million prize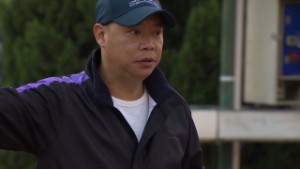 Rookie trainer climbs the ranks
"He's massively passionate about the sport, hugely knowledgeable with it too," Stevens says of Sheikh Fahad. "He's a great person to work with and he's really taken a chance on us.
"You couldn't ask to train for a better person. He loves animals and he loves sport, and he's very supportive. But also he leaves us to get on with the nuts and bolts day-to-day stuff.
"I hope he's pleased. He's certainly very optimistic about what we're doing. He's trying something new with us and we'll see what happens."
At a time when Qatar is in the sporting spotlight for the wrong reasons, with difficulties in the lead-up to the 2022 World Cup, its entry into the horse racing fraternity has almost virtually been one of positive stories and the sport's often close-knit community has well received these relative newcomers.
It has also invested heavily in sponsorship, agreeing a 10-year deal for the Prix de l'Arc de Triomphe in June 2010, via the Qatar Investments and Projects Holding Company (QIPCO).
QIPCO also sponsors the 35-race British Champions Series, which culminates at Ascot in the richest day in the UK horse racing calendar with $4.7 million at stake.
Both lucrative sponsorships are aimed at putting Qatar on the global map -- its latest attempt to use sport to improve its political sway.
As Sheikh Fahad said at the start of his horse-racing venture: "It opens a lot of doors for us. Sport unites the world, and that's the vision of Qatar.