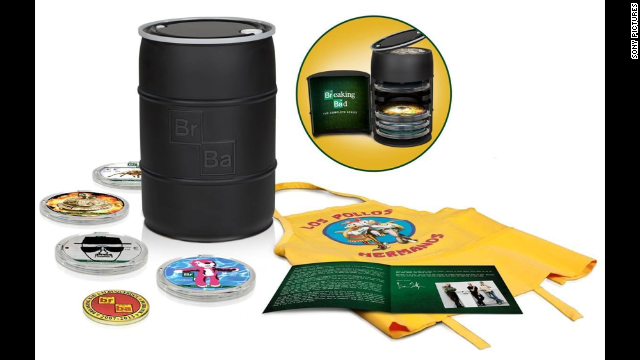 If you want to see chemistry in action ...
enjoy
"Breaking Bad: The Complete Series."
It's all here: the story of the ineffectual chemistry teacher who became a drug lord, which showcased the storytelling abilities of creator Vince Gilligan and his staff; the range of
star Bryan Cranston
; and the kind of layered morality tale in which TV seldom indulges. Incidentally, it comes in the shape of a barrel and includes a Los Pollos Hermanos apron. Take the challenge. (Sony, $299.99)
If you want to learn while you shampoo ... the Periodic Table Shower Curtain is the place to start. As seen on "The Big Bang Theory," this 71-inch-by-71-inch curtain, made of sturdy EVA vinyl, features all the elements from hydrogen to roentgenium (OK, so it lacks copernicium -- even IUPAC takes time for deliberation) and doesn't skimp on the lanthanides. Also with handy metric-English equivalents. (ThinkGeek.com, $29.99)
If you want protection from a life-sized superhero ... Fatheads can fill your wall. The huge decals -- some more than 6 feet tall -- stick to your walls without any muss and are reusable. The company has agreements with Marvel and DC, so whether you're a fan of Iron Man or Superman, they're on guard. (Fathead.com; prices range, but many superheroes are $99.99)
If you're looking for a history of American music ... you could do worse than Bob Dylan's "The Complete Album Collection Vol. 1." Here are the folk rewrites, the groundbreaking "wild mercury sound," the dabblings in country, Christian, blues and even synthy '80s stuff. It's not for completists -- it's missing the "Bootleg Series" and a handful of singles -- but if you want to immerse yourself in Dylan and music, it's worth the investment. Also available on a USB drive embedded in a fake harmonica. (Columbia/Legacy, $261.31)
If you want to dig deeper ... Jack White and his Third Man Records have the box for you. "The Rise and Fall of Paramount Records 1917-1932" highlights music made by a Wisconsin furniture company that decided to record musicians to help sell its wares. It recorded future stars such as Louis Armstrong, Fats Waller and Ma Rainey and became a leading "race records" label. The box is gorgeous and includes vinyl, digital, a hardcover book, a field guide and an oak cabinet. (Third Man, $400)
If you'd like a crash course ... enroll in the school of Ahmir "Questlove" Thompson. His book, "Mo' Meta Blues," complete with a cover that echoes Milton Glaser's famed Dylan poster, is a combination memoir and record-nerd compendium. The Roots drummer and Jimmy Fallon regular is a thoughtful critic and enthusiastic fan. Join his conversation. (Grand Central, $26)
If you want to smell "Fly" ... try Minajesty by Nicki Minaj. These days, you haven't made it as a celebrity until you have your own fragrance, so Minaj has followed the sweet-smelling path of Lady Gaga (Fame), Katy Perry (Purr, Killer Queen) and Britney Spears (Curious, Fantasy). Minajesty is Minaj's second offering, after Pink Friday. The scent evokes "luscious fruits and luxurious fresh florals, draped in creamy vanilla and pure musk," according to its website. (Available at department stores and online)
If you want to be a punk about it ... the Ramones' first six albums have been packaged in a box, "The Sire Years: 1976-1981." Here are the speedy songs that help launch the punk revolution, including "Sheena Is a Punk Rocker," "Pinhead" and "Teenage Lobotomy." (The band didn't put out a song longer than three minutes until their fourth record.) It was a heck of a run. (Rhino, $32.36 on Amazon)
If you're seeking mainstream music with a touch of the experimental ... you might want to listen to "There's A Dream I've Been Saving: Lee Hazlewood Industries 1966-1971," a lavish collection of the singer, writer and producer's records. Hazlewood is probably best known for his work with Nancy Sinatra, but his productions often combined unusual arrangements with a variety of styles. He was one of a kind. (Light in the Attic, $80)
If hunger is your target ... what better way to take care of sweets-craving appetites than with chocolates inspired by "The Hunger Games: Catching Fire"? Vosges Haut-Chocolat and Wild Ophelia have created a line of candies that go along with the hit movie, including an Effie Chocolate Bar, a Crispy Crunchy Caramel Corn Dark Chocolate Bar and the Capitol Truffle Collection. (Available through www.vosgeschocolate.com, $4.99 to $225)
If you never got a dinner ... check out "The Dean Martin Celebrity Roasts." Comedy Central does roasts now, but few comedic hours can match the classics hosted by Martin in the '70s and '80s. The guests included Ronald Reagan, Bob Hope, Johnny Carson and Hugh Hefner, and the panels featured Bob Newhart, George Burns, Lucille Ball -- and, of course, Red Buttons and Foster (hic!) Brooks. Priceless. (StarVista, $249.95)
If you'd like a master class in comedic timing ...
Jack Benny remains the king of the deadpan pause. The famed comedian's "Jack Benny Program" ran for 15 seasons on TV in the '50s and '60s and contains countless classic bits. Some episodes were thought lost, but a three-disc collection,
"The Lost Episodes,"
collects 18 of them, restored and uncut. Should you check them out? To borrow from
Frank Nelson, "Yessssssss!"
(Shout! Factory, $29.93)
If you're interested in TV irreverence ... sample "Mary Hartman, Mary Hartman: The Complete Series." In 1975, when the Norman Lear-produced soap opera was created, the broadcast networks rejected it as too controversial. And no wonder: "Mary Hartman" parodied pretty much everything there was to parody at the time, including the medium itself. (Nobody believed TV commercials like Louise Lasser's Mary.) A syndicated success, the show spawned the parody talk show "Fernwood 2 Night." It still has an edge. (Shout! Factory, $249.95)
If you know someone who dreams of being an anchorman ... Ron Burgundy knows the way. "Based on over a thousand hours of recorded conversations with himself" -- according to publicity material -- "Let Me Off at the Top" chronicles the highs and lows of the news business, offering rules to live through a prison riot, how to deal with Canadians and the time jazzman Errol Garner saved his life. Always classy. (Crown Archetype, $22)
If you want see what shaped today's comic masterminds ...
look no farther than
"Inside Mad."
The humor magazine that taught wisenheimers to question authority celebrates more than 60 years of parody with
a collection of favorite pieces
, chosen by staffers. Moreover, several celebrities -- including Judd Apatow, Todd McFarlane, Ken Burns and Roseanne Barr -- were roped into contributing essays. As the magazine would tell you, don't believe a word they say. (Time Home Entertainment, $29.95 -- cheap! Mad is a unit of DC Comics, which is part of Time Warner -- as is CNN.)
If you enjoy those clever videos with wacky, domino-like devices ... you may enjoy "The Art of Rube Goldberg." This oversized collection provides illustrations of many of the cartoonist's "Rube Goldberg machines" but also puts him in context as one of the great cartoonists, period. It's not for nothing that the award given by the National Cartoonists Society for the year's outstanding cartoonist is called the Reuben. (Abrams, $60)
If your imagination is captured by freeze frames ...
movie history might be summed up in film historian David Thomson's
"Moments That Made the Movies."
Films are often encapsulated by single scenes -- consider the boulder pursuing Indiana Jones or Joseph Cotten's endless wait at the end of "The Third Man" -- and the ever-sharp Thomson picks several dozen to tell the story of cinema. "Witty and full of insights,"
wrote the Guardian's Philip French
. (Thames & Hudson, $39.95)
If you're buying for an amateur historian ...
put in an order for
"The African-Americans: Many Rivers to Cross"
DVD. The well-reviewed series, which is being released with a companion book by Henry Louis Gates,
aired on PBS in October and November
and offers a sweeping view of black history. The DVD comes out in January, but there's no time like the present to reserve a copy. (PBS, $34.99)
If you love celebrity culture of all stripes ... then "Vanity Fair: 100 Years" is your ticket. There have been two Vanity Fairs, really: The first was the Roaring '20s publication edited by Frank Crowninshield, and the second -- an '80s rebirth soon molded by Tina Brown and Graydon Carter -- continues today. Known for its glossy photographs, puckish humor and (sometimes loving, sometimes pointed) treatment of celebrity, it remains tremendously influential. "100 Years" collects material from both versions. (Abrams, $65)
If you have a taste for jazz ... "Verve: The Sound Of America - The Singles Collection" offers 100 singles from the influential label founded by Norman Granz. Many have been out of print for years. Verve's roster includes Ella Fitzgerald, Oscar Peterson, Stan Getz and Wes Montgomery, among many others. (Verve, $57.97 on Amazon)
Entertaining gift ideas
Entertaining gift ideas
Entertaining gift ideas
Entertaining gift ideas
Entertaining gift ideas
Entertaining gift ideas
Entertaining gift ideas
Entertaining gift ideas
Entertaining gift ideas
Entertaining gift ideas
Entertaining gift ideas
Entertaining gift ideas
Entertaining gift ideas
Entertaining gift ideas
Entertaining gift ideas
Entertaining gift ideas
Entertaining gift ideas
Entertaining gift ideas
Entertaining gift ideas
Entertaining gift ideas