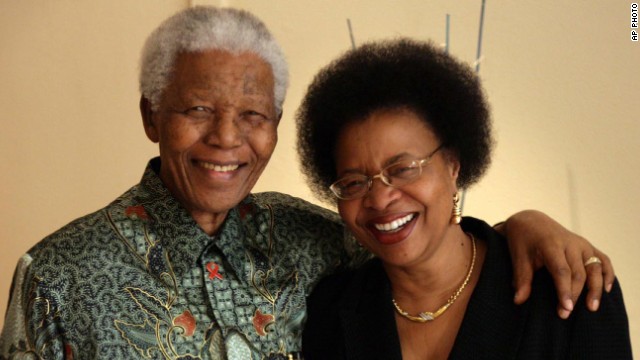 Not only is Nelson Mandela the former president of South Africa and a Nobel Peace Prize winner, but he is also a father, grandfather and even great-grandfather of a huge family. Mandela has been married three times and has fathered six children. Here he poses with his wife of 15 years, Graca Machel.
Mandela spends his 90th birthday surrounded by family at his home in Qunu, South Africa, in 2008.
Mandela casts his ballot for the 2011 elections in South Africa with his daugher Princess Zenani Dlamini, left, and granddaughter Ndileka Mandela.
Princess Zenani Dlamini's daughters Swati Dlamini, left, and Zaziwe Dlamini-Manaway talk about their reality show, "Being Mandela," in New York in February.
Makgatho Mandela carries a fruit basket before a 1989 ferry trip to Robben Island Prison, where his father spent much of his 27-year incarceration.
Pictures of the late sons of Nelson Mandela, by photographer Eli Weinberg, hang in his office at the Nelson Mandela Centre of Memory in Houghton, Johannesburg, on Tuesday, June 11. Thembekile Mandela died in a 1969 car accident and Makgatho Mandela died from AIDS in 2005.
Makgatho Mandela's son, Ndaba Mandela, right, with cousin Kweku Mandela at Times Square for an April 19 showing of "Power of Words: Nelson Mandela," a short film about their grandfather's writings that was part of the Tribeca Film Festival in New York.
Makgatho Mandela's eldest son, Mandla Mandela, serves as the chief of Mvezo in the village where his grandfather was born.
Nelson Mandela's daughter Makaziwe Mandela, left, with her daughter Tukwini Mandela, pose in April with House of Mandela wine at their home in Johannesburg.
Nelson Mandela's daughter Zindzi Mandela and her son Zondwa Mandela pose with the Arthur Ashe Courage Award, which they accepted on behalf of Nelson Mandela during the 2009 ESPY Awards.
Nelson Mandela's granddaughter Zoleka Mandela speaks during the launch of the Zenani Mandela Scholarship for road safety, dedicated to her daughter Zenani Mandela, who was killed in 2010 at age 13 in a road accident.
The Mandela family in 2009, from left, Thembela Mandela, Mbuso Mandela, Nelson Mandela, Ndileka Mandela and Zoleka Mandela, and, front row, Zenani Mandela, Bohelo Seakamela and Zwelami Mandela.
Nelson Mandela celebrates his 86th birthday with his wife, Graca Machel, left, and ex-wife Winnie Madikizela-Mandela in his rural hometown of Qunu in the Eastern Cape Province in 2004.
Nelson Mandela with his daughter Zindzi Mandela at her 1992 wedding in Soweto.
Nelson Mandela and his then-wife, Winnie, play with their grandchild Bambatha at their Soweto home in 1990.
Nelson Mandela and his second wife, Winnie Madikizela-Mandela, at their 1958 wedding.
Mandela family album
Mandela family album
Mandela family album
Mandela family album
Mandela family album
Mandela family album
Mandela family album
Mandela family album
Mandela family album
Mandela family album
Mandela family album
Mandela family album
Mandela family album
Mandela family album
Mandela family album
Mandela family album