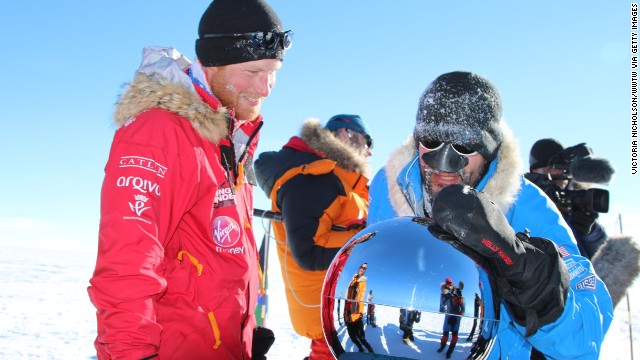 Prince Harry, left, and Ivan Castro touch the pole as they and their fellow adventurers reach the South Pole as part of their Walking With the Wounded charity trek on Friday, December 13, in Antarctica. The Virgin Money South Pole Allied Challenge 2013, of which Prince Harry is patron, will see the participants race across three degrees to the South Pole.
Prince Harry, left, and Margaux Mange of Team U.S. pose at the South Pole after more than three weeks pulling sleds across the frozen wastes of Antarctica. The group stood at the bottom of the world at midday.
Members of Team U.K., Team Commonwealth and Team U.S. pose as they reach the South Pole. The teams trekked 15 kilometers to 20 kilometers per day and endured temperatures as low as -45 C and 50 mph winds as they pulled their 70 kilogram sleds to the South Pole.
The teams trek with their sleds in Antarctica. All 12 injured service personnel from Britain, America, Canada and Australia have overcome life-changing injuries and undertaken challenging training programs to prepare for the conditions in Antarctica.
Prince Harry and the Walking With the Wounded teams leave Novo, Antarctica, for their second base camp at 87 degrees south, the starting point for the race.
Prince Harry pulls the pulk guiding U.S. team member Ivan Castro, who is blind, as he takes part in ski training near Novo, Antarctica.
Prince Harry and Dominic West make notes on how much each individual and their kit weight.
Prince Harry looks at the start line in Antarctica.
The prince unloads equipment from the plane.
Prince Harry arrives in Novo, Antarctica.
Britain's Queen Elizabeth II examines a jacket presented by a member of Team USA as her grandson looks on during a reception at Buckingham Palace in London on November 13 ahead of the Walking With the Wounded South Pole Allied Challenge.
Ed Parker, left, co-founder of Walking With the Wounded and team mentor of Team USA, Prince Harry and Queen Elizabeth examine a pulk belonging to Team U.K. during a reception to meet the three teams of wounded servicemen and servicewomen.
Prince Harry attends the Walking With the Wounded South Pole Allied Challenge departure event at Trafalgar Square on November 14 in London.
Prince Harry helps take down a tent during a cold chamber training exercise with the British team at Nuneaton in central England on September 17.
The Prince and his four teammates were subjected to ambient temperatures of -35 C over a 20-hour period in the chamber.
Prince Harry reaches South Pole
Prince Harry reaches South Pole
Prince Harry reaches South Pole
Prince Harry reaches South Pole
Prince Harry reaches South Pole
Prince Harry reaches South Pole
Prince Harry reaches South Pole
Prince Harry reaches South Pole
Prince Harry reaches South Pole
Prince Harry reaches South Pole
Prince Harry reaches South Pole
Prince Harry reaches South Pole
Prince Harry reaches South Pole
Prince Harry reaches South Pole
Prince Harry reaches South Pole