CNN Exclusive: Dennis Rodman set to go to North Korea for 'basketball diplomacy'
updated 10:07 AM EST, Wed December 18, 2013
STORY HIGHLIGHTS
Rodman and a documentary crew are scheduled to arrive on December 19
Experts say it's safe for them to travel there, and the trip won't be political, sponsor says
Sponsor: Rodman will train a North Korean team, doesn't have plans to meet with Kim Jong Un
The players are training for "The Big Bang in Pyongyang," a game against former NBA players
(CNN) -- As Dennis Rodman readies for his "basketball diplomacy" trip to North Korea, CNN has learned exclusively from Rodman's sponsor Paddy Power that Rodman and his documentary crew will arrive in Pyongyang on December 19 and train a team of North Korean basketball players through December 23.
The names of the former NBA players and "high-profile" NBA coach will be announced before Rodman leaves next week for North Korea. Paddy Power is an online and in-store sports betting business in the UK.
Rory Scott, a spokesman for Paddy Power, said that "taking a pragmatic view, we have spoken to many experts familiar with recent developments in DPRK and it was the general consensus that it is safe for us to travel there. The purpose of this trip is not to get involved with politics but to prove once again that sport has the power to rise above all issues. And this will be a unique sporting occasion."
The spokesman added that Rodman has no definite plans to meet with "the Marshal Kim Jong Un," but because Rodman and the President are friends, they could very likely meet again.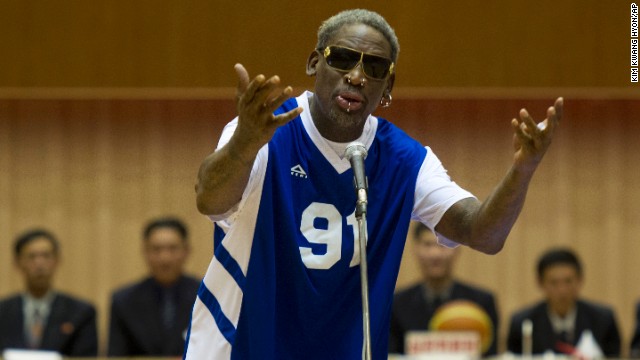 Dennis Rodman sings "Happy Birthday" to North Korean leader Kim Jong Un before an exhibition basketball game in Pyongyang, North Korea, on Wednesday, January 8. In his latest round of "basketball diplomacy," Rodman made his fourth visit to North Korea, one of the world's most totalitarian states, to participate in a basketball game between North Korea and a team of former NBA players.
Rodman bows to Kim, seated above in the stands, before the basketball game on January 8.
Rodman stands up after he and fellow former NBA players completed a television interview at a hotel in Pyongyang on Tuesday, January 7.
Son Kwang Ho, vice minister of North Korea's Sports Ministry, greets former NBA star Dennis Rodman at the airport in Pyongyang on Monday, January 6.
Rodman plays one-on-one with a North Korean player during a basketball practice session in Pyongyang on Friday, December 20, 2013. During the session, Rodman selected the members of the North Korean team who will play in Pyongyang against visiting NBA stars on January 8, the birthday of North Korean leader Kim Jong Un.
Rodman holds a cigar as he speaks to North Korean basketball players during a practice session in Pyongyang on December 20.
Rodman attracts notice as he enters the Koryo Hotel in Pyongyang on Thursday, December 19.
Rodman arrives at Beijing's airport before his flight to North Korea on December 19.
Rodman shows photos of himself with North Korean leader Kim Jong Un while talking to journalists at the Beijing airport on September 7 after his second trip to the reclusive, nuclear-armed nation. Rodman returned from the communist country announcing he will put together a "basketball diplomacy" event with players from North Korea. But he put a damper on any speculation he might have been trying to free imprisoned American Kenneth Bae.
Rodman shows a photo of himself with North Korean leader Kim Jong Un as he arrives at the Beijing airport on September 7. At a news conference Monday, September 9, he called Kim a "very good guy."
Rodman faces questions about detained American Bae at the Beijing airport on September 7. "It is not my job to talk about Kenneth Bae," he told reporters.
Rodman arrives at North Korea's Pyongyang airport on Tuesday, September 3. In a later interview with the British newspaper The Guardian, the ex-basketball star leaked the purported name of Kim's baby daughter.
Son Kwang Ho, vice chairman of North Korea's Olympic Committee, greets Rodman at the Pyongyang airport on September 3.
The retired NBA star faced criticism over his February visit to see the ruler of the repressive state. That trip came during a period of escalating tensions on the Korean Peninsula.
Airport staff take pictures of the former NBA star at a check-in counter at China's Beijing Capital International Airport on September 3 while he was heading to North Korea.
On an earlier visit, Rodman and Kim watch a basketball game together in this image released by HBO for an episode of the documentary series "Vice" which aired in June.
Rodman walks by the base of the Tower of the Juche Idea in Pyongyang in March 2013, in this image released by the Korean Central News Agency.
Rodman and Kim share a toast in North Korea in February.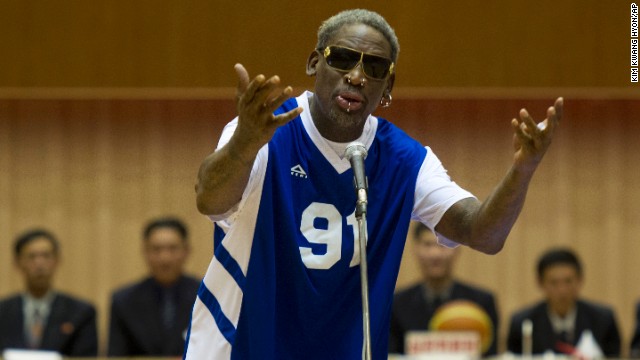 Photos: Dennis Rodman in N. Korea
The North Korean basketball players are being trained for a game against a team of former NBA players, called Dennis' Dream Team, in Pyongyang on January 8, Kim's birthday. The game is tentatively titled "The Big Bang in Pyongyang." The first half will be the U.S. vs. North Korea. For the second half of the game, the two teams will be blended with players from both sides.
Opinion: Is Dennis Rodman smart on North Korea?