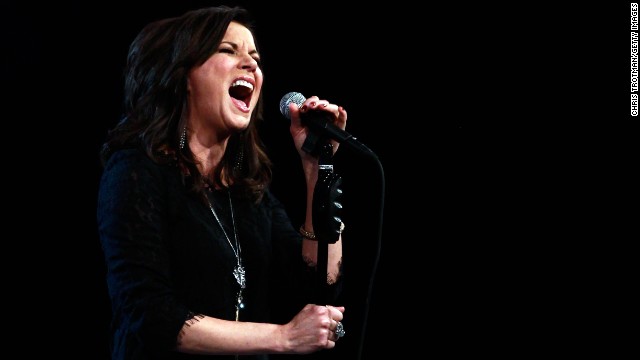 Ever since the CNN documentary
"Blackfish"
raised questions about the safety and humaneness of SeaWorld's practices, musicians booked for the 2014 Bands, Brew & BBQ concert series have been cutting ties with the Florida theme park. Others have also distanced themselves. Country singer Martina McBride, pictured, announced on Facebook that she had canceled her appearance scheduled for March.
Neil Giraldo and Pat Benatar announced Thursday, January 16, that they will be canceling their performance at Bands, Brew & BBQ.
The Beach Boys also canceled their show at the event.
told a Twitter user
he did not know the band's "The Animal Song" was being used during SeaWorld's performances. He said he has written to his publisher about it.
Former Savage Garden singer Darren Hayes
told his fans via Facebook
that he and his wife, Monique, would do "everything in our power" to stop SeaWorld from using his song "Free Ride" during its performances.
Edgar Winter
REO Speedwagon announced December 13 that it had canceled its performance.
On December 12, Trisha Yearwood pulled out "in light of recent concerns," according to her representative.
wrote in a letter
to SeaWorld President Jim Atchison on December 11. "I'm among the millions who saw 'Blackfish' and am sickened that my music was blasted without my permission at sound-sensitive marine mammals. ... These intelligent and feeling creatures communicate by sonar and are driven crazy in the tiny tanks in which they are confined." A SeaWorld spokesman said that although the park had licensed the song legally, it will no longer be used in the shows.
Although Joan Jett was not scheduled to perform at SeaWorld, one of her songs featured prominently in the park's killer whale shows. "I was surprised and upset to see on YouTube that SeaWorld used 'I Love Rock 'n' Roll' as the opening music for its cruel and abusive 'Shamu Rocks' show," Jett
Cheap Trick canceled its February date without releasing a statement.
tweeted
, "Heart has chosen to decline their forthcoming performance at SeaWorld on 2/9/14 due to the controversial documentary film 'Black Fish.' " Nancy, left,
wrote
, "The Sea World show was planned long ago as an Orlando show. Had we known, we'd have said no then. We said no today. Love you all."
On December 7, sisters Ann and Nancy Wilson
Change.org petition
urging Willie Nelson to withdraw from the concert series, Nelson obliged, saying, "
What they do at SeaWorld is not OK.
" He told CNN's Brooke Baldwin: "I don't agree with the way they treat their animals. (Canceling the show) wasn't that hard a deal for me."
After the airing of the documentary and the
took to Facebook
in November to explain why it was canceling its SeaWorld concert. "This is a complicated issue, and we don't claim to understand all of it, but we don't feel comfortable proceeding with the gig at this time," the band wrote. "The Seaworld folks have been gracious, and extended us invitations to the park to learn more about what they do, and how they do it."
Barenaked Ladies was among the first acts to question their affiliations with SeaWorld, and the band
Celebs shun SeaWorld
Celebs shun SeaWorld
Celebs shun SeaWorld
Celebs shun SeaWorld
Celebs shun SeaWorld
Celebs shun SeaWorld
Celebs shun SeaWorld
Celebs shun SeaWorld
Celebs shun SeaWorld
Celebs shun SeaWorld
Celebs shun SeaWorld
Celebs shun SeaWorld
STORY HIGHLIGHTS
REO Speedwagon was booked to play SeaWorld Orlando on February 16
The rock band cites "concerns" for decision to cancel
Trisha Yearwood, Willie Nelson, Cheap Trick, others already canceled
Online campaign by fans asks acts to ditch SeaWorld in wake of "Blackfish" film
(CNN) -- Add REO Speedwagon to the list of musical acts canceling SeaWorld shows because of the documentary "Blackfish."
"Due to concerns regarding our February 16 appearance at SeaWorld, we have chosen to cancel the performance," the rock band said on its Facebook page on Friday.
A promoter could put together a great concert series with the acts who have canceled SeaWorld shows in the past several weeks, including Trisha Yearwood, Willie Nelson, Cheap Trick, Heart and Barenaked Ladies.
The acts bailed on the Orlando theme park's "Bands, BBQ and Brew" concert series amid pressure from fans who started online petitions, tweeted and posted on Facebook pages demanding they not play SeaWorld.
The fans became upset after watching the CNN documentary "Blackfish," which first aired on CNN in October. The film tells the story of the killing in 2010 of a SeaWorld trainer by an orca. It raises questions about the safety and humaneness of keeping killer whales in captivity.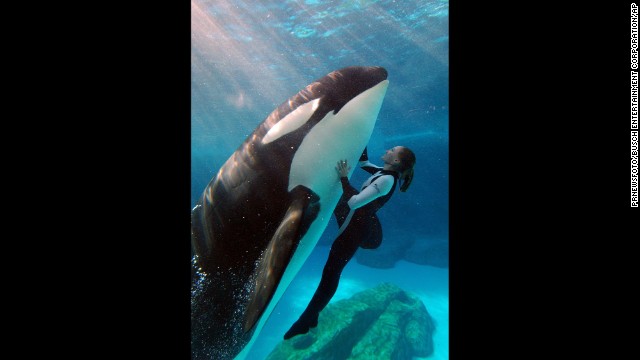 Killer whales, or orcas, were first put on public display in the 1960s. The best known killer whale shows in the United States are at SeaWorld Parks, which are synonymous with their "Shamu" killer whale shows, seen here.
SeaWorld's first park opened in San Diego, California, in March 1964 with only a handful of employees, a few dolphins, sea lions, and two aquariums. The park introduced orcas the next year, and they quickly became the stars of the park's shows. A steady stream of celebrities have posed with SeaWorld's killer whales, including actress Halle Berry, seen here in 2009.
SeaWorld opened its Orlando park in 1973, where the first killer whale was born in captivity in 1985. SeaWorld emphasizes that it is "dedicated to education, entertainment, research and conservation" of all its marine animals. Here, two orcas at SeaWorld Orlando perform in 2000.
The 1993 hit movie "Free Willy" captured hearts and sparked a massive campaign to free Keiko, the orca that played "Willy" in the movie, from the Mexican amusement park where he performed. Here, Keiko is being prepared to be released into the wild in 1998. In 2002, Keiko spent five weeks journeying across the Atlantic to Norway. He wasn't quite ready to be independent, finding companionship among the Norwegian fishermen and children. He died in December 2003, most likely from pneumonia.
The nation's attention turned once again to the plight of captive orcas in February 2010 when SeaWorld trainer Dawn Brancheau was killed by a male killer whale, Tilikum. Tilikum had been involved in the deaths of two other humans prior to the incident, including a trainer in 1991 in Canada and a man who slipped into the orca tank at SeaWorld Orlando in 1999.
Tilikum returned to performing at SeaWorld Orlando a year after Brancheau's death. Trainers were no longer allowed in the water with the killer whales after OSHA, the federal agency that regulates workplace safety, cited SeaWorld of Florida, Inc., for willfully endangering employees by not taking proper safety precautions. A judge upheld the ruling, but SeaWorld is appealing.
Killer whale Tilikum watches as SeaWorld Orlando trainers take a break during a training session in March 2011. In an effort to unravel what happened between the 12,000-pound Tilikum and the late Dawn Brancheau, filmmaker Gabriela Cowperthwaite made "Blackfish" which debuted at the Sundance Film Festival in 2013. The film raises a number of questions, not the least of which being whether killer whales have any place in theme parks.
A male killer whale, Bingo, is transported to the Nagoya Port Aquarium in Japan in December 2011, after the death of the aquarium's only other orca. Marine animal activists say the transfers of orcas between marine parks are unhealthy for these mammals because of the stress and trauma.
This female killer whale, Morgan, was taken in by a Dutch dolphinarium after being found starving in the shallow waters of the North Sea off the Netherlands coast. She is now performing at Loro Parque in Spain's Canary Islands -- despite an agreement that she would be released into the wild after her rehabilitation. Animal rights activists have mounted a legal challenge for her release.
Today, there are 45 captive orcas performing at about 10 parks across the world, most of them born in captivity. Here, orcas perform at the Marineland aquatic park in Antibes, in southeastern France.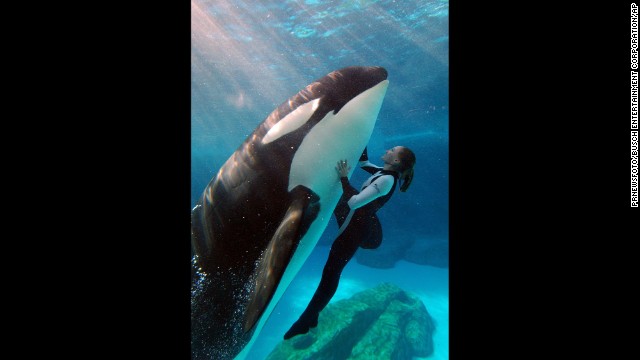 Killer whales in captivity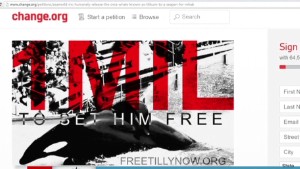 Bands Nix SeaWorld Shows
"In light of recent concerns, Trisha has decided to remove the February 22 date from her upcoming tour plans," Yearwood's representative told CNN on Thursday.
SeaWorld confirmed the REO Speedwagon withdrawal on Friday and referred CNN to its previous statements about the cancellations.
"We expect that other artists will be targeted in this campaign," SeaWorld spokesman Nick Gollattscheck told CNN in consecutive statements Wednesday and Thursday, starting with Cheap Trick's cancellation.
Joan Jett to SeaWorld: Stop rockin' the whales
The park's six-week concert schedule -- which also previously listed Martina McBride, 38 Special, Justin Moore and Scotty McCreery -- has disappeared from SeaWorld's website. It now simply promises "incredible concerts with top artists in classic rock and country music."
SeaWorld is working to book replacement acts, Gollattscheck said. "We'll announce the full lineup of bands when all artists have been confirmed. We'll repost the schedule on our site then."
'Blackfish' sparks debate over taking kids to animal parks
The Canadian rock band Barenaked Ladies was the first to cancel, reacting to a petition posted on Change.org.
"This is a complicated issue, and we don't claim to understand all of it, but we don't feel comfortable proceeding with the gig at this time," the band said on its Facebook page.
"I don't agree with the way they treat their animals," Willie Nelson said on December 6 when he canceled. "It wasn't that hard a deal for me."
Sisters Nancy and Ann Wilson of Heart did not elaborate last week when they announced their decision to cancel at SeaWorld, although they acknowledged it was "due to the controversial documentary film."
"We're disappointed a small group of misinformed individuals was able to deny fans what would have been great concerts at SeaWorld," Gollattscheck said.
SeaWorld said it would like the musical artists to learn for themselves about SeaWorld.
"The bands and artists have a standing invitation to visit any of our parks to see firsthand or to speak to any of our animal experts to learn for themselves how we care for animals and how little truth there is to the allegations made by animal extremist groups opposed to the zoological display of marine mammals," Gollattscheck said.
SeaWorld says the documentary ignores the park's conservation efforts and research.
Fimmaker: Why I made 'Blackfish'