Kenya at 50: Stunning photos celebrate country's culture
updated 7:05 AM EST, Thu December 12, 2013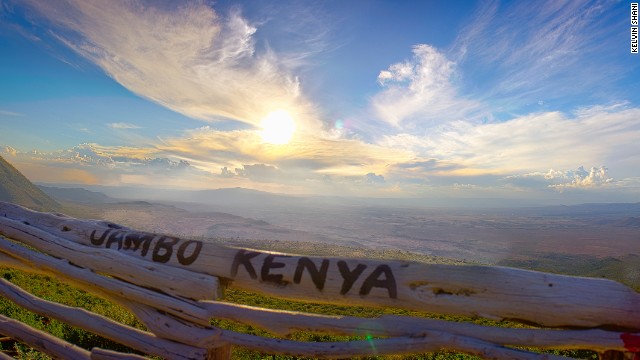 A photography competition is celebrating Kenya's 50th year of independence from British rule. Kelvin Shani said of his image capturing a sunset at the Rift Valley: "It was photographed at the viewpoint on the way to Mai Mahiu. I see it as a very welcoming picture showcasing the raw beauty of Kenya with its vast landscapes."
Peter Ndung'u said of his photo: "Every Kenyan can relate to a Maasai as being part of the Kenyan cultural groups and traditions. Local tourists and international tourists are familiar with them and their popular dance that involves high jumps. They, in my opinion, form a strong part of the culture of our national heritage."
Sebastian Wanzalla said his photo showed: "Boatmen in a dhow heading home after collecting building stones from the neighboring island Manda next to Lamu Island."
Sarah Maries said: "The famous tusks on Moi Avenue, Mombasa, are symbolic of entrance into the heart of Mombasa town. They were built to commemorate the visit of Queen Elizabeth (II) to the town in 1952. Coincidentally they also spell M for Mombasa."
Photographer George Kanyingi said: "Many times we have sat down around a fire and this lady had told us stories of how things were before, during and after independence. Her stories of how much things used to cost really intrigued us and I just wish she had a camera those days to capture all of it."
Photographer Abdul Mutuma said: "Like the mountain rises above the clouds, we have risen adversity and trials. We celebrate our heritage that is the beauty of our great country and the strength of women in society who are the hands that moulded us into who we are."
Ken Mwaura said: "Machakos Bus Station, also known as Masaku Airport, is one of the busiest and largest bus terminals in the country. The bus terminal has been passed down generations as a link for upcountry bound passengers traveling from Nairobi to other provinces in Kenya."
Sebastian Wanzalla said: "The Maasai are pastoralist and they have for centuries maintained their culture. And if you ask any foreigner anything about Kenya apart from our athletes and the wildlife the next thing they will mention is the Maasai people. They play a major role in the heritage of our country Kenya. Even the name Nairobi (meaning a place of cool waters) is a Maasai word."
David Ndirangu said: "The Mwea Irrigation scheme is known as the largest producer of rice in the country."
Mutua Matheka says this image was: "Photographed inside the gorge at Hell's Gate National Park in Naivasha."
Peter Ndung'u said: "These people build homes, churches, schools and monumental sites and buildings. Yet most of us do not know how important they are in our lives and building our nation. Kenya is growing and it will grow with our collective effort."
Mwangi Kirubi said:' "Kenya's athletics team has always galvanized the nation behind our national colors. Whenever they take to the track, we forget our differences and remember we are one."
Boniface Mwangi said this photo showed: "The Kenyan flag flying high during the promulgation of the Kenyan Constitution on August 26th 2010. It was a historic ceremony, thousands of Kenyan's gathered to witness the establishment of a new constitution."
Mutua Matheka's photo showing "General Kago Street, looking up at the Eco bank towers."
Sunset at the Rift Valley
Maasai Portrait
Boatmen
The tusks of Mombasa
90 decades in the 254
Mt. Longonot
Aerial view of Machakos Bus Station
Maasai Herdsman
Mwea Irrigation
Gorgeous
Construction Workers
Kenya's World Beaters
Kenya Flag
Lines in the Sky
STORY HIGHLIGHTS
Kenya celebrates its 50th year of independence from British rule
A photography competition celebrated the country's heritage and history
Outstanding images show people or places with historical and cultural significance
(CNN) -- Turning 50 is a major milestone in a person's life -- and a country's history.
Kenya celebrates Thursday its Golden Jubilee year following 50 years of independence from British rule.
To commemorate the event, Nairobi-based photographer Mutua Matheka teamed up with Samsung last month to launch Picha Hamsini, a photo contest celebrating the East African country's heritage from past to present. They asked photography enthusiasts from across Kenya to submit images of people or places with historical and cultural significance and explain why these were relevant to them or the country.
"The goal of the contest was to see and show Kenya from the eyes of Kenyans," says Matheka. "(To) use images to celebrate our country and get people involved in that celebration. We have a lot we are not happy about as a country, but I believe we also have a lot to celebrate and I feel photography is usually a tool to further and foster that."
The goal of the contest was to see and show Kenya from the eyes of Kenyans.
Mutua Matheka, photographer
Read this: Africa's most exciting new photographers
The organizers received more than 2,000 images submitted via Facebook, Twitter and Istagram. In the end, the 25 best were selected and featured in a street exhibition in the center of the Kenyan capital, alongside some of Matheka's photos.
"The images we received were fantastic," says Matheka. "Some celebrated people, others celebrated our activities, others celebrated beautiful places," he adds. "The winners were mostly amateur photographers."
With celebrations underway across Kenya, many believe that this is also a time to look back and learn from the mistakes of the past.
Read this: Kenyan yoga strikes a pose
Matheka says the overriding message of the celebrations is that "we have moved quite a distance in democracy, value of life, ability to make a living in this country from 50 years back to now."
He adds: "A lot has changed for the better and a lot has changed for the worse too. I celebrate the progress and keep track of it so that for the next 50 years we try to avert from the former mistakes and progress as a nation."
Click through our gallery above to check out some of the competition's best photographs.