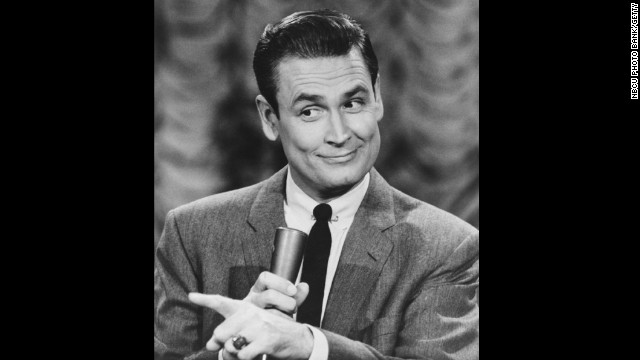 On his 90th birthday Thursday, December 12, Bob Barker will
make a special appearance
on "The Price Is Right," the game show he hosted for 35 years.
Barker, right, appears on a 1960 episode of "Bonanza" along with actors Dan Blocker, Pernell Roberts and Natalie Trundy.
Barker is a well-known animal rights activist who always ended "The Price Is Right" by saying: "Help control the pet population. Have your pets spayed or neutered." In 1995, Barker established the DJ&T Foundation to help fund low-cost pet neutering. The foundation is named after Barker's late wife, Dorothy Jo, and his mother, who was nicknamed Tilly.
Barker went on his first date with Dorothy Jo when he was 15, and the two later eloped in 1945 when Barker took leave from the U.S. Navy. Dorothy Jo sang commercial jingles, and the two moved to Los Angeles and performed talent shows together.
While Barker was in college, filling in as emcee for a radio station, he was noticed by Ralph Edwards, creator and host of the game show "Truth or Consequences." Barker took over for Edwards and hosted the show for the next 18 years.
Barker began hosting "The Price Is Right" in 1972. Over his career, he won 19 Daytime Emmy Awards.
Barker and Miss Illinois Amanda Jones are seen after Jones won the 1973 Miss USA Pageant. Barker hosted the Miss USA and Miss Universe pageants from 1966-1987. He resigned after pageant officials refused to stop giving fur coats as awards.
Barker points to himself on television as his wife looks on and laughs in 1977. Dorothy Jo died from lung cancer in 1981.
Barker with a contestant on "The Price Is Right" in 1978.
Barker poses with two "Price Is Right" models -- Dian Parkinson, left, and Janice Pennington -- in 1986. Parkinson sued Barker for sexual harassment in 1993, asking for $8 million. The lawsuit was dropped in 1995.
For his cameo appearance in the 1996 Adam Sandler film "Happy Gilmore," Barker won a MTV Movie Award for "best fight scene."
Barker celebrates his 80th birthday during a special edition of "The Price Is Right" in 2003.
Barker poses next to a sculpture of himself during his induction into the Academy of Television Arts & Sciences Hall of Fame in 2004.
Barker addresses the studio audience June 6, 2007, during his last taping of "The Price Is Right." Since then, the show has been hosted by comedian Drew Carey.
Barker answers fans' questions during a book signing of his memoir "Priceless Memories" in 2009.
Barker and Ingrid Newkirk, president of People for the Ethical Treatment of Animals, cut the ribbon at the dedication ceremony of PETA's Los Angeles office in 2010. The office was named "The Bob Barker Building." Barker donated $2.5 million to PETA to purchase and renovate it.
On December 12, Barker will present a special showcase on "The Price Is Right." And all week, the show will honor Barker by putting a spotlight on pet adoptions.
Happy 90th birthday, Bob Barker
Happy 90th birthday, Bob Barker
Happy 90th birthday, Bob Barker
Happy 90th birthday, Bob Barker
Happy 90th birthday, Bob Barker
Happy 90th birthday, Bob Barker
Happy 90th birthday, Bob Barker
Happy 90th birthday, Bob Barker
Happy 90th birthday, Bob Barker
Happy 90th birthday, Bob Barker
Happy 90th birthday, Bob Barker
Happy 90th birthday, Bob Barker
Happy 90th birthday, Bob Barker
Happy 90th birthday, Bob Barker
Happy 90th birthday, Bob Barker
Happy 90th birthday, Bob Barker
Happy 90th birthday, Bob Barker