STORY HIGHLIGHTS
Study looked at 14 James Bond novels
About 2.5 million deaths worldwide are attributable to alcohol use
Researchers project Bond could die at age 56 because of alcohol use
(CNN) -- Alcohol. Bond's alcohol.
The British spy James Bond may routinely get himself out of dangerous situations with skill and charm, but his body may be suffering all the while because of his drinking habits. British researchers predict he could die from alcohol-related causes, such as liver damage, by age 56.
Scientists wanted to examine just how much alcohol the famous fictional secret agent consumes, and what effect that could have on his health. They published a study, led by Graham Johnson of the emergency department of Royal Derby Hospital, in the British Medical Journal's Christmas edition, which features a variety of offbeat research papers.
Researchers found Bond's weekly alcohol consumption totaled 92 units a week, which is more than four times what doctors recommend. A real person would not be able to carry out such complicated tasks and function as well as Bond does while maintaining such habits, they conclude.
A unit of alcohol is defined as 10 milliliters or 8 grams of pure ethanol in the United Kingdom. For some perspective on that, a bottle of wine is nine units, and a pint of beer is three, according to this study.
The finding of 92 units a week could actually be the low end of the truth, as studies have shown that "people generally underestimate their alcohol consumption by about 30%," the study said, noting other research has demonstrated that health surveys don't account for about half of all alcohol sold.
In other words, Bond may be drinking much more than the large quantities portrayed in the books.
"We advise an immediate referral for further assessment and treatment," the study authors wrote, as well as "a reduction in alcohol to safe levels."
10 hotels featured in James Bond movies
Two study authors analyzed all 14 original James Bond books by Ian Fleming, focusing on the number of days on which alcohol-related events were described. But each of them only read half the books, representing a shortcoming of the study, which was conducted in "the study authors' homes, in a comfy chair."
They found that in "From Russia with Love," on the third day of the story, Bond drank about 50 units of alcohol -- the highest daily consumption in the collection of stories.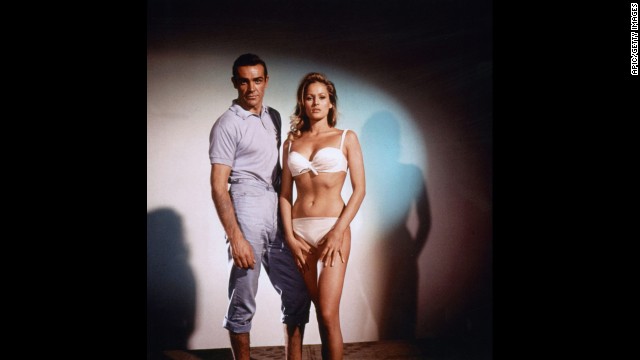 It's been 60 years since Ian Fleming published the first James Bond book, "Casino Royale," and last October marked 50 years of James Bond films, starting with "Dr. No." Look back at highlights of the character's career, including the Bond girls and villains. Here, Sean Connery plays James Bond with Ursula Andress as Honey Ryder in 1962's "Dr. No."
Sean Connery rehearses a scene from the James Bond Film "From Russia With Love," with the Italian actress Daniela Bianchi , playing Tatiana Romanova, while director Terence Young helps pose the actors.
British composer John Barry, creator of the James Bond theme music, at his piano in December 1967.
Sean Connery's Bond is up to his tricks with actress Honor Blackman as Pussy Galore during the filming of "Goldfinger" in 1964.
English actress Shirley Eaton covered in gold in the James Bond film "Goldfinger," directed by Guy Hamilton and starring Sean Connery.
A scene from the James Bond film "Thunderball" with Sean Connery, Claudine Auger, as Domino Derval, and Adolfo Celi playing Emilio Largo.
Sean Connery and Luciana Paoluzzi as Fiona Volpe being photographed in bed on the set of the James Bond film, "Thunderball" in 1965.
Actress Claudine Auger poses smoking a cigarette for her role as Domino Derval in the James Bond film, "Thunderball," directed by Terence Young, 1965. (Photo by Archive Photos/Getty Images)
Connery surrouned by bathing beuties in "You Only Live Twice" in 1966.
Donald Pleasence in character as Ernst Stavro Blofeld, holding a white cat on the set of "You Only Live Twice," in November 1966.
Co-producers Harry Saltzman and Albert "Cubby" Broccoli, right, on the set of "You Only Live Twice" in October 1966.
George Lazenby with actress Diana Rigg, who played Teresa di Vicenzo, during a press conference for "On Her Majesty's Secret Service" in London, in October 1968.
George Lazenby offers co-star Helena Ronee a light during the filming of "'On Her Majesty's Secret Service" in the Swiss Alps in October 1968.
The cast of "Live and Let Die," in 1973, from front center, clockwise, Roger Moore as Bond, Jane Seymour as Solitaire, Julius Harris as Tee Hee, Geoffrey Holder as Baron Samedi, Earl Jolly Brown as Whisper and Yaphet Kotto as Kananga.
Pierce Brosnan poses for a publicity shot for "GoldenEye" in 1995.
Roger Moore hams it up during the filming of "Live and Let Die," in 1973.
Roger Moore relaxes on location for the filming of "Live and Let Die," in 1973.
Roger Moore drinks a martini, James Bond's signature drink.
British pop singer Lulu poses with the gun from "The Man With The Golden Gun" after being signed to sing the film's title song.
A replica gun from the 1974 James Bond movie, "The Man with the Golden Gun," autographed by Roger Moore.
A Walther PPK handgun is held in front of a poster of the film "For Your Eyes Only."
Roger Moore poses with the Bond Girls from the film "View to a Kill" in 1984.
Roger Moore on set during the filming of "A View to a Kill" in Paris, France in August 1984.
Timothy Dalton and Maryam d'Abo as Kara Milovy pose for a publicity still for the 1987 film "The Living Daylights."
Director Timothy Dalton arrives at the Deauville airport in France to promote "The Living Daylights" in September 1987.
Pierce Brosnan and Desmond Llewelyn, as Q, on the set of "The World Is Not Enough."
Pierce Brosnan with Malaysian actress Michelle Yeoh, playng Wai Lin, pose on a motorcylce for "Tomorrow Never Dies" in 1997.
Pierce Brosnan poses on an Aston Martin before starting filming on "Die Another Day" in January 2002.
Daniel Craig poses in 2005 after bering unveiled as the next actor to play the legendary British secret agent James Bond for "Casino Royale" in October 2005.
Daniel Craig greets a naval officer as he is unveiled as the new James Bond in October 2005.
Daniel Craig and Olga Kurylenko attend the Japanese premier of "Quantum of Solace" in November 2008 in Tokyo, Japan.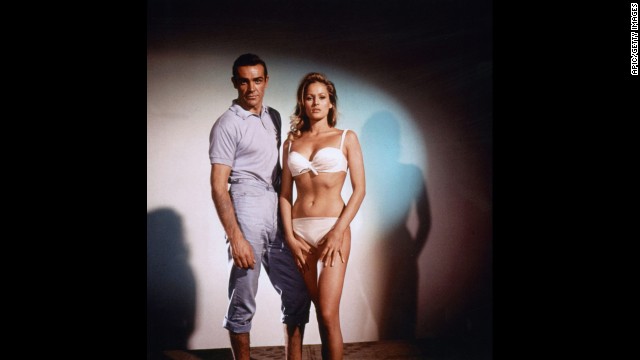 Photos: Decades of James Bond
It also appears that the spy's alcohol intake dropped around the middle of his career, but then picked back up gradually toward the end.
"This consistent but variable lifetime drinking pattern has been reported in patients with alcoholic liver disease," study authors wrote.
Note that researchers did not analyze the Bond films, only the books, so the precise level of alcoholism that Bond portrays on the big screen is an open question.
James Bond 50th anniversary coverage
About 2.5 million deaths worldwide are attributable to alcohol use, the study said. The cause of alcohol-related death is most often injury, liver cirrhosis, poisoning and malignancy.
A real person who drank as much as Bond, more than 60 grams of alcohol per day, would be in the highest risk group for malignancies, depression, hypertension and cirrhosis and could also suffer sexual dysfunction.
Early death would be likely for the spy as a result of such rampant alcohol consumption, researchers said.
Fleming, the author who created the Bond character, and frequently drank and smoked tobacco, died at age 56 of heart disease. "We suspect that Bond's life expectancy would be similar," the researchers wrote.
Alcoholism may even be responsible for Bond's famous catchphrase "vodka martini -- shaken, not stirred." This may have health-related implications, too.
Study authors posit that if Bond's alcohol consumption in the books is so chronic and excessive, he may be suffering from an alcohol-induced tremor. Chronic exposure to alcohol can damage a part of the brain called the cerebellum, which can lead to a tremor.
This suggests -- and of course, this is only speculation -- that perhaps Bond can't actually stir his drinks.
James Bond submarine car sells for $920,000
Is Bond the man with the golden liver?
"In Casino Royale he drinks over 39 units before engaging in a high-speed car chase, losing control, and spending 14 days in hospital," study authors wrote. "We hope that this was a salutatory lesson."
And yet, Bond kept drinking in subsequent novels.
There's plenty of opportunity for another installment: "From Rehab With Love."