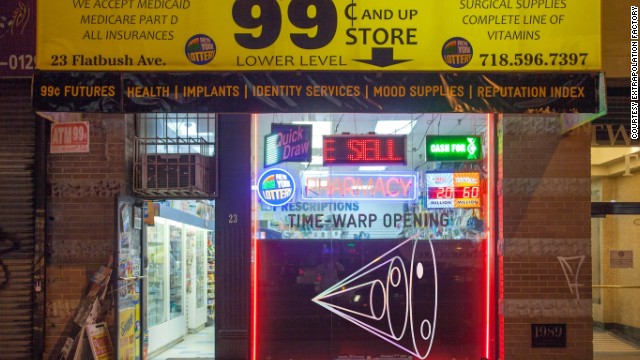 Step inside the "99¢ Store of the Future," a pop-up installation in downtown Brooklyn offering your standard products -- alongside some items from a very different world...
The surreal project, from designers the "Extrapolation Factory," involved selling bespoke products from the future in an ordinary 99¢ Store.
The designers used a combination of expert forecasts and crowd sourcing to create their products, ranging anywhere from 10 to 10,000 years in the future. As this label says: "The successful woman who put her career first now has a family thanks to advancements in fertility technologies. Tripple Nipple Baby Bottle allows moms to feed more than two mouths at once."
The designers asked members of the public to read expert predictions for the future, and then come up with their own stories for products, such as this Space Suit Lining Replacement Kit: "It's been at least three years since I last went in to space. I checked the old space suit and transgenic moths had eaten all of the lining in the helmet."
The Currency Converter emerged from two think tanks reports -- one predicting a world shortage of cocoa, and the other pointing to a rise in new currencies. "On the street, it's hard to tell if that currency is truly valuable, be it cocoa, or weight reduction surgery coin. This converter can help you accept only the most authentic currency."
"Myotragus balearicus -- also known as the Balearic Islands Cave Goat -- became extinct around 5,000 years ago. A hair follicle from the chin of the Myotragus Balearicus entombed within Cryogel® enables reanimation in the future."
"Instead of painkillers, it's ecstasy or LSD prescriptions that people are using and abusing. Instead of just association, they're seeking connection. The cheap bio availabilities to create new life-forms enables everybody to create their own pet to trip with."
"We had an older woman come in, her son is a doctor, and she gravitated to the home transplant kit," said Extrapolation Factory designer Elliott Montgomery. "We asked her why and she said: 'I'm not sure what the future will be like, but I bought this for my son because I want him to think about this. I want him to ponder what it would be like if we had this kind of technology.'"
This product was influence by a Institute for the Future forecast which said: "By 2021, for the first time in human history, thousands of languages will go digital, changing the economics, politics, and culture of global exchange."
"Void Refill can be used to refresh the hollow present. Regeneration of emptiness is a gradual process. When used regularly this high quality all-natural material helps keep concepts ephemeral." Step 1: Soak area to be treated for two minutes in a pan of warm water with gentle liquid beauty soap. Step 2: Dip the refill in the soapy water. Step 3: Close your eyes."
To create the fantastical objects, 40 participants read future forecasts, and then came up with befitting scenarios. They were asked to think about five aspects -- ecological, technological, social, political, and economic (pictured on the workshop wall).
They were then given materials from other 99¢ stores, and asked to create products for these strange future worlds.
Here, two shoppers check out the space-age products hidden in an ordinary store. "We're interested in crowd-sourcing futures, as opposed to presenting ourselves as these 'futurists' sitting in a white box, twiddling our thumbs and imaging the future," said Montgomery. "We almost consider ourselves service providers for helping others to think about the future."
Time warp
Mars Survival Kit
Tripple Nipple Bottle
Space Suit Lining Replacement Kit
Currency Converter
Extinct Animal DNA
Trip-O-Critter
Home Transplant Kit
Universal Language Filter Translator
Void Refill
Design process
Creative community
Shoppers' delight
STORY HIGHLIGHTS
What would 99¢ store of the future look like? Two NY designers found out
Created hundreds of futuristic products, and sold them in ordinary shop
Now surreal items have gone on show in Shanghai Design 2013 exhibition
(CNN) -- All I want for Christmas is a triple-nipple baby bottle, some extinct goat DNA, and a Mars survival kit. Is that really too much to ask?
Not if you happened to walk past a particular neon-lit convenience store in downtown Brooklyn -- the flashing sign in the window advertising "Cash for genes."
Inside the unremarkable 99¢ shop you'd find the usual assortment of hair accessories, shoelaces, and cleaning products; the only thing binding them together being their "Low! Low!" price.
But take a closer look and you'd also discover strange items from the future -- a universal language translator, a liquid cash injection kit, even some spacesuit lining (for when those bothersome transgenic moths eat through your helmet).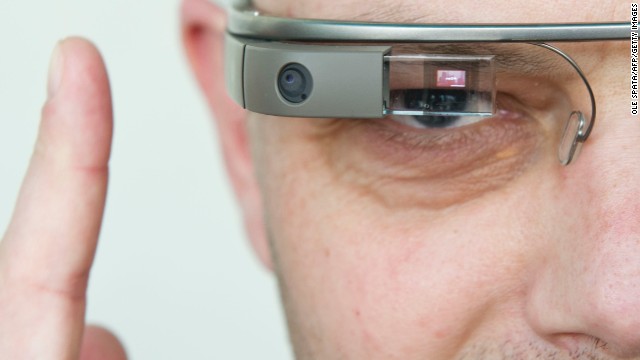 The future will be bright in all those augmented realities. Google Glass is the wearable computer that responds to voice commands and displays information on a visual display.
The dress that turns transparent when the wearer is aroused. Would you try it? Dutch design collective Studio Roosegaarde have developed a sensual dress called Intimacy 2.0 together with designer Anouk Wipprecht. Made of leather and smart e-foils, it 'explores the relationship between technology and intimacy'. The high-tech panels are stimulated by the heartbeat of the wearer. Initially opaque or white, they become increasingly transparent when exposed to an electric current -- in this case a beating heart.
We might shout less at one another in the future, as it looks like we'll be wearing our hearts on our sleeves. Another garment that displays your emotions to the world is the GER Mood Sweater, by design lab Sensoree. Based on the technology of a classic lie detector test, it interprets emotions and displays mood instantly as an interactive light display. Blue means relaxed and red is nervous or angry.
Rather than bringing dirt into your house, these shoes will clean it up. Looking like something out of Star Wars, the FOKI vacuum shoes are a concept from Indonesian product designer Adika Titut Triyugo. They are equipped with a pair of rotary cleaners on the sole of each shoe and a LED display on top that indicates battery life and cleaning progress. So be a trooper and go vacuum.
It's a love/hate thing. The cycling helmet can save your life, but it doesn't look good and tends to ruin your hair. Thankfully the future offers a solution -- the Hövding. A Swedish creation, the Hövding is an "airbag for cyclists". It's worn as a collar and only expands into a full helmet if you have an accident.
The future is all about leading a stress-free life and having all the solutions for all problems at hand. Literally. For example, if you wear Lark Pro's vibrating alarm bracelet, you can slip out of bed quietly without waking your partner. It's also designed to help insomniacs improve their sleeping patterns, by picking the optimal time in a sleep cycle to wake a user up.
Don't like strangers approaching you? Then the Smoke Dress is a must-have. Designed by Anouk Wipprecht, the dress can suddenly visually obliterate itself through the emission of a cloud of smoke. Ambient clouds of smoke are created when the dress detects a visitor approaching, thus camouflaging itself within it's own materiality. Perfect if you are a fashionable socialite AND a misanthrope.
Tired of waiting forever at a bar before you finally get your mojito? Tired of over-crowded bars even? Soon, your best cocktail dress will also make the cocktails. The DareDroid dress uses medical technology, customized hardware and mood analysis to provide you with your favorite poison. Designed by Anouk Wipprecht.
One ring to rule them all! Use the NFC Ring, a UK-based Kickstarter project created by John McLear, to unlock doors, share pictures, share social network links, unlock phones and much more. Just fist-bump your phone or tablet or use an open-palm gesture to transfer the information. And it never needs charging. Booya!
Shine bright like a diamond ... or be the star at futuristic rave parties. The GalaxyDress by CuteCircuit is embroidered with 24,000 full color LEDs, and is believed to be the largest wearable display in the world. The LEDs are extra-thin, flexible and hand embroidered on a layer of silk. Fabulous darling!
Doing exercise without monitoring yourself be rare in the future of wearable technology. And wearing a giant watch that counts your steps is so 2012. That's where the Misfit Shine necklace comes in. It's a physical activity tracker that you can hang around your neck, or put wherever your want. The Shine's 12 dots represent your daily activity goal.
Glow in the dark with the LumiDress. Made up of ultra-thin optical fibers woven together with other synthetic fiber this dress will light up the night.
This concept dress called Bubelle by Philip's Design interacts with and predicts the wearer's emotional state by changing colors. A beautiful white can turn into a relaxed blue. Philip's dresses are made from high-tech materials and are still in the concept phase.
In the future, your dress might advise you to skips that romantic walk through the fields. It might tell you that the area's greenhouse gas levels are too high. Danish design company Diffus has created the Climate Dress. It's laced with hundreds of small LEDs that will respond to greenhouse gases. They will pulse slowly when the levels are normal and flash rapidly in highly polluted areas.
Thanks to all those gadgets you can attach to your body, there will soon be no excuse not to exercise. And to avoid injuries in the future where everyone will jog to work, Sensoria Socks by Heapsylon have come up with sensor-equipped textile that couples with an activity tracker to identify injury-prone running styles. Then, using a simple app, it coaches the runner to reduce those tendencies.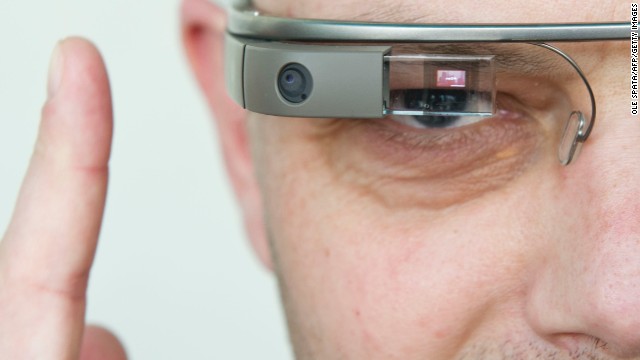 Wearable technology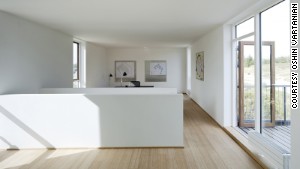 Balmond's 'non-linear' approach to design
This is the world according to the Extrapolation Factory -- a group of New York designers using a mixture of expert reports and crowd-sourcing to create products anywhere from 10 to 10,000 years in the future.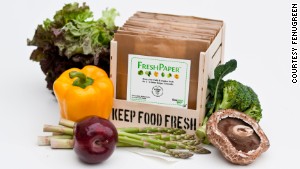 How a thin piece of paper can save lives
Made in Brooklyn
Now items from their "99c Store of the Future" -- a one-off installation where space-age objects were sold in an ordinary shop -- has gone on display in China's first state-run contemporary art gallery.
The Shanghai Power Station of Art -- a former power station turned museum overlooking Huangpu River -- last week launched its Design Shanghai 2013 exhibition, showcasing over 500 works from around the world.
"We're contributing 30 products that came from the 99¢ store -- very peculiar, bespoke future objects," said Elliott Montgomery, co-founder of the Extrapolation Factory.
"By putting these ideas out there, we're pushing the way people think about consumerism far beyond the immediate. It'll be interesting to see how people's reactions in Shanghai differ from those in New York City."
Read: Evolution of the Asian art market
Futuring
The surreal project is part of a growing movement in design called "Futuring" -- which as the name suggests, involves creating products for the future.
"The incorporation of futures thinking into the design world has picked up pace hugely since the mid-2000s," said Stuart Candy, professor of foresight and design at Ontario College of Art and Design.
"With massive global challenges looming, like climate change, peak oil, and economic volatility, we need to develop a cultural capacity for thinking ahead and creating options -- so we aren't just reacting to crisis after crisis."
But "Futuring" isn't just about developing environmentally-friendly cars or search-and-rescue robots. As the Extrapolation Factory showed, it can also be found in the ordinary 99¢ store down the road, or what Candy describes as "Guerrilla Futuring."
"The 99¢ store project is interesting because it's a rare invitation to imagine the future's mundane side," he added.
"Popular notions of the future often get stuck in a kind of glossy rut - gleaming buildings and whiz-bang inventions -- and it's not often that we see the futures of everyday life brought into focus."
Design
So how did the Extrapolation Factory create their intriguing objects?
The group -- comprising 33-year-olds Elliott Montgomery and Chris Woebken, who met after studying design interactions at London's Royal College of Art -- put the call out for members of the public interested in "futuring."
On a snowy day in New York City, they gathered 40 people -- ranging from seven-year-old kids to middle aged architects -- and asked them to read think-tank reports on the future.
"The forecasts were from a broad spectrum -- obesity as a percentage of the UK population, robots in the homes of South Koreans, shortages of chocolate, acceptance of drug use, and technology," said Montgomery.
Read: The psychology of curvy architecture
The participants then wrote a short story imagining a world where these forecasts came to life. A table was laid out with various items from other 99¢ stores, which they used to create new products for their fantastical fables.
"We got some very bleak futures where environmental scenarios were really devastating, like the dying out of coral reefs. So products like the "Grow Your Own Coral Reef" responded to those issues," said Montgomery.
We're pushing the way people think about consumerism far beyond the immediate
Elliott Montgomery, co-founder of the Extrapolation Factory
"At the same time there were people who imaged a future of great possibilities. One of the children was responding to the idea of robots in all our homes, who would help her brush her pet chinchilla. So the product she made was an arm attachment for your chinchilla-brushing robot."
What next?
There's an interesting parallel in seeing objects from the 99¢ store of the future going on display in China -- one of the world's biggest makers of cheap, mass-produced products.
Read: Could good design help feed the world?
"It seems appropriate that the project be brought from New York to Shanghai," said Candy. "It prompts us to think about the supply chains - in which China is a critical link - which make the phenomenon of 99¢ stores possible in the developed world."
So could these fantastical 99¢ items become reality?
"We're not asking people to predict, but more to dream," said Montgomery. "Or produce nightmares, if that's what will help us make decisions in the present."