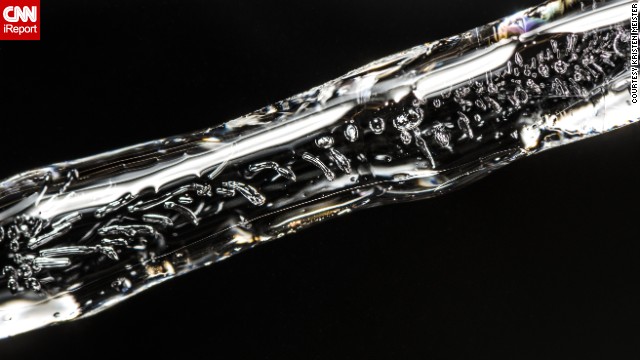 When it started snowing after the ice storm December 9, landscape photographer
Kristen Meister
grabbed her macro gear and headed out to her Woodbridge, Virginia, backyard. "I wanted to show people that there's
beauty just outside
their back door. You don't have to go across the country to get this kind of stuff."
"Scientists will pull out their microscopes and show you an intimate view of a snowflake, but nobody could see that with the naked eye," Meister said. "I wanted to capture things that you could still see with a human eye, but it was a blown-up view of what you could see," she said of her
macro ice photos
, taken this week.
Phil Jefferis stumbled across a
spider web covered in ice droplets
in his Winchester, Kentucky, backyard on Sunday after an ice storm had passed through. "I actually had to poke at the drops to see that they were frozen, which I thought were really neat."
Lori Saunders
couldn't work on her computer. "I dashed out into the yard for a few photos of icicles hanging from the deck table, chairs and even the dogwood tree," she said of her
macro ice photo
, taken December 9.
With the power out for almost 24 hours in Reston, Virginia, research associate
bright side of winter
outside his Chantilly, Virginia, home after daw December 9. "The biting cold and wet weather that keeps most of us inside doesn't keep the local birds from enjoying an early meal at our feeder," he said. "It was lovely, and I wanted to capture the miracle through my lens as soon as the sun was up."
Ahmed Ansari spots the
Kristi DeCourcy experienced sleet and freezing rain for most of Sunday, and on Monday, everything was covered in ice at her home in Catawba, Virginia. The scientist ventured out in her yard to capture
coated with ice
," DeCourcy said.
"The world looks pretty amazing when it is
crystallized from the frozen water
. It was whimsical and almost magical, especially once the snow started to fall," said nature photographer
Candice Trimble
, who lives in Front Royal, Virginia.
"During the ice storm, I noticed plants and trees in my yard shimmering,
intimate photos of ice and snow
December 9. "You can see the detail that covers the ice once it freezes and in the snowflakes as they fall," she said. "The beauty this time of year is magical and absolutely gorgeous!"
Trimble used a macro lens to capture these
appreciating the beauty
around us during the last few days," photographer
Elizabeth Cunningham
said of her December 9 photo.
"We live in a very rural area, so I have really been
rest on a rose
after a rare snowfall in Stanley Park in Vancouver on December 9. "Residents were out to view nature's white blanket before warmer weather and rains returns," said
Sherwood Patrick
.
Snowflakes
Woodbridge, Virginia
Woodbridge, Virginia
Winchester, Kentucky
Reston, Virginia
Chantilly, Virginia
Catawba, Virginia
Catawba, Virginia
Front Royal, Virginia
Front Royal, Virginia
Chester Springs, Pennsylvania
Northampton, Massachusetts
Vancouver, Canada