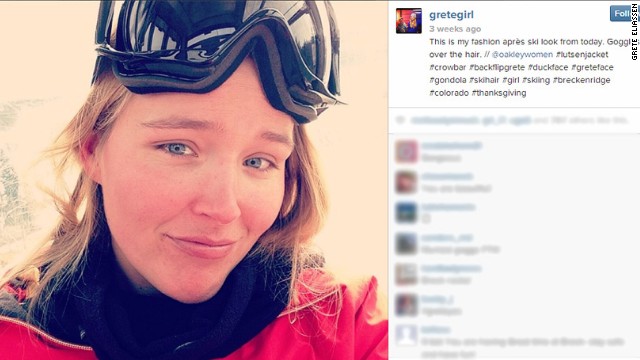 Grete Eliassen is a U.S. freestyle skier who has always enjoyed pushing herself and her sport to new heights. As her Instagram account shows, Eliassen will bring plenty of flair to slopestyle's Olympic debut at Sochi 2014.
Eliassen recently showed off her skills at New York's Times Square, and the 27-year-old hopes she can continue to help grow her sport's profile.
When it comes to freestyle skiing, you don't have to hit the slopes to have a good time. Eliassen is as comfortable on the streets of Minneapolis as she is on the side of a mountain.
In her younger days Eliassen practiced on a tiny trampoline in her backyard. Now she has a "Super Tramp," which helps her perfect her tricks and maneuvers while also getting big air.
A self-confessed lover of powder, Eliassen is never happier than when her skis are flying through the white stuff.
As Eliassen's Instagram account shows, her camera often joins her on the slopes.
Eliassen, a USANA Health Sciences brand ambassador, grabs a shot of her fans while navigating a halfpipe.
With slopestyle set to make its a Olympic debut, Eliassen will be hoping to make the climb to the top of the podium.
The face of slopestyle?
Big air in the Big Apple
On the rails
'Super Tramp'
Powder power
Snaps on the slopes
Fan interaction
Hitching a ride
STORY HIGHLIGHTS
Grete Eliassen is a U.S. slopestyle skier aiming for Sochi 2014
Slopestyle is a freestyle skiing discipline which is making its Olympic debut
Eliassen was on the Norwegian ski racing team as a teenager before turning to freestyle
The 27-year-old is a two-time X Games gold medal winner
(CNN) -- With the wind in her hair, the ice cold air on her cheeks and powder flying from her skis, Grete Eliassen took her sport to new extremes.
The American hit the ramp hard, soaring 31 feet above the snow before returning to earth a world-record holder.
That monumental leap in Utah three and a half years ago confirmed Eliassen's status as a force in her emerging discipline.
Less than a decade after turning her back on downhill ski racing, it was a moment for the freestyle star to savor.
"I was on the Norwegian national team but I quit ski racing because it wasn't fun for me anymore," she told CNN. `
"I love powder, I love getting air."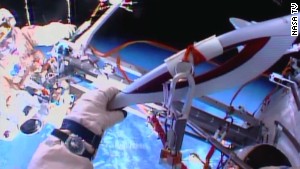 Sochi Olympic torch takes a spacewalk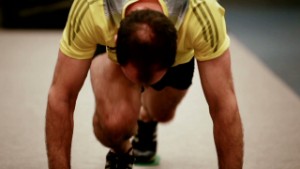 'Dr Ice' wants Olympic medal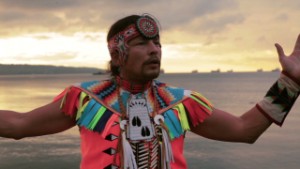 First Nations reflect on Winter Olympics
As a teenager Eliassen had to choose between following her dream and pursuing her passion.
Downhill racing and a shot at Olympic gold was a possibility, but she opted for a career in the discipline she loved -- freestyle skiing.
"I thought I would go to the Winter Olympics for ski racing, when I decided that wasn't my passion I let my Olympic dream go," said the 27-year-old, who was born in the U.S. but has a Norwegian father.
With Russia's first Winter Games drawing ever closer, the two-time X Games gold medal winner could get one last chance to fulfill her childhood dream.
Slopestyle is a freestyle skiing discipline that sees competitors tackle a variety of obstacles, such as jumps and rails, as they descend a downhill course.
Rather than being ranked by time, skiers are judged on the variety and difficulty of the tricks they perform as they traverse the obstacles.
At Sochi 2014, it will be part of the Olympics for the first time.
"I've been watching the Olympics since I was a little girl," said Eliassen, who is based in Salt Lake City -- which hosted the 2002 Winter Games.
"It's my favorite show every four years, watching all the female athletes.
"I've been following my heart the whole time having fun, now it's back in my sights. It is crazy how dreams you think could never happen can happen.
"This is my only shot at the Olympics. I'm getting older and I've competed a lot in this sport, I know this will be my one and only shot."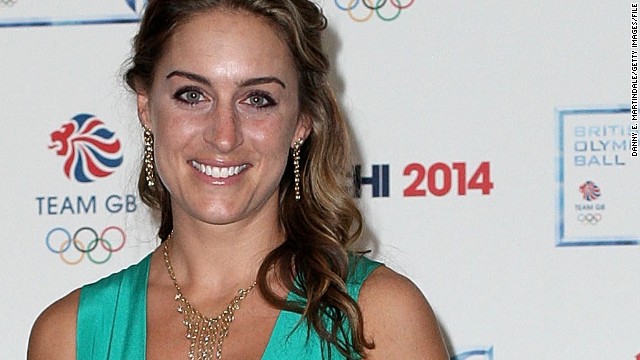 Amy Williams will not be defending her skeleton title at Sochi 2014, but she will be present at Russia's first Winter Olympics as a media pundit -- a sideline to her new adrenaline rush.
The 31-year-old has donned racing overalls to obtain a license to compete as a co-driver in the final round of the World Rally Championships in Wales. It is a far cry from the Briton's days competing in skeleton, in which competitors throw themselves headfirst down a bobsled track.
Williams had to complete a number of rallies throughout Britain to qualify for the final round of the WRC, which takes place this week. She is co-driving for Tony Jardine, a former rally driver turned broadcaster and Formula One pundit.
The role of the co-driver is to relay precise instructions to the driver. To prepare, a co-driver must memorize the rally route and communicate exact details of where the driver can expect tight turns.
Rallies are point-to-point races on public and private roads. Trees, walls and spectators can line the route, so danger is never far away.
Williams' career in skeleton was also nerve-shredding. She competed for Great Britain at the 2010 Winter Games in Vancouver, where she was one of the favorites for gold heading into the competition.
Williams duly delivered in Canada, bringing home Britain's first individual gold medal at the Winter Games in 30 years.
Williams poses with her gold medal in front of the Olympic rings. Four years earlier she had missed out on a spot at the Turin Games to compatriot Shelley Rudman, who won a silver medal in Italy.
On her return to her hometown of Bath, Williams received a hero's welcome and embarked on an open-top bus tour of the city.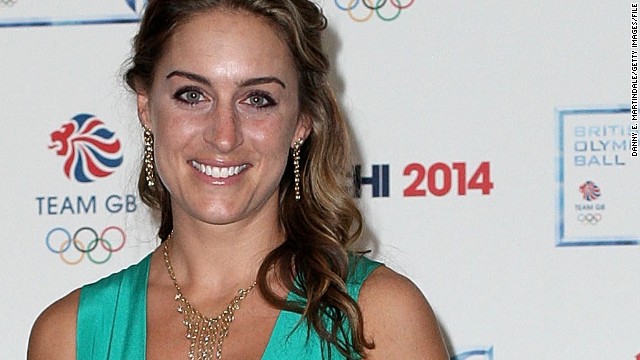 Amy Williams: A career of ice and mud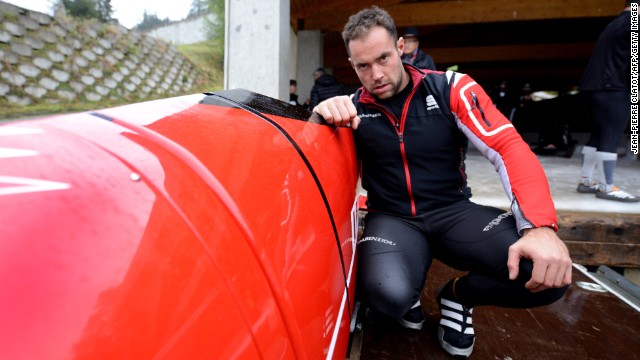 Italian bobsledder Simone Bertazzo inspects the sled he hopes will carry him and his teammates to gold at Sochi 2014. Its red livery is the hallmark of its designers, the legendary automotive manufacturer Ferrari.
Ferrari's partnership with the Italian Olympic Committee (CONI) dates back to 2006. A Ferrari-designed bobsled was used at the Vancouver Winter Olympics in 2010 and helped Italy win gold at the 2012 Youth Olympics in Innsbruck, Austria.
Bertazzo slides into the cockpit of his sled while his teammate sprints to power it from the start line.
Bertazzo will lead the Italian bobsled team at the Sochi 2014 Winter Games. The 31-year-old won bronze in the two-man event at the 2007 World Championships in St. Moritz.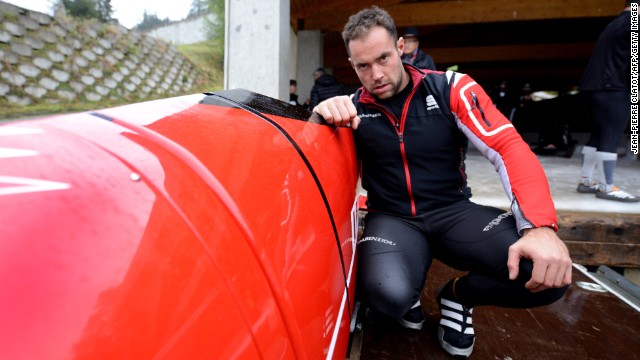 Ferrari... On ice
Slopestyle is the latest event to make the transition from the modern, high-octane world of the X Games into the ancient, rarefied confines of the Olympic arena.
While Eliassen is embracing this new chapter in the short history of her sport, she is also keen to pay tribute to slopestyle's X Games roots.
Read: 'I had to stop breaking my body'
"The X Games has always been our Olympics because in the past we never had the Olympics," explained Eliassen.
"This year is definitely going to be different. We can look at snowboarding, where usually in an Olympic year it's a little toned down at the X Games, some athletes don't do it.
"For our sport it's important to do it all, all of the contests which have been there since the beginning like the X Games. It's the birthplace of our sport."
The inclusion of slopestyle in the Olympic program has brought Eliassen under the umbrella of the U.S. ski team, giving her access to coaches and facilities which were previously inaccessible.
"Before the Olympics my training consisted of going to the gym, building up my muscle to prevent injury," she said.
"But now we're part of the U.S. ski team I have a strength and conditioning coach, I have an air awareness coach for trampoline skills -- anything in the air and more gymnastic.
"There's been so much more coverage of our sport. I've done way more media interviews. I'm just really excited to be a part of it."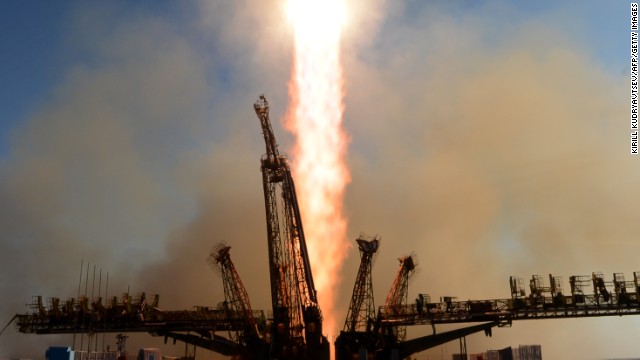 The Olympic torch has left Earth as part of its 123-day journey across Russia, which will end at the Black Sea resort of Sochi -- host venue for the 2014 Winter Games. The rocket was launched at 8:14 a.m. local time Thursday November 7 at the Baikonur Cosmodrome in Kazakhstan, which is a Russian-leased facility.
"This feat underlines incredible human capabilities and will symbolize the aspirations of all athletes from around the world to reach new heights in sports," Sochi 2014 organizing committee president Dmitry Chernyshenko said in a statement.
Cosmonaut Mikhail Tyurin will hand the torch to Oleg Kotov and Sergey Ryazansky, who will take it on an historic spacewalk on November 9. The torch, along with the cosmonauts, will spend a total of four hours in outer space. Kotov and Ryazansky have already been in low Earth orbit for more than a month.
This NASA photo, a two-minute exposure, shows the early moments of the torch's journey into outer space. The Sochi 2014 torch is the third to do so, after the Atlanta 1996 and Sydney 2000 Summer Games, but is the first to go on a spacewalk.
Earlier Thursday, the Soyuz-FG rocket and Soyuz-TMA capsule sat in wait at the Baikonur Cosmodrome ahead of the torch's journey to the International Space Station (ISS).
Japanese astronaut Koichi Wakata bid farewell to his family prior to liftoff. Wakata, Russian commander Tyurin and U.S. astronaut Rick Mastracchio accompanied the torch on its journey.
Russian cosmonaut Tyurin holds the torch aloft before boarding the rocket. For safety reasons, the torch will stay unlit aboard the rocket and the ISS. If lit, the torch would burn up precious oxygen.
A view of the Soyuz rocket, which is emblazoned with the Olympic logo and Sochi 2014 livery.
A crowd of hundreds of people watched the launch in Tokyo, Japan. The country's astronaut Koichi Wakata became the first Japanese commander of the ISS on this trip.
Once it has completed its spacewalk, the torch will return to Earth and continue a journey which will end with the lighting of the Sochi 2014 Olympic cauldron on February 7. It is scheduled to return to Earth on November 11 before continuing its 65,000-kilometer trip, which will include a voyage underwater in Lake Baikal and a climb to the top of Europe's highest peak, Mount Eblrus. Last month, it went to the North Pole.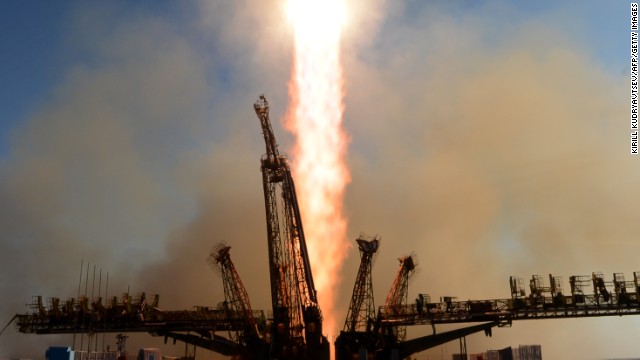 Sochi 2014: Olympic torch goes into space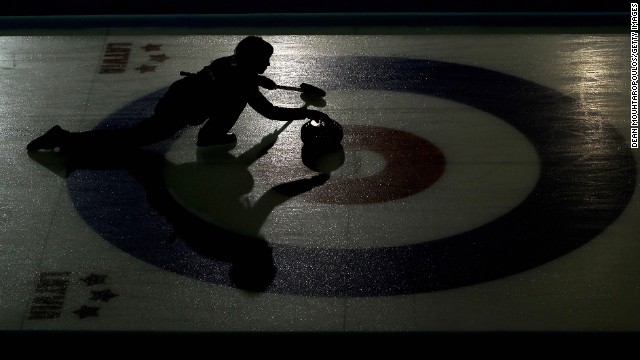 There is more science behind the world of curling than first meets the eye, a sport that may be played out on a rink of 30 meters in length but that is often decided by mere fractions and centimeters .
The curling stone is made of Scottish granite and slid along the ice, usually with one to three rotations in its trajectory to curve it past what are known as guarding stones as teams battle for position.
When margins of victory are so tight, scientific researchers from both Sweden and Scotland have argued their research can fractionally help but also give players greater logic in grasping their natural instincts.
The purpose of sweeping is done to create friction on the ice, the motion of sweeping both harder and faster extending the journey of the stone, which can be as much as one meter with the use of sweeping.
Eve Muirhead's British team is among the favorites to win Olympic curling gold at Sochi next year, in what will be her second Games leading out her side having previously failed to make it into medal contention in Vancouver.
Much of the play is dictated by the skip. Here Great Britain's Muirhead is in action as her side take on Sweden in a battle of skill and science judging by the two nations' research.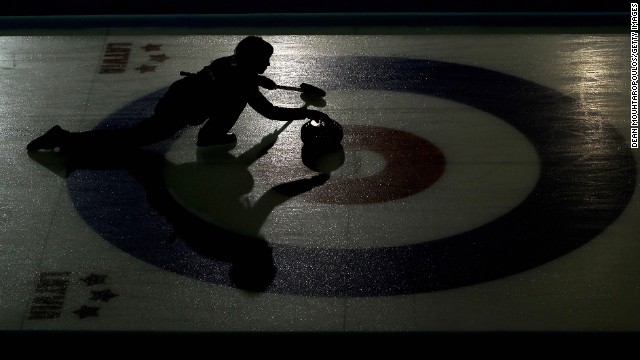 The science and skill of curling
The Olympics and the media circus which accompanies the Games has helped slopestyle's profile hit new heights.
Eliassen hopes the young sport can continue to go from strength to strength.
"I turned professional age 17, I won the U.S. Open, shortly after that I won the X Games and I kept winning and winning," she said.
"I've been in the sport for over a decade now, which is incredible. I've seen it grow from such a little thing ... I was the only girl in my terrain park, now I see girls in there every day, which is amazing.
"Now I get to see it grow into the Olympics, which is really cool."
The final U.S. selection competitions take place in December and January. If Eliassen is picked she will complete a journey which began when she was a child bouncing on a trampoline in her parents' backyard.
"I had a little garden trampoline," she said. "I have a bigger trampoline now, you can jump really high, which is crazy.
"I'm not sure how I learned all of these tricks on my garden trampoline, but I did."
Pushing the envelope has always been Eliassen's style, culminating in her history-making leap in 2010.
"When I did my world record jump, I jumped 31 feet," she said. "You don't do that first. You start off with a small jump and you build up to a medium jump. It's always progression. You start off small and you work your way up.
"Our sport is all about progression and making things look newer, the other sports are quite regimented. You never know what you're going to see in our sport."
Come February, slopestyle fans could see Eliassen with a gold medal around her neck.
Read: Dr. Ice's quest for Olympic glory
Read: Science Friction -- The art of curling