Child sex trafficking: Why Cambodia?
updated 9:56 AM EST, Thu December 12, 2013
STORY HIGHLIGHTS
Corruption, poverty and a bloody past have made Cambodia a child sex trade hotspot
Khmer Rouge's systematic destruction of society led to the death of 2 million in the 1970s
Report: Culture plays a part as "saying 'no' to an adult is not easily tolerated"
(CNN) -- Svay Pak is a poor fishing village on the outskirt of Cambodia's capital, Phnom Penh, known globally as a destination for child sex.
It's a place where mothers sell their own daughters to child traffickers, who supply them to brothels locally and across the country.
But how has such a perverse trade been able to take root, let alone flourish here?
Mark Capaldi, senior researcher for Ecpat International, an organization committed to combating the sexual exploitation of children, says several factors have made Cambodia a prime destination for child sex offenders.
"Insufficiently enforced laws, corruption, and the failure to address more overarching problems such as poverty and the negative side effects of globalization have made it a challenge for the country to shed the unenviable reputation as a destination for child sex," he says.
The authors of a 2011 Ecpat International report identified a number of cultural and sociological factors that made Cambodian children "particularly vulnerable to adult predators." "It has been observed that Cambodian children are indeed expected to abide by rules set forth by adults, and saying 'no' to an adult is not easily tolerated," reads the report.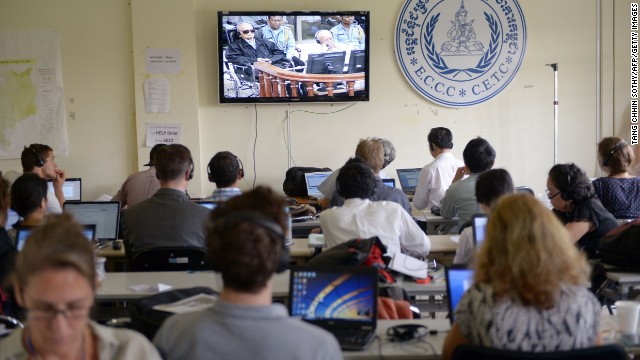 Cambodian and international journalists watch a live video feed showing the verdicts in the trial of former Khmer Rouge leader "Brother Number Two," Nuon Chea, and former Khmer Rouge head of state Khieu Samphan, August 7, 2014.
A Cambodian man Khieu Samphan on a television during the trial at the Extraordinary Chamber in the Courts of Cambodia (ECCC) in Phnom Penh on August 7. He and Nuon Chea were found guilty of crimes against humanity and sentenced to life in prison.
Known as Brother Number Two, Nuon Chea was considered Khmer Rouge leader Pol Pot's right hand man. This is an image from court in 2011.
As the former head of state for the Khmer Rouge, Khieu Samphan occupied a number of key roles as the government tortured, starved and killed its people.
This undated photo, which may have been taken in 1989, shows Pol Pot, the former leader of the Khmer Rouge. He was under house arrest when he died in 1998 and never faced charges for the slaughter under his reign.
At least 1.7 million people were killed under the Khmer Rouge's brutal regime, which controlled Cambodia from 1975 to 1979. This photo shows open mass graves in 1979.
Khmer Rouge guerilla soldiers wearing black uniforms drive into Phnom Penh in April 1975, as Cambodia falls under the control of the Khmer Rouge.
A woman cries next to a dead body in April 1975 in Phnom Penh, after the Khmer Rouge enter the Cambodian capital and establish the government of Democratic Kampuchea (DK).
Historical, undated photo of Nuon Chea. He held a number of positions during the regime's rule, including a short stint as acting prime minister.
Historical, undated photo of Khieu Samphan. During his trial, Khieu Samphan expressed remorse, claiming he was unaware of the full extent of the atrocities. He became the public face of the Khmer Rouge as it sought international credibility after its fall.
A Cambodian man sits in Choeung Ek Killing Fields near a tree that was used to beat children to death during the Khmer Rouge regime on August 6, 2014 in Phnom Penh, Cambodia.
A Cambodian man stands by a wall of photographs of prisoners of the Khmer Rouge regime in one of the rooms of Tuol Sleng prison, also known as S-21, on August 6 in Phnom Penh.
Cambodian citizen Sam Vishna looks at a collection of skulls that make up a map of Cambodia at Tuol Sleng Prison Museum in Phnom Penh in 1998.
Cambodian Buddhist monks bless victims' skulls at the Choeung Ek Killing Fields memorial in Phnom Penh on April 17, 2008.
Cambodian Sao Phen prepares skulls and bones of victims of the Khmer Rouge inside a stupa in Kandal province in 2009.
A Cambodian woman looks at portraits of victims of the Khmer Rouge at the Tuol Sleng genocide museum in Phnom Penh on November 17, 2011.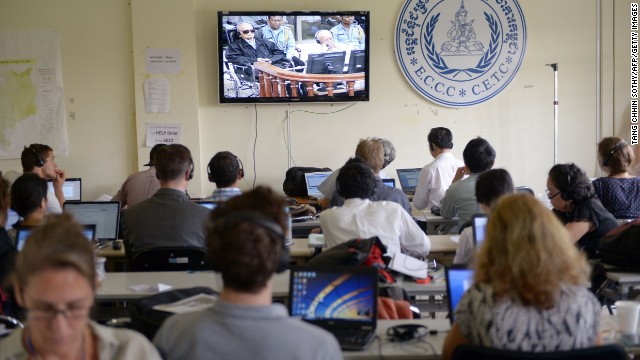 Cambodia's bloody past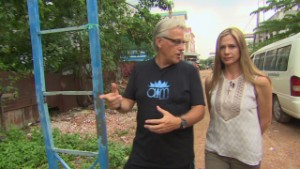 Confronting the traffickers
But what of the acceptance and willing participation of so many locals, including parents themselves, in the trade? For Don Brewster -- head of Agape International Missions, which aids Cambodian child survivors of the sex trade -- part of the answer as to why so many adults in Svay Pak are able to abnegate their parental duty to protect may lie in Cambodia's brutal recent past, which left behind a fractured society.
"What this country went through was unique in history," says Brewster, of the Khmer Rouge's systematic destruction of religious, educational and social structures -- not least of which the family unit -- during its genocidal 1975-79 reign.
When Pol Pot's maniacal experiment ended, 2 million people were dead, and society's institutions almost erased. "You lost your educated people and the system of educating them; you lost the moral compass that Buddhism provided," he says.