Cristiano Ronaldo vs. Lionel Messi vs. Franck Ribery for 2013 Ballon d'Or
updated 1:00 PM EST, Mon December 9, 2013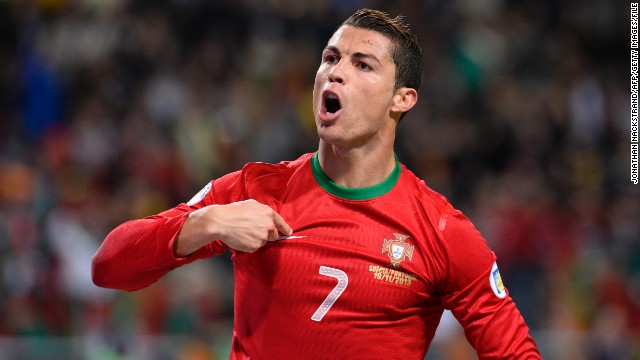 Portugal captain Cristiano Ronaldo is looking to win the award for the second time in his career. The forward is enjoying the most productive year at Real Madrid while he also fired Portugal to the 2014 World Cup in Brazil with a hat-trick during their playoff match with Sweden.
Argentina's Lionel Messi has monopolized this award for the last four years and he has enjoyed another prolific year with Spanish champions Barcelona. Currently out injured, the No. 10 is being tipped to miss out this year.
Bayern Munich won an historic treble in 2013, thanks in no small part to the dazzling form of Franck Ribery, who will also represent France at the 2014 World Cup.
Alex Ferguson brought his reign as manager of Manchester United to an end in May after 26 years at Old Trafford. The Scot guided United to a record 20th English title in 2013.
While Ribery shone on the pitch for Bayern, Jupp Heynckes masterminded their success from the dugout. The veteran German was replaced by Josep Guardiola after leaving Bayern in May.
Heynckes' Bayern team beat Jurgen Klopp's Borussia Dortmund in the first all-German Champions League final at Wembley. Despite losing the match 2-1, Klopp earns a place on the shortlist after his young side's style of play won many admirers.
American Abby Wambach grabbed four first-half goals in a 5-0 win over South Korea in June to overtake Mia Hamm as the leading scorer in women's international soccer history. The 33-year-old has 160 international goals -- the most by any male or female player.
Brazilian Marta dominated women's football between 2006 and 2010. The striker is looking to win this award for the sixth time.
German goalkeeper Nadine Angerer was named player of the match after her two penalty saves helped her country beat Norway 1-0 in the final of Euro 2013.
Cristiano Ronaldo
Lionel Messi
Franck Ribery
Alex Ferguson
Jupp Heynckes
Jurgen Klopp
Abby Wambach
Marta
Nadine Angerer
STORY HIGHLIGHTS
Cristiano Ronaldo, Lionel Messi and Franck Ribery shortlisted for 2013 Ballon d'Or
The winner will be announced in Zurich on January 13
Alex Ferguson, Jupp Heynckes and Jurgen Klopp up for the coaching accolade
Women's winner to come from shortlist of Marta, Abby Wambach and Nadine Angerer
(CNN) -- Cristiano Ronaldo, Lionel Messi and Franck Ribery will battle it out for the FIFA Ballon d'Or, football's most prestigious individual accolade.
Global governing body FIFA whittled down the initial 23-man list to a final shortlist of three players, with the winner set to be announced during the annual Ballon d'Or gala in Zurich on January 13.
Barcelona and Argentina No. 10 Messi is hoping to be crowned the world's leading player for a record fifth year in a row, but he faces stiff competition from Real Madrid's Ronaldo.
Portugal captain Ronaldo is the favorite to clinch the award for the second time in his career, having previously won it as a Manchester United player in 2008, after a year which has seen him outscore Messi while also firing his country to next year's World Cup in Brazil.
France's Ribery was a key player in the Bayern Munich team which won a European Champions League, Bundesliga and German Cup treble in 2013.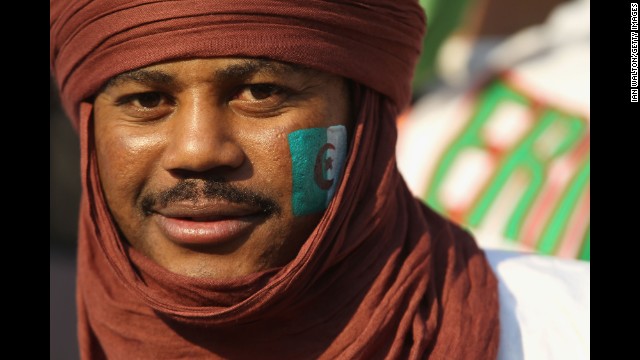 The World Cup brings 32 nations together to compete in the "beautiful game," and each country's fans are just as boisterous as the last. Click through to see fans from all of the 32 countries that will be competing in this year's soccer tournament in Brazil. Above, an Algeria supporter.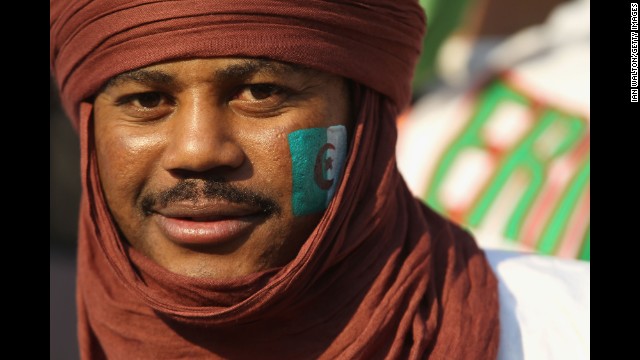 Photos: World Cup: 32 nations and their fans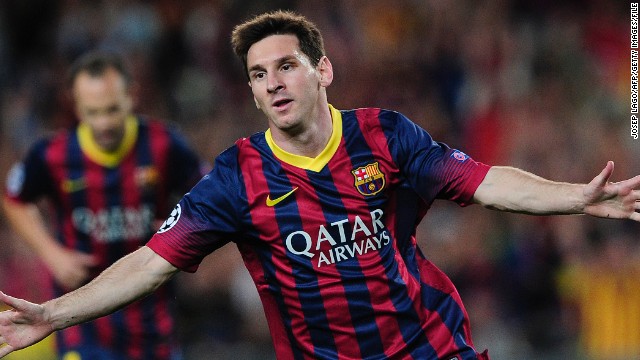 Lionel Messi (Barcelona & Argentina) CNN rating: Contender Can anyone dethrone Messi? The Argentine has lifted the prize in each of the last four years and once again starred for Barcelona during the 2012-13 season as they romped to the Spanish title, scoring 46 goals during a victorious La Liga campaign.
Cristiano Ronaldo (Real Madrid & Portugal) CNN rating: Contender Ronaldo is bidding to win the award for the second time in his career and, although Real finished a distant second to Barca in La Liga and failed to win any silverware last season, the Portuguese's class ensures he is always a contender for top honors.
Zlatan Ibrahimovic (Paris Saint-Germain & Sweden) CNN rating: Contender Since arriving in Paris, the mercurial Sweden striker has become a symbol of PSG's new elite status. Ibrahimovic finished as the top goalscorer in France as PSG secured the league title. His penchant for scoring jaw-dropping goals, and his often outspoken approach, has made him a cult figure among football fans the world over.
Franck Ribery (Bayern Munich & France) CNN rating: Contender The 2012-13 season was the finest of Ribery's career to date, with the Frenchman one of the key players in a Bayern team which won the European Champions League, the Bundesliga and the German Cup. A number of Bayern players would be worthy recipients of the accolade, with Ribery's craft and guile making him a standout candidate.
Arjen Robben (Bayern Munich & Netherlands) CNN rating: Contender The Dutch winger finally managed to shake off his tag as a player who chokes on the big stage by scoring a last-minute winner against Borussia Dortmund to crown Bayern champions of Europe. For this alone, Robben is in contention.
Philipp Lahm (Bayern Munich & Germany) CNN rating: Contender Lahm was captain of the Bayern team which swept all before it last season. The Ballon d'Or would be testament to the German's calm, composed leadership of a team which etched its name in history.
Thomas Muller (Bayern Munich & Germany) CNN rating: Contender The Bayern youth academy graduate has forged a reputation as one of the world's most clinical finishers. Muller will hope to add the Ballon d'Or to the Golden Boot he won at the 2010 World Cup in South Africa.
Bastian Schweinsteiger (Bayern Munich & Germany) CNN rating: Longshot Bastian Schweinsteiger has long been a rock at the base of the Bayern midfield, but the playmaker looks likely to be outshone by his attacking teammates.
Manuel Neuer (Bayern Munich & Germany) CNN rating: Longshot Neuer's class is unquestionable, however no goalkeeper has ever won the award. Neuer's contributions during the 2012-13 campaign, which included a standout performance in the Champions League final against Dortmund, will not be enough to lift him above Messi, Ronaldo et al in the final ballot.
Robert Lewandowski (Borussia Dortmund & Poland) CNN rating: Longshot The Polish striker was the spearhead of a Dortmund team which won plenty of admirers during its run to the Champions League final. Lewandowski's four-goal demolition of Real Madrid in the semifinals was a display of ruthless finishing, but he looks set to miss out in 2013.
Andres Iniesta (Barcelona & Spain) CNN rating: Longshot Iniesta's pedigree and talent makes him one of the finest players on the planet, but the midfielder will likely suffer as a result of Barcelona's crushing defeat at the hands of Bayern in the Champions League semifinals.
Gareth Bale (Real Madrid & Wales) CNN rating: Longshot The world's most expensive player enjoyed the best season of his career so far with Tottenham Hotspur, prompting a money-spinning move to Real Madrid. The Welshman will likely miss out, however, having not played in Europe's top club competition last season.
Edinson Cavani (Paris Saint-Germain & Uruguay) CNN rating: No chance Cavani is one of the world's most talented goalscorers with PSG forking out a reported $88 million to snare the Uruguayan away from Napoli last July. Time will tell whether a spell with one of Europe's top clubs will see Cavani challenging for major international honors in the future.
Neymar (Barcelona & Brazil) CNN rating: No chance Neymar's goal in the recent El Clasico match between Barca and Real Madrid showed he is starting to settle in European football. A World Cup win in his homeland with Brazil could see Neymar mount a convincing challegne for the 2014 award.
Xavi (Barcelona & Spain) CNN rating: No chance Xavi's list of accomplishments in the game, a World Cup winner, three Champions League triumphs and two European Championships, means he will always be regarded as an all-time great. Regrettably, at 33, the midfielder is battling persistent injury problems.
Luis Suarez (Liverpool & Uruguay) CNN rating: No chance Suarez's talent means he warrants a place on any list of the world's best footballers. Unfortunately his temperament often gets in the way. The Uruguayan has received lengthy bans for racism offenses and biting opponents.
Andrea Pirlo (Juventus & Italy) CNN rating: No chance A refined midfielder who oozes class, Pirlo would be a surprise winner after a campaign which saw Juve win the Italian title but fail to advance beyond the quarterfinals of the Champions League.
Thiago Silva (Paris Saint-Germain & Brazil) CNN rating: No chance The defender led Brazil to Confederations Cup success in 2013. If he can repeat the feat as captain of his country at next year's World Cup, he won't be far away from the 2014 honor.
Robin van Persie (Manchester United & Netherlands) CNN rating: No chance The Dutchman's goals propelled United to the Premier League title in convincing fashion, but the Old Trafford club's failings in Europe meant he struggled to make an impact on the continent.
Yaya Toure (Manchester City & Ivory Coast) CNN rating: No chance The powerful midfielder endured a frustrating 2012-13 campaign with Manchester City. Toure saw his team finish 11 points behind neighbors United in the Premier League, lose the FA Cup final to lowly Wigan and fail to advance past the group stage of the Champions League.
Radamel Falcao (Monaco & Colombia) CNN rating: No chance Falcao's goalscoring prowess helped Atletico Madrid to a Copa del Rey triumph and a place in this season's Champions League. A prolific campaign with Monaco and a good World Cup with Colombia would raise the forward's profile.
Mesut Ozil (Arsenal & Germany) CNN rating: No chance Ozil has delighted Arsenal fans since swapping Real Madrid for London in August, but the German needs to lead the Gunners to glory if he is to challenge for individual honors.
Eden Hazard (Chelsea & Belgium) CNN rating: No chance Helping Chelsea win the 2013 Europa League, Europe's second-tier club competition, won't be enough to see Hazard in the running.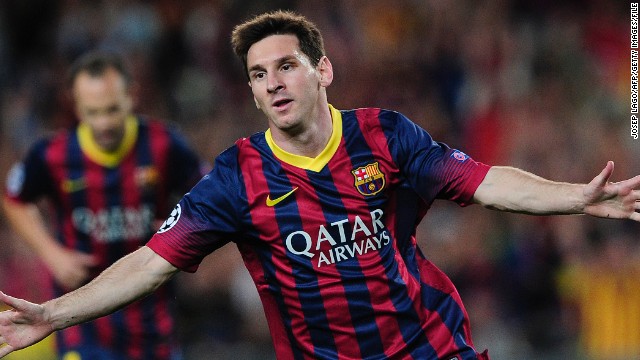 2013 Ballon d'Or nominees
FIFA also announced the three men in the running for the coach of the year accolade.
Former Manchester United manager Alex Ferguson is nominated for guiding the Old Trafford club to a record 20th English championship.
The Scot called time on his glittering 26-year reign at United in May.
Jupp Heynckes also stepped aside at the end of last season after leading Bayern to an historic treble.
The German veteran is nominated alongside Jurgen Klopp, whose Borussia Dortmund team lost to Heynckes' Bayern in the Champions League final but won many admirers with their vibrant, attacking football.
The world's leading female player will also be crowned. Brazilian star Marta is once again nominated for the award having won it five years in a row between 2006 and 2010.
Germany goalkeeper Nadine Angerer saved two penalties in a 1-0 win over Norway in the final of Euro 2013, with American Abby Wambach completing the shortlist after becoming the leading goalscorer in international football history.
Read: 2014 World Cup groups drawn
Read: Wambach breaks goalscoring record