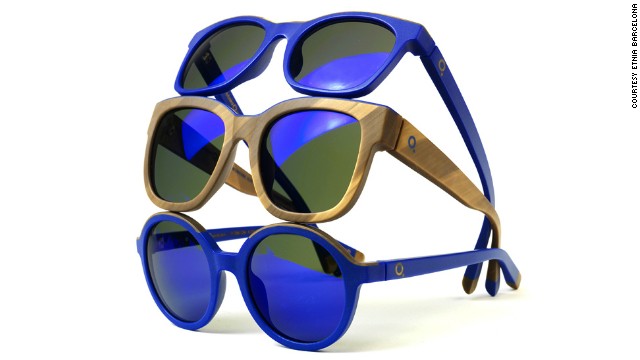 Art and fashion are the coziest of bedfellows at Art Basel Miami Beach this year. Spanish eyewear firm Etnia Barcelona dug through Yves Klein's archives and dreamed up these stylish shades, while YBA star Tracy Emin sold a range of limted edition t-shirts and sandals in conjunction with her exhibition.
Louis Vuitton rediscovered this long-lost design for a beach house made by French architect Charlotte Perriand for a competition in 1934. Because it placed second it wasn't built until Louis Vuitton brought it to life at Art Basel Miami Beach.
Del Toro, a footwear brand in Miami, has teamed up with Italia Independent to launch an Art Basel Miami pop-up. It includes this cobalt suede shoe with a napa leather heel tab.
Even before high-profile showings at art fairs, designers have been drawing inspiration from and collaborated with artists for years. Alexander McQueen's theatrical runway shows blended art, music and film where viewers experienced far more than just a fashion presentation. Here, a model walks down the catwalk in a 2009 show in Paris.
For Azzedine Alaïa fashion is a sculptural extension of the body. His work has been the subject of major solo exhibitions, such as
Azzedine Ala
ïa
in the 21st Century
at the Groninger Museum in 2011, and a retrospective at the Palais Galliera in Paris which opened this September. This soft pink skirt and jacket combo comes from a 2005 haute-couture collection.
Belgian designer Walter Van Beirendonck is one of a group of avant-garde fashion designers known as the Antwerp Six, who graduated from the city's Royal Academy of Fine Arts in the early 1980s. His work goes far beyond fashion and immerses visual arts, nature and ethnic influences.
Stella McCarntey and Jeff Koons may seem like they don't have much in common at first -- he is an Amerian pop artist with a love of a kitsch aesthetic, she is a high-end fashion designer who prefers understated luxury. But when they joined forces in 2006 to create a collection where Koons' paintings were reproduced on McCartney's dresses, it all seemed to work out surprisingly well.
Dutch artist Julie Verhoeven is known for her high profile fashion collaborations with the likes of Louis Vuitton, Mulberry and Versace. This picture shows the product of her work with the Australian fashion brand Something Else, which featured her illustrations on a series of shirts.
In 2012 designer Giles Deacon and artist Jeremy Deller collaborated on a one-off piece which was displayed at the Victoria & Albert Museum in London. It was part of Britain Creates 2012:Fashion + Art Collusion, an initiative of the Fashion Arts Foundation set up to foster creative links between fashion and art.
German artist Anselm Reyle was given free reign by the Christian Dior fashion house to reinvent the classic Lady Dior and Miss Dior handbags in 2012. He also created a range of accessories and shoes, such as these striking wedges. The artist featured street-art elements and signature fluorescent camouflage prints which allowed classic pieces to be seen in new light.
One of the greatest critical and commercial successes of the Italian house of Versace, has been a collaboration with the Berlin-based collage artist Tim Roeloffs. He created prints of Berlin which were applied to Versace dresses.
Pringle of Scotland is one of the world's oldest luxury brands, famous for its Argyle pattern. The company decided to update it for the next generation by inviting Turner Prize-nominated artist Liam Gillick, known for his colorful plexiglass sculptures, to collaborate with the designer Alistair Carr on a collection of accessories and knitwear.
Art has always been at the center of Italian brand Marni's philosophy, and the fashion house has collaborated with illustrators, musicians and artists over the years. In 2010 they enlisted the former Turner finalist Gary Hume, a painter, to create a series of printed cotton shirts.
Rather than forging commercial collaborations with artists, French luxury house Hermes insists on art for art's sake. In 2008 they invited the Austrian Erwin Wurm to create a series of surreal photographs entitled
Monde Hermes
, such as the one displayed here, but the photos were never intended to be used for advertising.
Christian Dior and the Chinese Artists. One-of-a-kind couture pieces were featured alongside specially commissioned work by leading Chinese contemporary artists, among which was this photo by Quentin Shih, from his Shanghai Dreamers series.
In 2008 Christian Dior put on an exhibition at the Ullens Center for Contemporary Art in Beijing entitled
Fashion models wearing Christian Dior haute couture were placed among bland-looking characters in identical clothing.
A Chinese Woman with a Lady Dior Handbag in 2011.
Quentin Shih became something of a regular contributor to the house of Dior, and also took this mysterious image titled
Artist Jonathan Jones made Calvin Klein's creations an integral part of his light installation for the brand's 2009 presentation on Cockatoo Island, Sydney.
An eye for style
Design resurrected
Miami meets Milan
Art as fashion
Art as fashion
Art as fashion
Art as fashion
Art as fashion
Art as fashion
Art as fashion
Art as fashion
Art as fashion
Art as fashion
Art as fashion
Art as fashion
Art as fashion
Art as fashion
Art as fashion
STORY HIGHLIGHTS
Art Basel Miami Beach has become a fashion hotspot
Fashion houses are keen to work with celebrated artists
Collaborations help artists gain wider exposure to the mass market
Editor's note: Mitchell Oakley Smith is editor and publisher of the menswear journal Manuscript. Alison Kubler is Associate Curator at the University of Queensland Art Museum, Australia. They are co-authors of "Art / Fashion in the 21st Century".
(CNN) -- With over 250 of the world's leading galleries on show and in excess of 50,000 attendees, Art Basel Miami Beach can make a legitimate claim to being America's leading art fair.
Set against the city's neon buzz, the annual four-day event -- which comes to a wrap on Sunday -- is not just a big draw for the nation's art-lovers, but a stampede of fashionistas, style spotters and unrepentant party-lovers alike.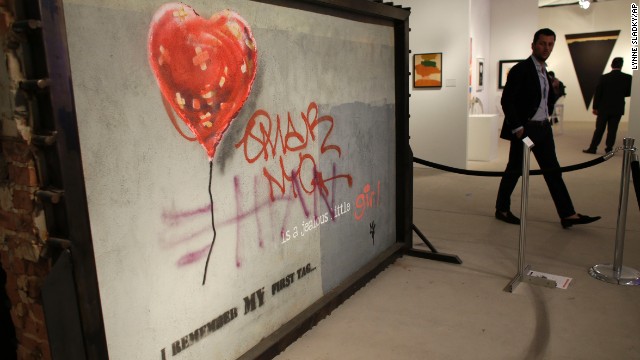 A piece by graffiti artist Bansky titled "Brooklyn Bandaged Heart" is displayed at Art Miami, Sunday, December 8, in the Design District neighborhood of Miami. Art Basel, which ended December 8, featured works from 285 international galleries, representing 31 countries.
An installation of 40 heads made of cast resin by artist Lionel Smit titled "Accumulation of Disorder" is displayed at Art Miami, December 8. Art Miami is one of numerous satellite fairs that run in conjunction with Art Basel.
Zoe and Adam of ASTR perform during Art Basel at Soho Beach House on Saturday, December 7, 2013 in Miami Beach.
Jana Millstone, of Lancaster, Pennsylvania, wears Google Glass to view artwork titled "Viewpoints of Billions" by artist David Datuna, on December 7, in the Design District neighborhood of Miami. The piece is the first of a series which combines art and technology using Google Glass to create an interactive experience.
Visitors stand near an installation by Chinese artist Ai Weiwei titled "Stacked," part of the inaugural exhibit at the Perez Art Museum on December 7. The piece features 680 Forever brand bicycles made in China. The museum's new building on Biscayne Bay was designed by Herzog and de Meuron, and the opening was scheduled to coincide with Art Basel.
Ava Crowley, 4, of Miami, walks among an installation of boats by the artist Hew Locke titled "For Those in Peril on the Sea" at the Perez Art Museum Miami on December 7.
A sculpture by the Chinese artist Ai Weiwei, titled "Grapes," features 40 antique wooden stools from the Qing Dynasty, and is on display at the Perez Art Museum Miami on December 7.
Dylan's Candy Bar hosts food artists Henry Hargreaves and Caitlin Levin during Art Basel on Friday, December 6, in Miami Beach.
Works by Yayoi Kusama are on display at the David Zwirner Gallery exhibit during Art Basel Miami Beach on Friday, December 6.
Art lovers move about at Art Basel Miami Beach on December 6, 2013.
Visitors look at the work on display at the Miami Convention Center on Thursday, December 5.
A work by Jose Carlos Marhinat titled "Isla" on display on December 5.
Allison Janae Hamilton wears custom rings at the Miami Beach Convention Center on December 5.
Lance Vickery, left, looks at a work by Evan Penny titled "female stretch variation # 2" on December 5.
Visitors look on at the art in the Galerie Urs Meile space on December 5.
House Gallery powered by Samsung at Soho Beach House on December 5.
Visitors look at a work by South African artist Zander Blom on December 5.
An Alexander Calder sculpture titled "Brontosaurus" is displayed during the show on Wednesday, December 4.
Canadian painter Norah Borden poses in front of some of her work on December 4.
The W Magazine and Vionnet celebrate the Art Basel Miami Beach 2013 opening at Pérez Art Museum Miami on December 4.
Shohei Shigematsu, from New York, stands inside one of Eduardo Baswaldo's installations on December 4.
Charles Gitnick poses with his artwork during his Art Basel show in Miami, December 4. The 11-year-old is one of the youngest artists showing at Art Basel. Gitnick places realistic toy guns on canvas and paints over them, purposely camouflaging them in an abstract design. He says it's his way to express his fear of gun violence.
A piece by Gehard Demetz titled "Stones in My Pocket" is on display at Art Basel Miami Beach 2013 on December 4.
Naomi Fisher "jokes around" after opening a coconut as part of her installation, "Paradise Walking" on December 4.
Marina Kurikhina, a Russian art adviser who lives in London, studies a Charles Atlas video installation at Art Basel Miami Beach 2013 on December 4. The video consists of five screens showing a five-channel synchronized work called "Martha, Martha, Martha, Martha, Martha."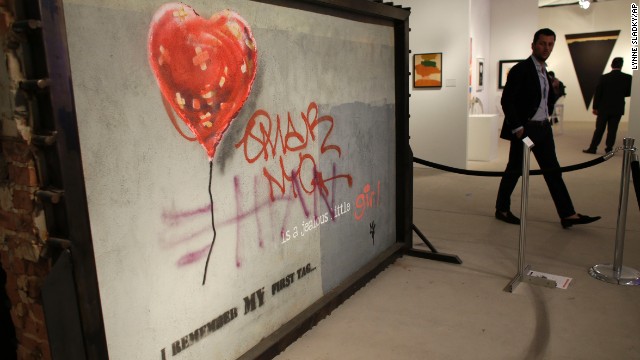 Photos: Art Basel Miami Beach 2013
No surprise then that here, the blurred line between art and fashion fades into obscurity, with this year's ABMB taking their ever-incestuous mingling to new heights.
For instance, YBA star Tracy Emin has designed a limited edition range of t-shirts and sandals to run alongside her exhibition and, in his Miami boutique, Christian Louboutin exhibited five leather sculptures by Italian artist Caemelo Tedeschi.
Meanwhile, Gap hosted a brunch to celebrate a limited edition collection of 45 t-shirts designed by artists like Yoko Ono. And Louis Vuitton hired Italian artisans to construct "La maison au bord de l'eau"—a beach house, originally designed by French architect Charlotte Perriand in 1934.
They then shipped it to a beach in Miami.
"Everyone in fashion is seeing Art Basel Miami Beach as an opportunity," says Lucie Greene, the editor of LS:N Global, the trends network at forecasting agency Future Laboratory.
"Fashion brands are collaborating with artists more than ever. By being present at major international art fairs like Art Basel, brands get face time with a high concentration of high net-worths who are all here to buy art."
And shoes, sunglasses and handbags.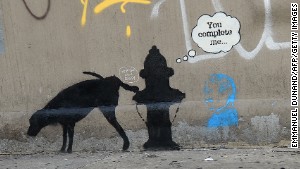 Banksy angers New Yorkers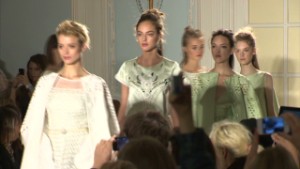 Where have the black models gone?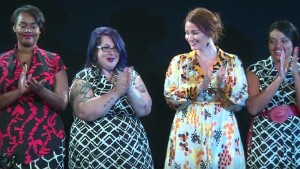 Fashion Week's first plus-sized designer
Miami-based shoe brand Del Toro has launched a pop-up store in collaboration with Italia Independent.
Likewise Etnia Barcelona, the makers of eye wear for the jet-set, have released a range of sunglasses in Yves Klein blue inspired by the artist's archives.
"It really is a brand fest here—all the major events are branded and there are tie-ups and collaborations for everything," says Greene, who has been scouting art and design in Miami for several days.
"It has become such a hotspot for luxury brands and the art crowd," she added.
Read: Kate Moss: A face for all seasons?
Handbags and history
Art Basel Miami Beach is the most timely example of where art meets fashion, but the mingling of artists and designers is by no means a new phenomenon.
Back in the early 20th century, for instance, the French couturier Paul Poiret employed graphic artists such as Paul Iribe and Erté to create textile prints for his creations.
Between 1927 and 1954, the Italian fashion designer Elsa Schiaparelli initiated the modern practice of collaborating with contemporary artists via her informal partnerships with Jean Cocteau, Salvador Dalí and Alberto Giacometti. Schiaparelli placed far less emphasis on the concept of 'collaboration' -- a 21st-century label—and she did not prominently credit her artists as is common practice now.
But the publicity this work received, particularly the 'Lobster' dress designed with Salvador Dalí and later worn by Wallis Simpson, set the trend for future collaborations between contemporary artists and fashion houses.
"You're not just buying Vuitton. You're buying a collectable piece which is connected to a specific year and will go up in value when sold as vintage
Lucie Greene, editor
The level of collaboration has always varied, and it still does today.
At a basic level, a house may employ an artist for the purpose of decorating its staple products, such as leather goods, accessories and fabrics.
In more involved collaborations, they may invite an artist to alter a product's physical proportions, construction and style, or indeed imagine an entirely new product.
But most collaborations merely involve a print that is sold or licensed for a negotiated price based on the status of the house and the size of the production, and then applied to the brand's existing products. Whatever the level of creative involvement on the part of the artist, such collaborations between art and fashion represent an important meeting of the two worlds.
Museums around the world have celebrated this and other important collaborations. In 2012 the Metropolitan Museum of Art in New York staged "Impossible Conversations," an exhibition that featured Schiaparelli's work alongside that of contemporary Italian designer Miuccia Prada, also known for her collaborations with visual artists.
In 2010, MoMA PS1 in New York recognized the modern-day proliferation of fashion--art collaborations with "Move!", a series of performances and installations by fourteen pairs of designers and artists, including Marc Jacobs and Rob Pruitt, Cynthia Rowley and Olaf Breuning, and Proenza Schoulder and Dan Colen.
Read: Why are emerald prices rocketing?
Mutual benefit
The modern fashion industry is intensely profit driven. The fact that so many collaborative projects come to market indicates that luxury brands regard these initiatives as commercially viable.
Collaboration with an artist almost always takes the form of a one-off capsule collection. From Brian Rea's 2012 illustrations for Marni t-shirts and bags to Damian Hirst's recent collection of scarfs for Alexander McQueen, limited edition collections have an aura of authenticity normally associated with works of art.
Fashion consumers also equate exclusivity with luxury, and nothing is so desired as that which has sold out. The reception of Takashi Murakami's 2003 collection for Louis Vuitton -- one of the house's most commercially successful special projects to date -- indicates this desire from consumers for something 'extra'. This sense of added value makes them more collectable.
"You're not just buying Vuitton," says Greene of the Future Laboratory. "You're buying a collectable piece which is connected to a specific year and will go up in value when sold as vintage."
By being present at major international art fairs like Art Basel, brands get face time with a high concentration of high net-worths who are all here to buy art
Lucie Greene, editor
The incorporation of visual art into a fashion item also adds an of-the-moment relevance that is especially important for historic luxury brands. It can bring an additional gravitas to functional product lines such as leather goods.
Just as there is mutual benefit, there is also mutual risk. Fashion houses must invest money in an experimental collection that may not resonate with consumers. And the artists who collaborate with them risk being branded 'sellouts' by their colleagues in the art world. However, the potential for wider exposure is often worth the risk.
There are also benefits for society at large. For many consumers, a collaborative fashion project is the their first introduction to a particular artist's work. It comes in a digestible form that -- unlike contemporary art -- does not require a strictly defined body of knowledge. It is open to anyone with the means to buy the products or the willingness to explore them via the media. In this way fashion collaborations widen public access to contemporary art and give them a cultural education via the cash register.
Whether at Art Basel Miami Beach or a Paris catwalk, long may it continue.
Milena Veselinovic contributed to this story