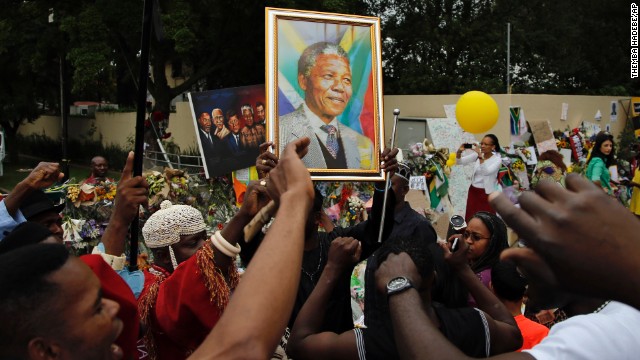 Mourners sing outside the home of former South African President Nelson Mandela in Johannesburg on Monday, December 9. The revered statesman, who emerged from prison to lead South Africa out of apartheid, died on Thursday, December 5. Mandela was 95.
A groundskeeper collects flowers left by visitors at Mandela's home in Johannesburg on December 9.
A child checks out at a sculpture of Mandela by Marco Cianfanelli near Howick, South Africa, on December 9.
A mourner prays on a hill overlooking Johannesburg on Sunday, December 8.
Young choir members attend a morning Mass on December 8 in memory of Mandela at the Regina Mundi Catholic Church, one of the focal points of the anti-apartheid struggle, in the Soweto district of Johannesburg. South Africans flocked to houses of worship for a national day of prayer and reflection to honor Mandela.
A South African flag flies at half-staff to honor Mandela on December 8 at the South African High Commission in London's Trafalgar Square.
A choir sings hymns during a special service in the honor of Mandela on December 8 at the Holy Family Church in the West Bank city of Ramallah. Palestinians mourned Mandela as a loyal champion of their cause.
Doves are released for Mandela at the Grand Parade in Cape Town, South Africa, on December 8.
A program is illuminated by the morning sunlight during a service held to honor Mandela on December 8 at First African Methodist Episcopal Church in Los Angeles.
Areva Martin sings during the service at First A.M.E. Church on December 8.
A portrait of Mandela is projected onto city hall in Paris on December 8.
Children in a drum majors group perform a dance outside Mandela's old ho