STORY HIGHLIGHTS
NEW: A snowstorm strands 300 vehicles along Interstate 15 in Arizona
Some arrivals were delayed an hour or more at major airports
Washington, Philadelphia will see snow Sunday, warm up Monday
Very low temperatures remain across the United States
Are you experiencing wintry weather? Share your photos and video with CNN iReport.
(CNN) -- A frigid winter storm system that put Dallas in the deep freeze is hitting the East Coast on Sunday. Luckily for those people, it should be a short visit.
Snow, ice or freezing rain will fall on Washington, Philadelphia and New York City, the National Weather Service said. On Monday, temperatures will rise into the 40s and any accumulation should start to melt after the morning commute, the weather service predicts.
Folks in other parts of the country will need an extra blanket on the bed as unseasonably cold weather will continue. And some people in the Gulf Coast and Southeast states will see heavy rain.
On Sunday, temperatures were expected to reach only about 10 degrees in the northern and central Rockies, the northern Plains and the upper Midwest. Sleet and freezing rain are forecast from the Tennessee Valley to the mid-Atlantic region.
The heaviest snow will fall across the central Appalachian Mountains, the weather service said. Some areas of the mid-Atlantic and the Northeast will see as much as 3 inches of snow.
The weather was causing delays at some of the nation's major airports, especially for inbound flights. Arrivals to Philadelphia International Airport were backed up by an average of 100 minutes, according to the Federal Aviation Administration's website. Kennedy airport in New York had delays of nearly one hour, as did Chicago's O'Hare.
The Twitter account for Reagan airport in Washington said there was a temporary halt of flights as crews treated runways. It advised passengers to check with their airlines on their flight status.
All told, there were 2,459 U.S. flight cancellations on Sunday and 804 seen for Monday, according to the air travel tracking website Flightaware.com, which tracks both mechanical and weather cancellations.
NFL fans in several outdoor stadiums had to put on extra layers.
The Pittsburgh Steelers PR team tweeted out a photo of a snow-dusted field as the team prepared to play Miami.
In Philadelphia, it was even worse as flying flakes made it difficult to see, and then blanketed the playing surface.
Parts of Texas, the upper South and the Midwest socked by the winter storm will warm up just a little bit. The weather service said the temps will rise into the high 30s and 40s, but drop below freezing again Sunday night.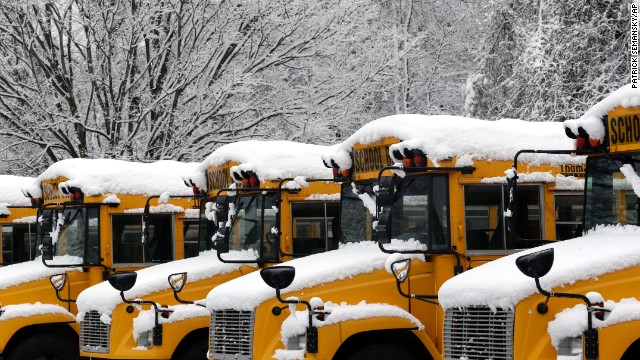 Snow covers buses for the Baltimore County Public Schools in Towson, Maryland, on Tuesday, December 10. Snow and ice snarled travel across parts of the United States, hitting major airline hubs in the Northeast.
A mirror reflects light snow on a sidewalk in New York on December 10.
A man makes his way across a parking lot during a snowstorm in Philadelphia on December 10.
Snow trucks plow along Route 1 in Plainsboro, New Jersey, on December 10.
A car drives up a snow-covered street in Brooklyn, New York, on December 10.
A woman walks past Independence Hall during a snowstorm in Philadelphia on December 10.
Baltimore Gas & Electric lineman Jim Thompson repairs a power line that was damaged by a tree limb in Towson, Maryland, on Monday, December 9.
An American Airlines jet is de-iced at O'Hare Airport in Chicago on December 9. Wintry conditions have caused numerous flight cancellations and delays.
A woman strolls past the Capitol Building in Washington on December 9, after an overnight ice storm hit the region. Federal agencies opened two hours late because of the weather.
Emergency personnel respond to an accident on southbound Interstate 43 in Mequon, Wisconsin, on Sunday, December 8.
Juan Carlos tries to free his vehicle from the snow on December 8 in Wilmington, Delaware.
The Detroit Lions and Philadelphia Eagles face off during heavy snow in Philadelphia on December 8.
A towing company employee works where a semitrailer jackknifed off Interstate 94 in Racine County, Wisconsin, on December 8.
Vehicle traffic on I-35 in Sanger, Texas, is at a dead stop due to icy road conditions on Saturday, December 7.
Motorists struggle to cross the icy bridge leading to Minnis Drive in Haltom City, Texas, Saturday, December 7. Large ice ruts made passage difficult. Ice remains Saturday after low temperatures refroze sleet from Friday's storm that had begun to melt.
Moisture from low-lying clouds coats trees in Virginia's Shenandoah National Park with a layer of ice and frost on December 7.
A fountain stands frozen in Chandler's Cove at South Lake Union in Seattle on Friday, December 6.
A pedestrian walks down the street after a heavy snowfall on December 6 in Carbondale, Illinois.
Icicles hang from mailboxes in Owensboro, Kentucky, on December 6.
A worker at Wilson Air Center de-ices an airplane before it takes off from Memphis International Airport in Memphis, Tennessee, on December 6.
As freezing rain falls, Tyshun Lindsey, 15, rings a bell to get drivers' attention while selling bags of pecans in Memphis on Friday, December 6.
A man clears a path for Christmas tree shoppers in Indianapolis on December 6.
A tree, split in two, lays on two homes on December 6 in Dallas in this photograph taken by CNN iReporter Earl Wallace IV.
A gust of wind collapses Joseph Mezo's umbrella as he walks to work on December 6 in light sleet and ice conditions in Dallas.
Matthew Eller catches air after sliding down a hill and jumping a ramp in Arlington, Texas, on December 6.
A bronze statue is covered in ice December 6 at Grand Prairie Municipal Airport in Grand Prairie, Texas.
Traffic moves slowly along an ice-covered highway in Dallas on December 6.
Jeff Chupp walks his ice-covered bicycle along Great Southwest Parkway in Grand Prairie on December 6.
Stephen LeFlore scrapes ice from his windshield in McAlester, Oklahoma, on Thursday, December 5.
An American Airlines employee hands out cots to stranded airline passengers at Dallas-Fort Worth International Airport on December 5.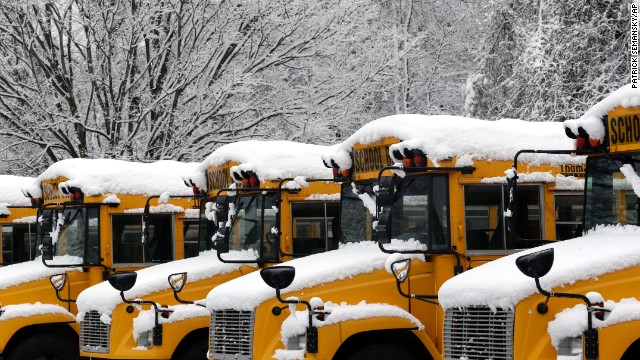 Photos: Ice storm spreads across U.S.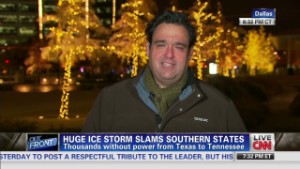 Winter storm shuts down Dallas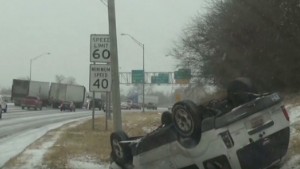 Huge ice storm slams southern states
How cold was it? On Saturday, Southern Methodist University offered free tickets for its football game with Central Florida but didn't get many takers. All but a few seats in the stadium were empty.
The high temperature at the Dallas/Fort Worth airport Saturday was 26 -- the coldest high temperature ever recorded there on any December 7 and the coldest December day in the area in 23 years, CNN affiliate WFAA-TV reported.
At least seven people have died in storm-related incidents, with the Texas State Patrol reporting two weather-related fatalities on Saturday but providing no details.
In Lewisville, about 25 miles north of Dallas, the driver of a pickup lost control on an icy road, spun out of control before dawn on Saturday on a road over Lake Lewisville, went over a guardrail and landed in the water. Firefighters dove into the frigid water and towed the truck to the bridge. The unidentified driver died.
A passenger was killed Thursday when a vehicle lost control and crashed into another car in Hockley County, the Texas Department of Public Safety said.
In Arkansas, a man was killed late Thursday when a tree fell on his camper in Pope County, the Department of Emergency Management said. Highway Patrol officials in Oklahoma blamed at least one death, in Muskogee, on the weather.
In New Mexico, one person died when a semi crashed near Clines Corners.
In Arizona, a Saturday night snowstorm stranded 300 vehicles along Interstate 15.
Rigs jackknifed and passenger cars slid into rigs, creating a chain-reaction accident, "resulting in this enormous backup," Arizona Department of Public Safety Officer Bart Graves told CNN.
Authorities were forced to shut the interstate for more than 12 hours to clear the road.
"We had travelers running out of gas. They provided them food, water, and blankets," Graves said, adding that all injuries were minor.
Winter came much earlier than usual in many sections of the nation.
Farmersburg, Indiana, recorded up to 10 inches of snow Thursday and temperatures fell into the single digits at night. "This was early for us to have this much measurable snow late in the fall, but has happened before," Mark Ivy told CNN iReport. "It is more the cold that is unusual."
In East Kingsford, Michigan, iReporter Jason Asselin said he's covering up with blankets to keep out the cold. "In December, our average temperatures are in the 20s," he said. "Currently it is zero degrees outside."
Across the High Plains and into the Great Lakes, temperatures were expected to be 10 to 35 degrees below average. The wind chill index was predicted to drop as low as 35 to 45 degrees below zero in some areas.
CNN's Melissa Lefevre, Jennifer Gray, Dave Alsup, Samantha Mohr, Jason Morris and Dave Hennen contributed to this report.