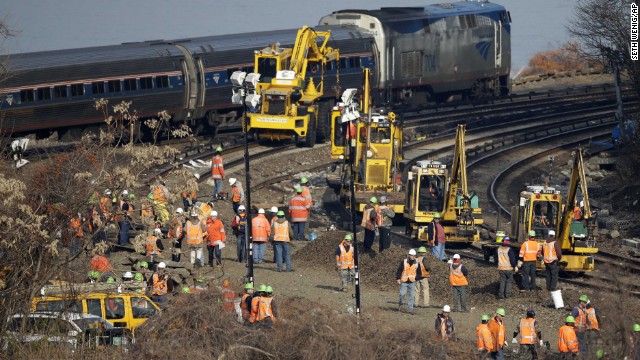 Repair efforts are under way Tuesday, December 3, at the site of a recent train derailment in the Bronx. At least four people were killed and more than 60 people were injured after a Metro-North passenger train derailed Sunday, December 1, about 10 miles north of Manhattan's Grand Central Terminal.
Cranes lift derailed train cars on Monday, December 2.
First responders gather around the derailment on December 1. Of eight train cars, seven were off the tracks.
First responders and others work at the scene of the derailed train December 1. The train came off the tracks just as it was coming around a sharp curve.
A train car lies on its side after derailing December 1.
"The windows broke out. ... The gravel came flying up in our faces," said passenger Amanda Swanson, who put her bag in front of her face to block the rubble. "I really didn't know if I would survive," she said. "The train felt like it was on its side and dragging for a long time. ... The whole thing felt like slow motion."
Firefighters and rescue personnel work at the scene of the derailment.
Passengers walk away from the scene.
A person is evacuated from the scene of the derailment.
Cars from the train are scattered across the tracks.
New York Gov. Andrew Cuomo, right, arrives on the scene December 1.
Firefighters and emergency rescuers swarm the scene, near the Spuyten Duyvil station in the Bronx. One car was just feet away from the Harlem River.
Injured people are tended to by first responders.
The train operator -- who is among the injured -- told investigators he applied brakes to the train, but it didn't slow down, a law enforcement official on the scene and familiar with the investigation said.
Police divers were in the Harlem River hours after the crash searching for survivors, CNN affiliate WABC reported.
Cuomo inspects the damage along with emergency crews.
Emergency crews work at the scene of the wreck.
First responders gather at the scene of the derailment.
Bronx train derailment
Bronx train derailment
Bronx train derailment
Bronx train derailment
Bronx train derailment
Bronx train derailment
Bronx train derailment
Bronx train derailment
Bronx train derailment
Bronx train derailment
Bronx train derailment
Bronx train derailment
Bronx train derailment
Bronx train derailment
Bronx train derailment
Bronx train derailment
Bronx train derailment
Bronx train derailment