STORY HIGHLIGHTS
Alfre Woodard greeted Mandela on his first trip to the U.S. after his release from prison
She worked with Mandela to help combat the AIDS pandemic in South Africa
Woodard co-founded the nonprofit Artists for a New South Africa in 1989
(CNN) -- Actress Alfre Woodard was an activist and a leading voice against apartheid the first time she met Nelson Mandela.
It was during his trip to the United States in 1990 after his release from prison. Woodard introduced Mandela at a fundraising event, and she was so excited she could hardly keep still.
READ: Mourners hail Nelson Mandela's courage, conviction
"By the time I got on stage, I literally started to hop around ... I could not stop the electricity in my body," she said.
"So I went and I wrapped my arms around him, and I said to him in his ear, 'Oh Madiba, Madiba. How are you? Have you eaten? Have you slept?' And it became a really funny thing because 'Nobody has asked me that, Alfre, in my entire travels,'" Woodard said with a laugh. "So that sort of became the basis of our relationship."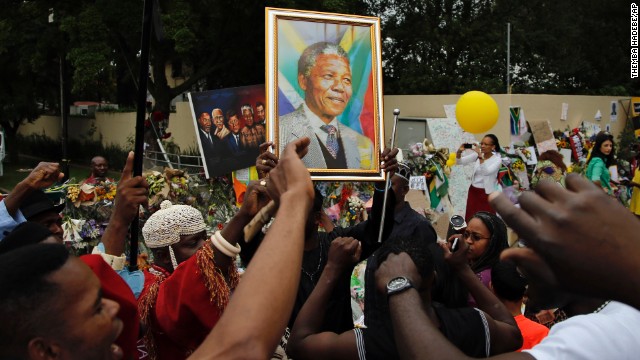 Mourners sing outside the home of former South African President Nelson Mandela in Johannesburg on Monday, December 9. The revered statesman, who emerged from prison to lead South Africa out of apartheid, died on Thursday, December 5. Mandela was 95.
A groundskeeper collects flowers left by visitors at Mandela's home in Johannesburg on December 9.
A child checks out at a sculpture of Mandela by Marco Cianfanelli near Howick, South Africa, on December 9.
A mourner prays on a hill overlooking Johannesburg on Sunday, December 8.
Young choir members attend a morning Mass on December 8 in memory of Mandela at the Regina Mundi Catholic Church, one of the focal points of the anti-apartheid struggle, in the Soweto district of Johannesburg. South Africans flocked to houses of worship for a national day of prayer and reflection to honor Mandela.
A South African flag flies at half-staff to honor Mandela on December 8 at the South African High Commission in London's Trafalgar Square.
A choir sings hymns during a special service in the honor of Mandela on December 8 at the Holy Family Church in the West Bank city of Ramallah. Palestinians mourned Mandela as a loyal champion of their cause.
Doves are released for Mandela at the Grand Parade in Cape Town, South Africa, on December 8.
A program is illuminated by the morning sunlight during a service held to honor Mandela on December 8 at First African Methodist Episcopal Church in Los Angeles.
Areva Martin sings during the service at First A.M.E. Church on December 8.
A portrait of Mandela is projected onto city hall in Paris on December 8.
Children in a drum majors group perform a dance outside Mandela's old house on Saturday, December 7.
Mourners gather in front of the South African embassy in Tehran, Iran, to pay their respects on December 7.
Crowds of people pay tribute to Mandela outside his Johannesburg home on December 7.
Christians mourning the loss of Mandela say prayers on a hilltop overlooking Johannesburg on December 7.
A woman prays at the Central Methodist Church as people remember Mandela on Friday, December 6, in Cape Town, South Africa.
The South African flag is flown at half-staff at the Union Buildings on December 6 in Pretoria, South Africa.
Delegates from countries all over the world stand for a moment of silence for Mandela on December 6 during the drawing ceremony for the 2014 World Cup in Costa do Sauipe, Brazil.
Mandela is honored at the the Grammy Nominations concert at the Nokia Theatre in Los Angeles on December 6.
A woman cleans up outside the South African Embassy in Beijing where portraits of Mandela and flowers offered by people are placed on December 6.
European Union flags fly at half-staff at the European Commission headquarters in Brussels, Belgium, on December 6.
Newspapers with Mandela on the front page are on sale in London on December 6.
Early morning commuters stand in silence beside a statue of Mandela on December 6 in Parliament Square in London.
British Prime Minister David Cameron signs the book of condolence at the South African Embassy in central London following the announcement of Mandela's death.
U.S. Vice President Joe Biden pays a silent tribute to Mandela before his speech on December 6 at Yonsei University in Seoul, South Korea.
An American flag flies at half-staff above the White House in Washington on December 6.
Australian and English cricket fans in Adelaide, Australia, observe a minute of silence December 6, to mark the passing of Nelson Mandela.
A woman cries outside Mandela's house in Johannesburg after Mandela's death on Thursday, December 5.
South Africans sing as they pay tribute to Mandela in Johannesburg on December 5.
U.S. President Barack Obama pauses as he speaks about Mandela in the briefing room of the White House on Thursday, December 5. Obama said he was one of the "countless millions" who drew inspirations from Mandela's life.
The marquee at New York's Apollo Theater honors Mandela on December 5.
An artist who goes by the name Franco the Great stands beneath a Mandela mural that he painted in New York's Harlem neighborhood more than 15 years ago. He later added Obama to the mural.
Keaton Anderson, 10, poses for a photograph while he and his father visit Mandela's statue at the South African Embassy in Washington on December 5. The statue is under renovation.
South Africans pay tribute to Mandela in Johannesburg following his death December 5.
A candlelight vigil is held December 5 outside Mandela's Johannesburg home.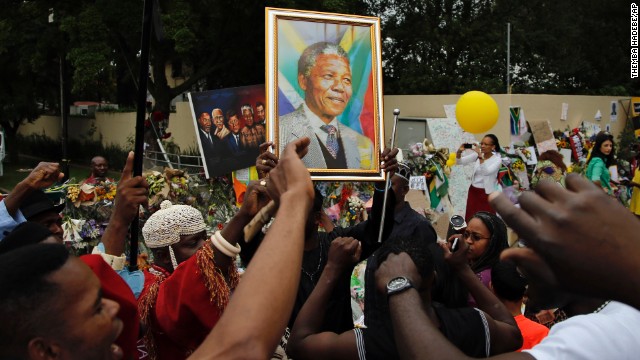 Photos: World reacts to Mandela's death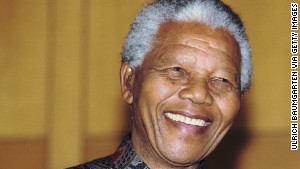 Nelson Mandela in his own words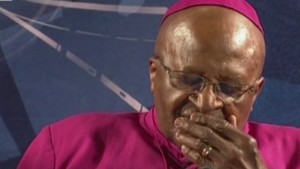 Tutu: Mandela a 'flawless' diamond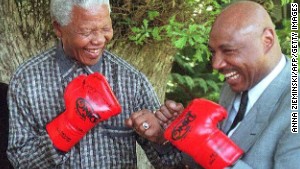 'George Washington & Abraham Lincoln'
Long before they met, Woodard's passion for social justice in South Africa had been growing since she was a student at Boston University.
READ: Nelson Mandela's funeral, farewell plans
By 1989, she joined a handful of artists and actors, such as Danny Glover and Mary Steenburgen, to found what is now called Artists for a New South Africa (ANSA). They used their celebrity platform to shine a light on apartheid and lobby for sanctions against the regime.
"Once apartheid was crushed ... one of the things Madiba said to us was, 'You've helped us in our struggle to defeat apartheid, but right now we're facing another formidable foe -- and that is the HIV/AIDS pandemic,'" she said. "So we've morphed through the years of how we've wanted to be of assistance."
ANSA shifted its mission and in 2005 created an orphan care program called "It Takes a Village" to help around 3,500 AIDS orphans in South Africa.
While working to combat the disease, Woodard's relationship with Mandela grew both as an activist and a friend.
She remembers receiving an invitation to a state dinner at the White House when Bill Clinton was president -- not from Clinton himself but from Mandela, who was being honored there.
"We were in the receiving line ... and he sees me about three people away and he leans over and he goes 'Alfre, Alfre! Remember me? It's Nelson," she said. "And I said, 'Madiba, I don't think anybody will ever forget you and certainly not me."
Other times, their dinners were less formal.
"We continued to do political work together...and I'd always had the blessing and good fortune to be able to have a private meal with him. The first one was after he became president.
"The thing about Madiba is that immediately it's like having an audience with your ancestors ... because he recognizes you as a young person but he talks to you and expects things of you as an equal. And I think when people expect things of you, you realize that you're capable of it and you can do it."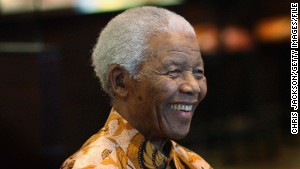 Zuma: We'll always love Madiba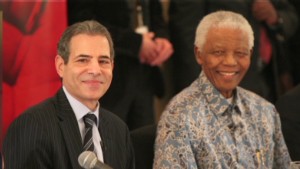 Remembering Nelson Mandela, dead at 95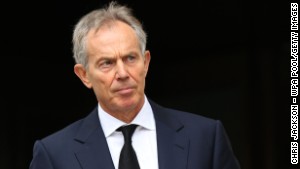 Blair: Mandela was enormous fun
During one of Woodard's trips to South Africa, she toured Robben Island, where Mandela spent many of his 27 years in prison.
"After hearing so much about it, it's this big, evil fortress that sucks the life out of good people ... I thought I would get there and be angry," she said.
"As Ahmed Kathrada [a South African politician who spent 18 years in prison on Robben Island] walked us through the cellblocks and talked about life there, he completely transformed the whole notion of imprisonment. I realized you could not be imprisoned. You can be held. But these men decided not to be in prison. And for me, it almost became a sacred place.
"I think what Madiba has demonstrated to all of us is not what he was capable of but what every single person is capable of ... it doesn't matter what circumstance you're put into. It's how you respond to circumstance.
"He gives us that not as an icon but as a human being, as a man, as a grandfather, as a father, as a person, as a Madiba to everybody."
READ: South Africa: Following Nelson Mandela