STORY HIGHLIGHTS
President Obama ordered flags lowered to half-staff in memory of Nelson Mandela
Mandela loomed large over American activists and politicians
His plight has been repeatedly depicted by Hollywood
Send us your stories, memories and photographs of the Nobel Peace prize winner and former South African president.
(CNN) -- Word of Nelson Mandela's death spread quickly across the United States, bringing with it a mix of reverence and grief for a man who was born in South Africa but in the end belonged to the world.
President Barack Obama ordered American flags to be lowered immediately to half-staff until Monday in tribute to Mandela, a rare honor for a foreign leader.
Memorials to the former South African president popped up from Los Angeles to Chicago, where flowers and candles were laid in front of murals bearing his likeness. In Washington, people gathered in front of South Africa's embassy.
For many Americans, the death of Mandela was akin to losing one of their own.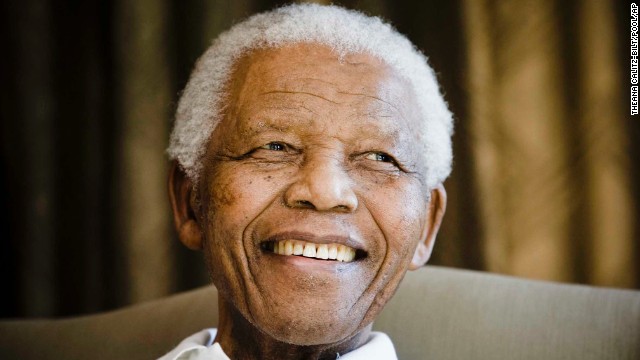 Nelson Mandela, the prisoner-turned-president who reconciled South Africa after the end of apartheid, died on December 5, 2013. He was 95.
Mandela became president of the African National Congress Youth League in 1951.
Mandela poses for a photo, circa 1950.
Mandela poses in boxing gloves in 1952.
Mandela in the office of Mandela & Tambo, a law practice set up in Johannesburg by Mandela and Oliver Tambo to provide free or affordable legal representation to black South Africans.
From left: Patrick Molaoa, Robert Resha and Mandela walk to the courtroom for their treason trial in Johannesburg.
Mandela married his second wife, social worker Winnie Madikizela, in 1958. At the time, he was an active member of the African National Congress and had begun his lifelong commitment to ending segregation in South Africa.
Nelson and Winnie Mandela raise their fists to salute a cheering crowd upon his 1990 release from Victor Verster Prison. He was still as upright and proud, he would say, as the day he walked into prison 27 years before.
A jubilant South African holds up a newspaper announcing Mandela's release from prison at an ANC rally in Soweto on February 11, 1990. Two days later, more than 100,000 people attended a rally celebrating his release from jail.
Mandela and Zambian President Kenneth Kaunda arrive at an ANC rally on March 3, 1990, in Lusaka, Zambia. Mandela was elected president of the ANC the next year.
After his release in 1990, Mandela embarked on a world tour, meeting U.S. President George H.W. Bush at the White House in June.
At his Soweto home on July 18, 1990, Mandela blows out the candles on his 72nd birthday cake. It was the first birthday he celebrated as a free man since the 1960s.
Mandela and his wife react to supporters during a visit to Brazil at the governor's palace in Rio De Janeiro, on August 1, 1991.
South African President Frederik de Klerk, right, and Mandela shared a Nobel Peace Prize in 1993 for their work to secure a peaceful transition from apartheid rule.
Mandela votes for the first time in his life on March 26, 1994.
On April 27, 1994, a long line of people snake toward a polling station in the black township of Soweto outside of Johannesburg in the nation's first all-race elections.
Mandela in Mmabatho for an election rally on March 15, 1994.
Mandela was elected president in the first open election in South African history on April 29, 1994. He's pictured here taking the oath at his inauguration in May, becoming the nation's first black president.
Mandela, left, cheers as Springbok Rugby captain Francois Pienaar holds the Webb Ellis trophy high after winning the World Cup Rugby Championship in Johannesburg on June 24, 1995.
After one term as president, Mandela stepped down. Thabo Mvuyelwa Mbeki, at right, was sworn in as his replacement in June 1999.
Mandela sits outside his former prison cell on Robben Island on November 28, 2003, ahead of his AIDS benefit concert at Green Point Stadium in Cape Town. He was sent to the infamous prison five miles off the coast of South Africa, where he spent 18 of his 27 years behind bars.
Mandela shows something to a group of international journalists visiting the Nelson Mandela Foundation in Johannesburg in May 2004.
Mandela sits with his wife, Graca Machel, and his grandchildren at his son's funeral on January 15, 2005. He disclosed that his son, Makgatho Lewanika Mandela, had died of AIDS and said the disease should be given publicity so people would stop viewing it as extraordinary.
The "46664 Arctic" benefit concert was held in Tromso, Norway, on June 11, 2005. 46664 was Mandela's identification number in prison. Here, artists who performed at the event surround him.
Mandela attends an HIV/AIDs concert in Johannesburg on February 17, 2005.
Former U.S. President Bill Clinton leans down to whisper to former South African President Nelson Mandela during a visit to the Nelson Mandela Foundation on July 19, 2007, in Johannesburg.
A bronze statue of Mandela was unveiled in Parliament Square in London on August 29, 2007. The 9-foot statue faces the Houses of Parliament.
Mandela leaves the InterContinental Hotel after a photoshoot with celebrity photographer Terry O'Neil on June 26, 2008, in London.
Mandela meets in 2009 with international children as part of his 46664 Foundation.
Nelson Mandela and his third wife, Graca Machel, arrive at the 2010 World Cup before the final match between Netherlands and Spain on July 11, 2010, at Soccer City Stadium in Soweto.
Then-U.S. Secretary of State Hillary Clinton meets with Mandela at his home in Qunu, South Africa, on August 6, 2012.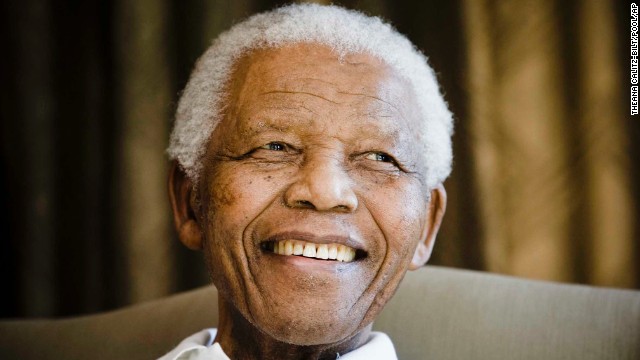 The evolution of Nelson Mandela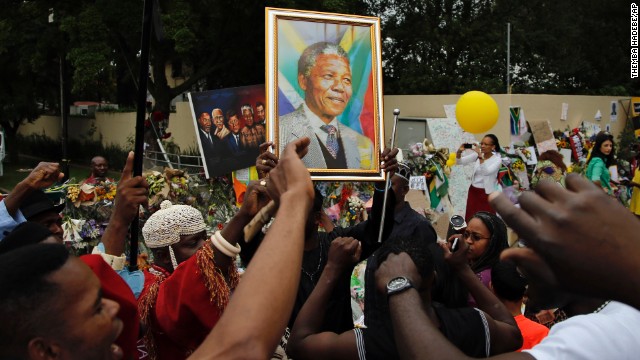 Mourners sing outside the home of former South African President Nelson Mandela in Johannesburg on Monday, December 9. The revered statesman, who emerged from prison to lead South Africa out of apartheid, died on Thursday, December 5. Mandela was 95.
A groundskeeper collects flowers left by visitors at Mandela's home in Johannesburg on December 9.
A child checks out at a sculpture of Mandela by Marco Cianfanelli near Howick, South Africa, on December 9.
A mourner prays on a hill overlooking Johannesburg on Sunday, December 8.
Young choir members attend a morning Mass on December 8 in memory of Mandela at the Regina Mundi Catholic Church, one of the focal points of the anti-apartheid struggle, in the Soweto district of Johannesburg. South Africans flocked to houses of worship for a national day of prayer and reflection to honor Mandela.
A South African flag flies at half-staff to honor Mandela on December 8 at the South African High Commission in London's Trafalgar Square.
A choir sings hymns during a special service in the honor of Mandela on December 8 at the Holy Family Church in the West Bank city of Ramallah. Palestinians mourned Mandela as a loyal champion of their cause.
Doves are released for Mandela at the Grand Parade in Cape Town, South Africa, on December 8.
A program is illuminated by the morning sunlight during a service held to honor Mandela on December 8 at First African Methodist Episcopal Church in Los Angeles.
Areva Martin sings during the service at First A.M.E. Church on December 8.
A portrait of Mandela is projected onto city hall in Paris on December 8.
Children in a drum majors group perform a dance outside Mandela's old house on Saturday, December 7.
Mourners gather in front of the South African embassy in Tehran, Iran, to pay their respects on December 7.
Crowds of people pay tribute to Mandela outside his Johannesburg home on December 7.
Christians mourning the loss of Mandela say prayers on a hilltop overlooking Johannesburg on December 7.
A woman prays at the Central Methodist Church as people remember Mandela on Friday, December 6, in Cape Town, South Africa.
The South African flag is flown at half-staff at the Union Buildings on December 6 in Pretoria, South Africa.
Delegates from countries all over the world stand for a moment of silence for Mandela on December 6 during the drawing ceremony for the 2014 World Cup in Costa do Sauipe, Brazil.
Mandela is honored at the the Grammy Nominations concert at the Nokia Theatre in Los Angeles on December 6.
A woman cleans up outside the South African Embassy in Beijing where portraits of Mandela and flowers offered by people are placed on December 6.
European Union flags fly at half-staff at the European Commission headquarters in Brussels, Belgium, on December 6.
Newspapers with Mandela on the front page are on sale in London on December 6.
Early morning commuters stand in silence beside a statue of Mandela on December 6 in Parliament Square in London.
British Prime Minister David Cameron signs the book of condolence at the South African Embassy in central London following the announcement of Mandela's death.
U.S. Vice President Joe Biden pays a silent tribute to Mandela before his speech on December 6 at Yonsei University in Seoul, South Korea.
An American flag flies at half-staff above the White House in Washington on December 6.
Australian and English cricket fans in Adelaide, Australia, observe a minute of silence December 6, to mark the passing of Nelson Mandela.
A woman cries outside Mandela's house in Johannesburg after Mandela's death on Thursday, December 5.
South Africans sing as they pay tribute to Mandela in Johannesburg on December 5.
U.S. President Barack Obama pauses as he speaks about Mandela in the briefing room of the White House on Thursday, December 5. Obama said he was one of the "countless millions" who drew inspirations from Mandela's life.
The marquee at New York's Apollo Theater honors Mandela on December 5.
An artist who goes by the name Franco the Great stands beneath a Mandela mural that he painted in New York's Harlem neighborhood more than 15 years ago. He later added Obama to the mural.
Keaton Anderson, 10, poses for a photograph while he and his father visit Mandela's statue at the South African Embassy in Washington on December 5. The statue is under renovation.
South Africans pay tribute to Mandela in Johannesburg following his death December 5.
A candlelight vigil is held December 5 outside Mandela's Johannesburg home.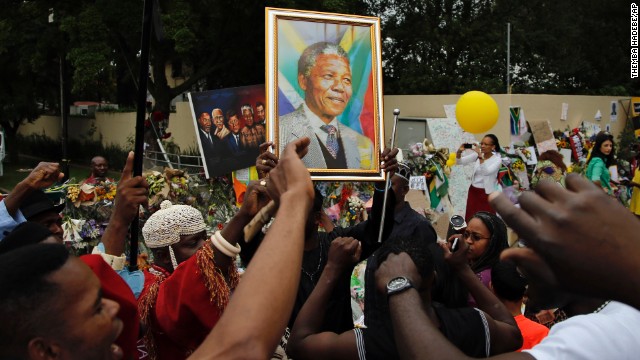 Photos: World reacts to Mandela's death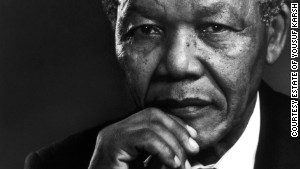 Ambassador: U.S. joins us in our grief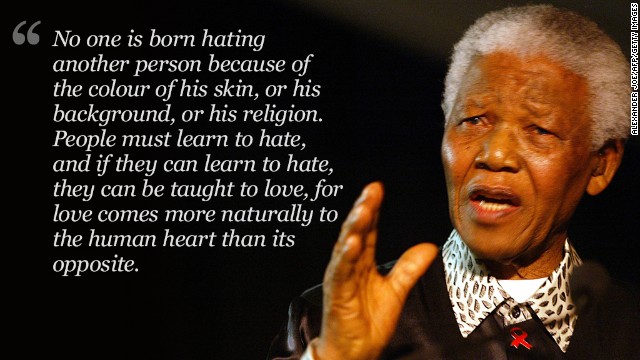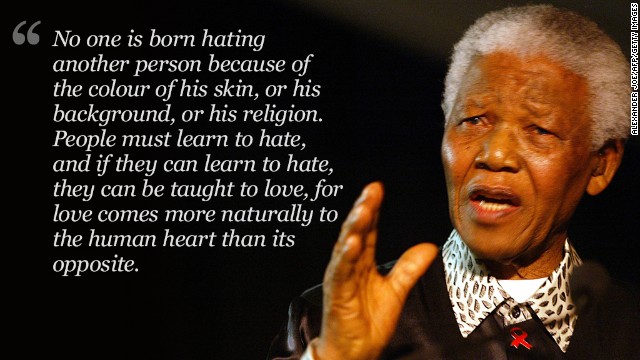 In Mandela's own words
He loomed large in the actions of activists and politicians; he inspired music and movies.
Here's a look at Mandela's impact on the United States:
ACTIVISM
It began with a financial boycott, of sorts.
Students on campuses across the country in the late 1970s called for their universities and colleges to divest from investments in South Africa.
That led to sit-ins and protest marches that by the mid-1980s drew thousands.
"We had marches day after day, thousands of people got arrested in Washington, D.C.," civil rights attorney Charles Ogletree said. "They were all released and ultimately not charged with any offense. Because it was a national issue -- black, white, male, female, people on the left and right, everybody was involved in it."
In 1986, Rep. Ron Dellums, D-California, sponsored a bill that called for a full trade embargo against South Africa as well as divestment by American companies. The bill, which passed the House, was vetoed by then-President Ronald Reagan. Congress then overrode the veto.
Today, this type of activism -- financial boycotts -- have become a protest staple. For example, fast food workers called this week for a boycott of their respective restaurants to protest low wages.
Nelson Mandela: 10 surprising facts you probably didn't know
POPULAR CULTURE
It began in 1985 with musician Steven Van Zandt's "Sun City," a song that protested the South African policy of apartheid.
The music brought together such musical powerhouses as Bruce Springsteen, Run DMC, Bonnie Raitt, Miles Davis, George Clinton, Jackson Browne and dozens more to record the single and video.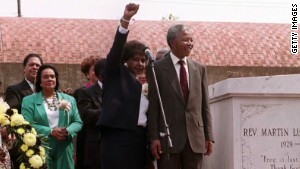 Bernice King: Mandela was a gentle giant
That was followed in 1986 with the release of Paul Simon's "Graceland," which featured South African musicians -- including Ladysmith Black Mambazo.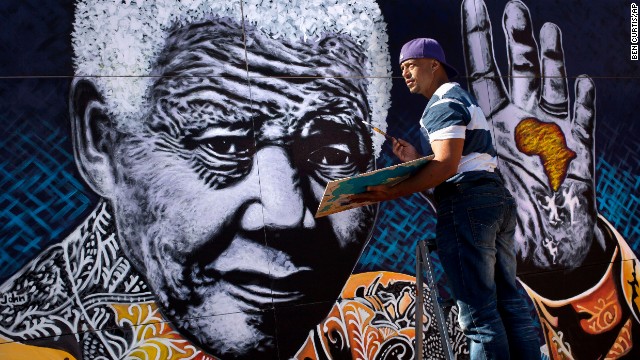 South African artist John Adams works on a giant painting of Nelson Mandela in a suburb of Johannesburg. Mandela, an anti-apartheid icon and Nobel peace laureate, endured 27 years in prison before becoming South Africa's first democratically elected president. Click through the gallery for other artistic tributes to "the world's most famous political prisoner."
SOUTH AFRICA: A giant mosaic of Mandela made from 5,000 cups of coffee is displayed at Constitutional Hill in Johannesburg.
GERMANY: A woman views a giant wooden head of Mandela in the city center of Essen in western Germany. Created by artist Jems Robert Koko Bi from the Ivory Coast, the sculpture is made of burned spruce wood and is supposed to stand for the fight for freedom.
SOUTH AFRICA: A mural of Mandela is displayed near his former house in the Alexandra Township in Johannesburg.
ENGLAND: A six-foot bronze sculpture of Mandela is lifted onto a platform in front of the Royal Festival Hall in central London. Cast in bronze, the sculpture was originally unveiled in 1985, five years before Mandela's release from prison.
ENGLAND: A foundry worker moves a crane after lifting a new statue of Mandela in Braintree, northeast of London. The nine-foot high bronze statue was started by British sculptor Ian Walters, who died in 2006, and completed by Nigel Boonham. Weighing approximately one ton, the sculpture now stands on the corner of Parliament Square facing the Palace of Westminster.
BRAZIL: A float by the Porto da Pedra samba school pays tribute to Mandela as it parades at the Sambadrome during the second night of Carnival celebrations in Rio de Janeiro.
SOUTH AFRICA: A woman holds a purse with Mandela's face on it in Johannesburg.
SOUTH AFRICA: Ceramic statues of Mandela are seen in a shop in Johannesburg.
INDIA: Artist Sudarshan Pattnaik works on a sand sculpture in Puri to wish Mandela a speedy recovery. The former South African president was in critical but stable condition at the time, according to officials.
SOUTH AFRICA: A mural depicts Mandela near the Regina Mundi Catholic Church in the Soweto Township in Johannesburg. The church played a central role in the anti-apartheid struggle, opening its doors to shelter activists.
NIGERIA: A model displays an outfit by fashion designer Deola Sagoe that features faces of renowned African figures, including Mandela, during the launch of Ebony Life TV in Lagos.
SOUTH AFRICA: Construction workers add the final touches to a Mandela statue outside Howick, South Africa. The monument will form part of the museum that was opened in the Midlands Meander at the spot where Mandela was arrested on August 5, 1962.
SOUTH AFRICA: From left, actress Hlubi Mboya, former boxer Baby Jake Matlala and Thomas van Schaik from Adidas unveil a piece of art during a Live Quest event showcasing paintings of key moments of the 2010 FIFA World Cup at the Adidas Jo'bulani Centre in Johannesburg.
NORTHERN IRELAND: A Mandela mural is displayed on a home in Northern Ireland.
SOUTH AFRICA: A mosaic portrait of Mandela made entirely out of Rubik's cubes is on display at the entrance of the Mandela Rhodes Place Hotel & Spa in Cape Town. It was created by artist Jan Du Plessis.
SOUTH AFRICA: People gather by a Mandela statue in downtown Johannesburg.
SOUTH AFRICA: South African bank notes featuring Mandela are seen at an office in Johannesburg.
SOUTH AFRICA: A person bungee jumps off old cooling towers in Soweto painted with a mural featuring Mandela.
SOUTH AFRICA: South African artist Paul Blomkamp stands in front of the giant acrylic-on-canvas painting he made of Mandela at his studio in Johannesburg. He said he was drawn to Mandela because of his "exceptional energy."
ENGLAND: Graffiti of Mandela by Paul Don Smith is seen on a door in East London.
UNITED STATES: A fan wearing the colors of South Africa and a portrait of Mandela cheers in the second half of a soccer match between the U.S. and the Czech Republic in East Hartford, Connecticut.
POLAND: A clock in Warsaw is made out of an old vinyl record and painted with Mandela's headshot.
INDIA: An elderly man in Bangalore holds a portrait of Mandela as he receives a free haircut to commemorate the 84th birthday of the former South African president in 2002.
FRANCE: Artwork featuring Mandela over the years is on display at an exhibition in Paris.
SOUTH AFRICA: Street art expressing love for Mandela is found in Cape Town.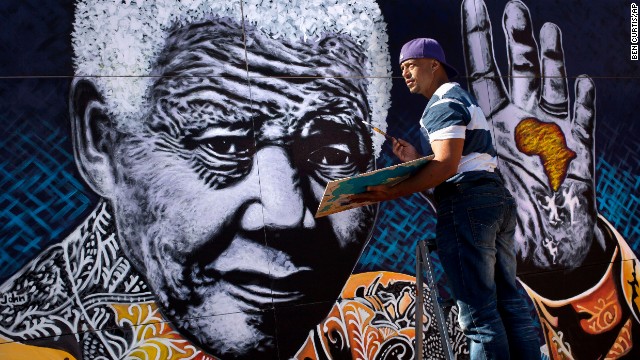 Photos: Global tributes to Nelson Mandela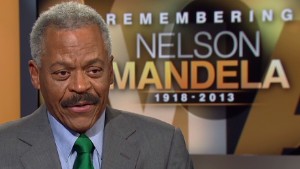 Bernard Shaw: Mandela was 'forgiving'
Simon on Thursday praised Mandela as one of the world's greatest teachers.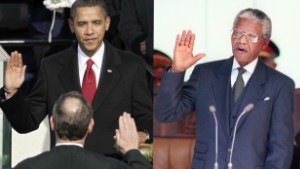 Pres. Obama reflects on Mandela's impact
"He conceived a model for mortal enemies to overcome their hatred and find a way through compassion to rebuild a nation based on truth, justice and the power of forgiveness," the singer said in a statement to CNN. "His passing should reignite a worldwide effort for peace."
On Thursday, the famed Apollo Theater in Harlem -- that hosted so many of these artists -- paid tribute to Mandela. Its marquee said, simply: "He changed our world."
Hollywood was a long-time supporter of Mandela's fight against apartheid, releasing a number of movies inspired by the civil rights leader's plight.
"We count ourselves unspeakably fortunate to have been immersed in Nelson Mandela's story and legacy," said Harvey Weinstein, whose company is releasing the biopic "Mandela: Long Walk to Freedom" this month.
A number of Hollywood heavyweights have portrayed Mandela, including Danny Glover, Sidney Poitier and Terrance Howard. Morgan Freeman earned an Oscar nomination for best actor for his portrayal of Mandela in "Invictus."
The latest to step into the role is Idris Elba, who plays the South African leader in "Mandela: Long Walk to Freedom."
"What an honor it was to step into the shoes of Nelson Mandela and portray a man who defied odds, broke down barriers, and championed human rights before the eyes of the world," Elba said.
How one British pop song helped to free Nelson Mandela
POLITICS
Perhaps nowhere is Mandela's influence more evident that on America's politicians.
As a student at the University of California, Berkeley, California Assemblywoman Nancy Skinner participated in the divestment protests in the late 1970s and early 1980s.
So when Mandela was released and the South African government began its transition, "I think we felt like were part of that," Skinner said.
She learned of Mandela's death during a Democratic caucus in California.
"That strategic, spiritual, political leadership has no equal," she said.
President Obama recounted to the nation on Thursday how he drew inspiration from Mandela during his first public speech.
"My very first political action, the first thing I ever did that involved an issue or a policy or politics, was a protest against apartheid. I studied his words and his writings," he said in a televised address shortly after Mandela's death was announced.
"And like so many around the globe, I cannot fully imagine my own life without the example that Nelson Mandela set, and so long as I live I will do what I can to learn from him."
"He no longer belongs to us," Obama said. "He belongs to the ages."
Nelson Mandela: A man of many handshakes
CNN's Catherine Shoichet and Greg Botelho contributed to this report.