Bob Dylan Stratocaster sets auction record, sells for nearly $1 million
updated 10:02 PM EST, Fri December 6, 2013
STORY HIGHLIGHTS
Dylan played the electric guitar at the Newport Folk Festival in 1965
The performance marked the first time Dylan was backed by an electric band
The guitar and lyrics subsequently were left behind on a private plane
New York (CNN) -- A guitar once owned by music legend Bob Dylan sold for $965,000 Friday at Christie's, setting a new world auction record for any guitar, according to a statement from the auction house.
The 1964 Fender Stratocaster was purchased by an unidentified bidder, said a Christie's spokesperson.
Dylan, now 72, played the electric guitar in his famous performance at the Newport Folk Festival in 1965, during which he was backed by an electric band for the first time, according to the statement. He was 24 years, and on the road to establishing himself as a music icon, the statement said.
"A tremendous amount of international interest was generated at the time of the sale's announcement, and today's result justifies the mythic status of this guitar in the annals of music history," said Tom Lecky, Christie's specialist and the sale's auctioneer.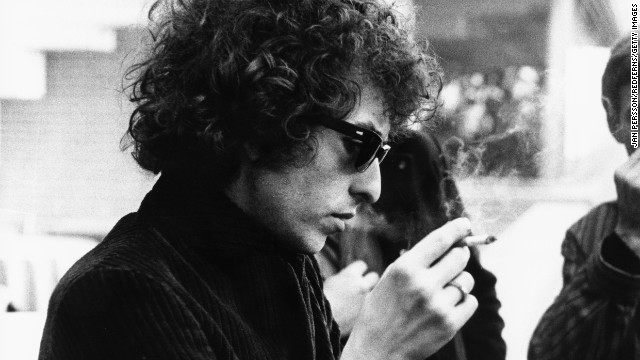 Bob Dylan smokes a cigarette circa 1966. Dylan's music spoke to a generation of people during the 1960s, a tumultuous decade that forever changed America. He went on to become a rock 'n' roll legend and influence many musicians to come.
Dylan performs in 1961 at The Bitter End club in New York City. His first album, "Bob Dylan," debuted in 1962 and consisted mostly of old folk songs.
Joan Baez and Dylan perform during the March on Washington, a pivotal moment in the civil rights movement, on August 28, 1963.
Dylan performs on stage in the 1960s. Dylan was known in his early career for playing the guitar and the harmonica, and for his distinctive vocal phrasing.
Dylan listens to recordings of his album "Highway 61 Revisited" in 1965. It contained "Like a Rolling Stone," which went to No. 2 on U.S. charts.
George Harrison and Dylan perform in the Concert for Bangladesh, held August 1, 1971 at Madison Square Garden in New York. The concert earned them the Grammy Award for Album of the Year along with Billy Preston, Eric Clapton, Klaus Voormann, Leon Russell, Ravi Shankar and Ringo Starr.
Dylan appears on set for the film "Pat Garrett and Billy the Kid" in 1973. Dylan also recorded the soundtrack for the film.
Dylan performs on stage at Madison Square Garden in 1974.
Dylan performs with Robbie Robertson of The Band, right, and Van Morrison at The Band's farewell concert in 1976.
Dylan performs with Tom Petty at Farm Aid in Chicago in 1985.
Dylan poses for a photo with David Bowie in 1985.
Dylan and Bruce Springsteen perform together in 1990.
Performance artist Michael Portnoy is taken off stage during Dylan's performance at the Grammy Awards in 1998. Portnoy had been hired as part of the background dancers for the performance, but his shirtless interruption was not planned and he was carted off stage.
Dylan performs in Brighton, England, in 2002.
Dylan appears with actress Jessica Lange during a news conference for the movie "Masked and Anonymous" in 2003. Dylan co-wrote the movie and starred in it.
Dylan poses for photos at the University of St. Andrews after he received an honorary degree at the Scottish school in 2004.
Dylan performs during the Grammy Awards in 2011. Dylan has won 10 Grammys in his career, as well as one Golden Globe Award and one Academy Award.
President Barack Obama presents the Presidential Medal of Freedom to Dylan in the East Room of the White House in 2012. The award is the country's highest civilian honor. "I remember, you know, in college, listening to Bob Dylan and my world opening up, 'cause he captured something about this country that was so vital," Obama said.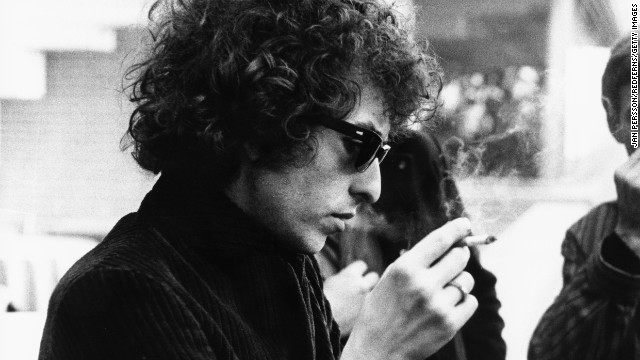 Photos: Bob Dylan: Voice of a generation
Along with the guitar and original Fender case, newly discovered song lyrics by Dylan were also auctioned, according to Christie's. The items were left behind on a private plane months after the 1965 performance. In 2011, the daughter of the plane's pilot submitted the items to the PBS show "History Detectives" for authentication, according to the statement from Christie's.
The selling price of the guitar almost doubled the estimated range of $300,000 to $500,000, according to Christie's.
Previously, Eric Clapton's Fender "Blackie" held the record for a guitar sold at an auction, going for $959,500 in 2004, Christie's spokeswoman told CNN.
A month after receiving France's most prestigious medal, the Legion d'honneur, Dylan is now being investigated in Paris on suspicion of inciting racial hatred, according to French prosecutors. The investigation was prompted by comments he made in Rolling Stone magazine in 2012.
CNN's Eric Williams and Saskya Vandoorne contributed to this report.