STORY HIGHLIGHTS
Nicole Hockley lost her son Dylan, 6, in the Newtown shooting
She opposed the release of the 911 call recordings and fears hearing them by chance
Other victims' loved ones support the release; they want the public to know
Psychologists say the release can help or hurt family members and others
(CNN) -- A lifetime may be too short to recover from the loss of a child, let alone just a year. Nicole Hockley knows this.
Adam Lanza shot dead her 6-year-old son, Dylan.
Her wounds are still raw. And the release Wednesday of the 911 calls to police after Lanza charged into Sandy Hook Elementary with an assault rifle was like rubbing salt on those wounds.
"I have no desire whatsoever to hear the slaughter of 26 people, including my 6-year-old boy. And I can't imagine why anyone else would want to hear that as well," Hockley told CNN.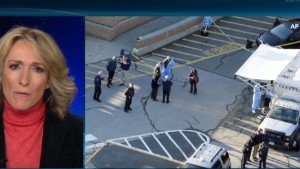 Authorities release Sandy Hook 911 tapes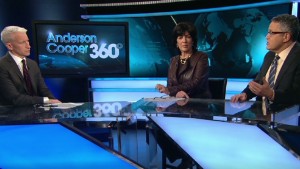 Impact of Newtown 911 tapes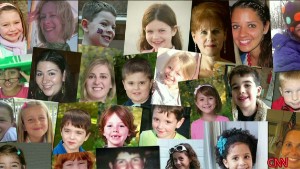 Marsha Lanza: I know how the families feel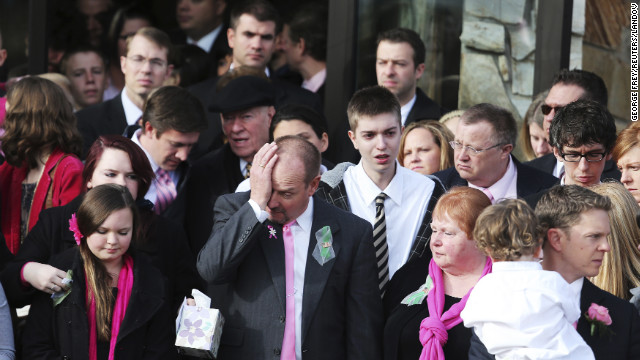 Mourners wipe tears away as they file out of the Church of Jesus Christ of Latter-day Saints after the funeral of Emilie Parker in Ogden, Utah, on Saturday, December 22.
The casket of Rachel Marie D'Avino is carried into the Church of the Nativity in Bethlehem, Connecticut on Friday, December 21.
Parents attend the funeral of Dylan Hockley, 6, a victim of the Sandy Hook Elementary School shooting, on December 21 in Newtown, Connecticut.
A view from outside the funeral service for 6-year-old Dylan Hockley at Walnut Hill Community Church on December 21.
Family members depart the Trinity Episcopal Church in Newtown, Connecticut, following a funeral for Benjamin Wheeler, 6, on December 20.
Mourners, including Boy Scout and Tiger Scout members, depart the funeral on December 20, 2012. Wheeler was a member of Tiger Scout Den 6.
Boy scouts salute as a funeral procession for Benjamin Wheeler enters the Trinity Episcopal Church on December 20, in Newtown, Connecticut.
Firefighters salute as the casket of Daniel Barden, 7, a victim of the shooting at Sandy Hook Elementary School, is removed from St. Rose of Lima Church on Wednesday, December 19, 2012, in Newtown, Connecticut.
Police escort the hearse bearing the casket of Daniel Barden from St. Rose of Lima Church on December 19.
Mourners enter St. Rose of Lima Church for the funeral of Charlotte Bacon, 6, on December 19, in Newtown.
A police officer directs traffic as mourners enter the church for Charlotte Bacon's funeral on December 19.
A procession arrives for the funeral of Victoria Soto, 27, at Lordship Community Church in Stratford, Connecticut, on December 19. Soto was a first-grade teacher being hailed as a hero for protecting the children in her class during last week's school massacre in Newtown.
A woman carries a program with Soto's photo after attending a funeral for the slain teacher in Stratford on December 19.
Bagpipers play at funeral services for Soto on December 19 in Stratford.
Richard and Krista Rekos leave after a funeral service for their 6-year-old daughter, Jessica, at Saint Rose of Lima Church on Tuesday, December 18, in Newtown. Jessica was one of 20 children killed in last week's school shooting.
Family and friends depart Jessica's funeral on December 18 in Newtown.
A child stands next to a makeshift memorial for Jessica Rekos following her funeral on December 18.
Pallbearers carry out James Mattioli's casket at St. Rose of Lima Roman Catholic Church after a funeral Mass on December 18 in Newtown. James, 6, was one of the 26 victims in the shooting at Sandy Hook Elementary School in Newtown.
Mourners console each other after the funeral for James Mattioli on December 18.
People arrive for the funeral of Jessica Rekos, 6, at St. Rose of Lima Roman Catholic Church in Newtown on December 18.
Jessica Rekos' casket arrives at St. Rose of Lima Roman Catholic Church as mourners gather December 18.
Mourners console each other after attending the funeral for Jack Pinto, 6, on December 17.
Mourners grieve the death of Jack Pinto, 6, on December 17.
A mother and two children attend the funeral for Jack Pinto on December 17. Children are among those crowding the funeral for the 6-year-old boy.
A man comforts a young mourner at Honan Funeral Home while attending the funeral for Jack Pinto, 6, on December 17.
Boys enter Honan Funeral Home before Jack Pinto's funeral on December 17 in Newtown.
Veronika Pozner, mother of Noah Pozner, arrives for her son's funeral on Monday, December 17, at the Abraham L. Green and Son Funeral Home in Fairfield, Connecticut. Monday is the first day of funerals for the 20 children and seven adults who were killed by 20-year-old Adam Lanza on December 14.
Three women embrace as they arrive for the funeral services for Noah Pozner on December 17.
Mourners arrive at Noah Pozner's service in Fairfield on December 17.
Mourners leave Noah Pozner's service on December 17 in Fairfield.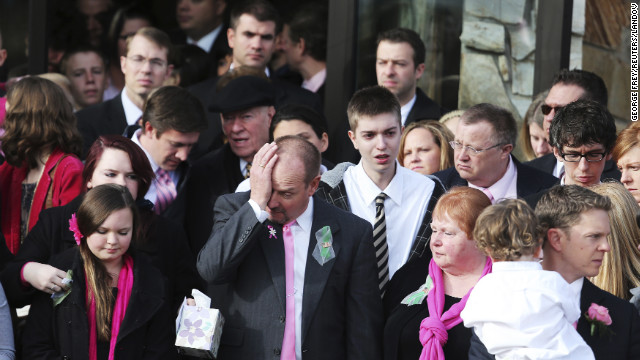 Funerals: Community says goodbye
She absolutely did not want a judge to release the recordings of the December 14 massacre in Newtown, Connecticut, that claimed the lives of 20 first-graders and six teachers.
After the release, media organizations struggled with how to handle the material. Some news outlets, including CNN, opted to air portions of the recordings, including a 911 call from a school secretary, one from a teacher and one from a janitor.
Other news organizations decided not to use any of the material directly, instead describing some of the recordings in news coverage without airing or posting any of the contents.
Hockley says she'll do her best to avoid hearing the voices describing the horror of that day, of gunfire popping in the background. But she's afraid of happenstance.
"I don't know if I'm going to turn on the radio one day, or turn on the TV one day, or be Googling on something and just happen to come across them by accident," Hockley said.
Bringing back memories
Parents of the murdered students were able to leverage the law to prevent the release of the crime scene photos from that day. But some of them are upset they couldn't hold back the 911 recordings.
The Associated Press had requested they be made public in accordance with the Freedom of Information Act.
Scenes of grieving parents on the day of the shooting are still vivid in the mind of Sen. Richard Blumenthal of Connecticut. Now that the call recordings are out, he's concerned about the pain they'll cause.
"I think the tapes bring back those memories," he said.
But the appeals judge, who upheld the decision to release them, didn't really have a choice, he said.
Judge Eliot Prescott was afraid that holding them back would "fuel speculation about and undermine confidence in our law enforcement officials."
The good in the bad
Cristina Hassinger, who lost her mother to Lanza's bullets, agrees with Prescott's decision -- despite her personal anguish.
Hassinger's mother, Dawn Hochsprung, was the school principal. She was confronting Lanza when he gunned her down.
Hassinger believes that knowing is better than not knowing. The calls belong to the American public, she said. And they can help the country deal with future shootings.
"They don't belong to the victims' families, painful as they may be, and there is nothing on the recordings that violates the victims' privacy," Hassinger said. "The public has the right to know."
Psychologists divided
Psychologists were divided on how to handle the calls.
Judy Ho frowns on their release, particularly the effect they might have on children who hear them.
"There are computers everywhere. Even if you have parental control, kids can get past that and listen to these tapes themselves," she told CNN's Don Lemon.
She fears the exposure will trigger post-traumatic stress disorder, even in people who have no connection to the school or its community.
But clinical psychologist Jeff Gardere believes that the pain of reliving those moments will help people process the trauma.
"I think listening to these tapes, of course, will open old wounds. But sometimes you do have to open them in order to clean them out."
Neil Heslin purposely used the recordings to reopen his own.
"I had felt it was something that I needed to do, that I wanted to do," he said. "Just to know. Jesse was my son. I brought him into the world."
Jesse died at Lanza's hands.
"You can only try to imagine what it's like to lose a child," Heslin said. "And unless you've lost a child, you can't imagine. The best description I can give is it's like losing a leg and an arm ... and not being able to hold yourself up or support yourself."
Heslin got to spend just six short years with his son before Jessie was lowered into the ground.
And this holiday season will be especially tough for his family. Heslin plans to take down a Christmas tree he set up with Jesse after Thanksgiving last year. They planned to decorate it in a few days.
They never did.
CNN's Pamela Brown and Deborah Feyerick contributed to this report.