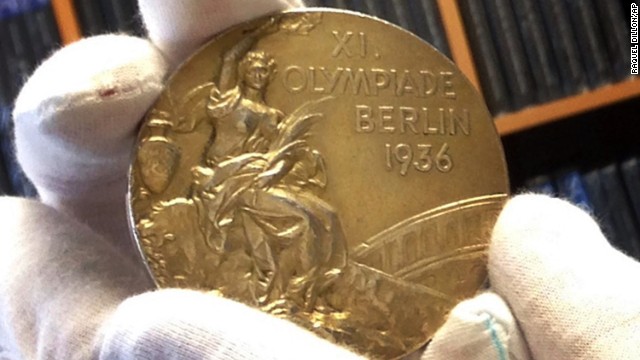 Jesse Owens' 1936 gold medal sold for $1,466,574 at auction on Sunday, December 8, setting a record for the highest price paid for Olympic memorabilia. This medal is considered one of the most important in Olympics history and is one of four Owens won at the 1936 games in Berlin, spoiling Adolf Hitler's planned showcase of Aryan superiority.
Norman Rockwell's painting "Saying Grace" sold for $46 million on Wednesday, December 4, at Sotheby's American Art auction. It was a record for works by the late artist and for a single American painting. The illustration originally appeared on the Thanksgiving issue cover of The Saturday Evening Post in 1951.
For the first time since 1947, and only the second time since the 19th century, a copy of the first book printed in America will be sold at auction. The Whole Book of Psalmes -- universally known as The Bay Psalm Book -- was produced in the virtual wilderness of Massachusetts Bay Colony by the Congregationalist Puritans.
Titanic band leader Wallace Hartley's violin sold for $1.7 million at Henry Aldridge and Son Auctioneers in Devizes, England, on Saturday, October 19. The sale price was far higher than expected.
An engraving from Wallace Hartley's fiance, Maria Robinson, is attached to the Titanic band leader's violin.
This 1954 Mercedes-Benz W196 recently sold at auction for $30 million in England. It was part of a group of race cars that won nine of 12 Forrmula 1 World Championship-qualifying races during 1954 and 1955 and was driven by Juan Manuel Fangio.
The October yearlings sale at Tattersalls auction house in England saw a number of auction records broken in brisk trade.
A 118-carat white diamond is on display at Sotheby's, a New York auction house, on September 4. The oval stone was auctioned off in Hong Kong on October 7 for a record $30.6 million.
Going, going, gone wild
Going, going, gone wild
Going, going, gone wild
Going, going, gone wild
Going, going, gone wild
Going, going, gone wild
Going, going, gone wild
Going, going, gone wild
STORY HIGHLIGHTS
"There is a massive supply of new money coming into the art market," expert says
He predicts continued increases but notes that "certain artists have bubbled"
Paintings represent movable assets in a world marked by insecurity
(CNN) -- How do you explain $142 million for a painting?
OK, "Three Studies of Lucian Freud," the 1969 painting by Francis Bacon that depicts the artist's friend, is a triptych, so maybe you could argue that it's really three paintings, but it's not the only record price set last month at auction.
"There is a limited supply of rare art, and there is a massive supply of new money coming into the art market," said Philip Hoffman, chief executive of the Fine Art Fund Group, which is based in London and advises clients to invest 5% of their holdings in art. "That's why the prices are being pushed up."
Norman Rockwell painting, 'Saying Grace' brings record $46 million at auction
Last month's auction house receipts tell the story:
A sale of post-war and contemporary art brought in more than $691 million, the largest take at auction in the history of the art market, according to Christie's. Records were set not only by the Bacon painting but by Jeff Koons' pop-art sculpture "Balloon Dog (Orange)," which fetched $58 million, the highest auction price for a work by a living artist.
Frothy prices were also visible at Sotheby's, where Andy Warhol's "Silver Car Crash (Double Disaster)," a silk-screen from 1963, sold for $105 million.
Are the record prices for art linked to the record prices on Wall Street? Not necessarily, according to Hoffman.
"Art has a relatively low correlation -- at the top end -- to the stocks and bonds market," he said.
The current dizzying prices reflect, at least in part, an attempt by people with money to diversify after having been burned in the stock market during the Great Recession, he said.
During its depths, from November 2008 until June 2009, art prices froze as the stock market plunged, and the increases quickly resumed -- along with the record prices, he said.
The moneyed class learned from the downturn in stock values that "they'd bloody well diversify," and the art world has benefited, Hoffman said.
In a world where banks are paying peanuts for cash deposits, art can represent an inflationary hedge for those who buy well, he said. He cited Andy Warhol's "200 One Dollar Bills," which was bought by a private client in 1986 for $383,000 and sold in 2009 for more than 100 times that: $43.8 million.
Christie's: Evolution of the Asian art market
Adding to the demand is the fact that paintings represent moveable assets in a world where security is not always assured, noted Hoffman, who said his group represents "probably 18 of the world's top 1,000 billionaires."
"In the case of a war, they could ship it from Lebanon to Geneva in two hours," he said.
And some people from foreign countries may collect art because they want to keep low-maintenance assets outside their country that they think will appreciate in value.
The market is significant, with annual global volume estimated at $60 billion, he said. The investable part of that market -- which he defined as pieces worth more than $1 million -- represents $15 billion to $20 billion, with about half of that sold by auction houses and the rest by galleries, Hoffman said.
The record price for a work of art in a private sale, $250 million for Cezanne's "Card Players," was set in 2011 by a museum in Qatar.
Though the overall market will continue to rise, the prices for works by "certain artists have bubbled" and will drop, he predicted. "You don't always want to buy a Picasso because that's the headline -- or a Bacon," he said. "Because the next one may not do anything close to that."
And the price for the Bacon triptych was not really a record when you factor in inflation. That distinction goes to Van Gogh's 1890 "Portrait du Docteur Gachet," which sold for $82.5 million in 1990, the equivalent of $147.4 million today.
Here are a few other top auction sales, as compiled by Sotheby's:
• Edvard Munch, "The Scream," 1895, May 2012, $119,922,500
• Pablo Picasso, "Nude, Green Leaves, and Bust," May, 2010, $106,482,500
• Alberto Giacometti, "L'Homme qui marche 1," cast in 1961, February 2010, $104,327,006
• Pablo Picasso, "Garcon a la Pipe," 1905, May 2004, $104,168,000
• Pablo Picasso, "Dora Maar au chat," 1941, May 2006, 95,216,000