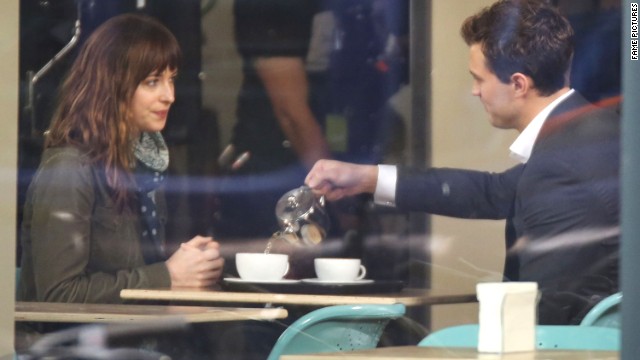 With filming on "Fifty Shades of Grey" officially under way in Vancouver -- that's Dakota Johnson and Jamie Dornan working a scene on December 1 -- producers are swiftly filling out the rest of the cast. Take a look at who's been picked to bring E L James' best-selling erotic novel to life on the big screen:
Entertainment Weekly
. The 24-year-old, the daughter of Don Johnson and Melanie Griffith, has previously appeared in "The Social Network," "21 Jump Street" and the short-lived sitcom "Ben and Kate."
Dakota Johnson has been a controversial choice for the lead role of naive and inexperienced Anastasia Steele, but the actress has said that she really "understands" E L James' sensual trilogy. "I think it's an incredible love story," she told
Jamie Dornan came a little late to the "Fifty Shades" party, as "Sons of Anarchy" star Charlie Hunnam was initially cast to play the wealthy, S&M-loving Christian Grey. But after Hunnam dropped out, 31-year-old Dornan was tapped to fill the role. An Irish model-turned-actor, Dornan is most familiar to U.S. audiences for his work on ABC's "Once Upon A Time."
Fitting right in to a cast filled with newcomers is Eloise Mumford, who's landed the role of Anastasia Steele's best friend, Kate Kavanagh. The 27-year-old has previously appeared in TV series "The River" and "Lone Star."
To bring Christian Grey's ever-present, protective (and totally non-judgmental) bodyguard to life, the "Fifty Shades" team turned to actor Max Martini. You've seen the actor in TV shows like "The Unit," "CSI" and "Revenge," and on the big screen in "Saving Private Ryan" and "Pacific Rim."
Luke Grimes has been cast as Christian Grey's brother Elliot, who also happens to be in love with Ana's roommate/BFF, Kate. Lately, Grimes could be found on "True Blood" as the vampire James, and he also appeared in "Taken 2" and the TV series "Brothers & Sisters."
"Fifty Shades" brought out some big guns for the part of Ana Steele's mom, Carla. Tony-winner Jennifer Ehle, whom you last saw in "Zero Dark Thirty," has snapped up the part.
Victor Rasuk will play José, Ana's artistic friend who wishes he could be more. Rasuk is best known for his starring work in movies like 2002's "Raising Victor Vargas" and HBO's "How to Make It in America."
"Fifty Shades" fans were in for a bit of a surprise when the production team announced that singer Rita Ora had been cast as Christian Grey's fun-loving and outgoing sister, Mia. Best known for her music and style, Ora is also a budding actress with a few credits to her name.
Actress Marcia Gay Harden is the most recent addition to the "Fifty Shades" cast. The production team announced on December 3 that the prolific star will portray Christian Grey's mother, Dr. Grace Trevelyan Grey.
To fill the role of Anastasia Steele's stepfather, Bob Adams, "Fifty Shades" has turned to "Arrow" star Dylan Neal. If you're a Hallmark Channel fan, you'll also recognize Neal from "Cedar Cove," which he stars in with Andie MacDowell.
The cast of 'Fifty Shades'
The cast of 'Fifty Shades'
The cast of 'Fifty Shades'
The cast of 'Fifty Shades'
The cast of 'Fifty Shades'
The cast of 'Fifty Shades'
The cast of 'Fifty Shades'
The cast of 'Fifty Shades'
The cast of 'Fifty Shades'
The cast of 'Fifty Shades'
The cast of 'Fifty Shades'