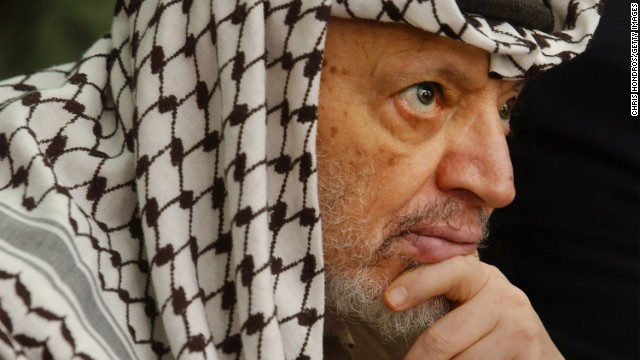 For five decades, Yasser Arafat was the most prominent face of the Palestinian national movement. He died in 2004. Look back at the legacy of the controversial leader.
Arafat founded the group Al-Fatah in 1958, advocating for armed struggle against Israel. A decade later, the group joined the Palestine Liberation Organization, which was formed under the authority of the Arab League. Arafat, seen here in December 1968, was elected chairman of the PLO's executive committee in February 1969.
In November 1974, Arafat addresses the General Assembly of the United Nations. "I have come bearing an olive branch and a freedom fighter's gun," he was quoted as saying. "Do not let the olive branch fall from my hand."
Arafat meets with Iraqi President Saddam Hussein in 1988. The Palestinian leader supported Hussein during the Gulf War.
In a speech before the United Nations on December 13, 1988, Arafat renounces terrorism and recognizes Israel's right to exist while declaring a Palestinian state.
Arafat is greeted by Tunisian Defense Minister Abdelaziz Ben Dhia upon his arrival at the Tunis airport on April 10, 1992. Days earlier, Arafat survived a plane crash over the Libyan desert that killed the pilot and two others.
With U.S. President Bill Clinton watching, Arafat shakes hands with Israeli Prime Minister Yitzhak Rabin after the two signed the Oslo peace accord in Washington on September 13, 1993.
On July 1, 1994, Arafat waves to a crowd of cheering Palestinians as he crosses the border into Gaza for the first time in 27 years.
Arafat accepts the Nobel Peace Prize on December 10, 1994. He collected the prize jointly with Rabin and Israeli Foreign Minister Shimon Peres, in recognition of their historic peace accord.
Arafat casts his ballot in Gaza City on January 20, 1996. Palestinians were voting for the first time in their history to select a president and 88-member council, and Arafat was elected president of the Palestinian National Authority.
Arafat's wife, Suha, carries their daughter, Zahwa, in the West Bank town of Bethlehem on December 15, 1998.
Arafat meets with United Nations Mideast envoy Terje Roed-Larsen in Gaza City on October 17, 2001. Arafat agreed to a cease-fire that would end several weeks of fighting between the Palestinian and Israeli armies.
A Palestinian security officer inspects damage to Arafat's seaside office in Gaza City on March 10, 2002. Israeli helicopters attacked the compound hours after an Islamic suicide bombing in Jerusalem.
Israeli soldiers enter Arafat's West Bank headquarters in Ramallah on March 29, 2002. Tanks surrounded Arafat's compound earlier in the day in retaliation for a wave of recent suicide bombings. It was the beginning of a month-long siege.
Arafat greets supporters in Ramallah on May 2, 2002, after Israeli soldiers withdrew from his compound late the previous night.
Arafat tours damage at his compound after it was attacked by Israeli troops on June 6, 2002 -- this time in retaliation for a suicide bombing that killed 17 Israelis, 13 of them soldiers.
U.S. President George W. Bush announces his plan for peace in the Middle East on June 24, 2002. He called for Arafat's removal from power and the creation of a Palestinian state.
A large explosion rocks Arafat's headquarters in Ramallah moments after Israeli troops blew up a building on September 20, 2002. It was the start of a 10-day siege.
A state of emergency was declared in the Palestinian territories on October 5, 2003. Two days later, Palestinian Prime Minister Ahmed Qorei, left, and Arafat attend a swearing-in ceremony for the emergency Cabinet that was appointed.
Arafat sits with aides and medical staff in Ramallah on October 28, 2004. The Palestinian leader's health was deteriorating, and he later sought medical treatment in Paris.
Palestinians hold a candlelight vigil for an ailing Arafat in Ramallah on November 10, 2004. A top aide said Arafat suffered a brain hemorrhage.
French Republican Guards transport Arafat's body to a military airport on November 11, 2004. Arafat died in a Paris hospital that day at the age of 75. The cause of his death has been disputed.
Palestinian security forces cry over Arafat's grave after he was buried at his compound in Ramallah on November 12, 2004.
Palestinian leader Yasser Arafat
Palestinian leader Yasser Arafat
Palestinian leader Yasser Arafat
Palestinian leader Yasser Arafat
Palestinian leader Yasser Arafat
Palestinian leader Yasser Arafat
Palestinian leader Yasser Arafat
Palestinian leader Yasser Arafat
Palestinian leader Yasser Arafat
Palestinian leader Yasser Arafat
Palestinian leader Yasser Arafat
Palestinian leader Yasser Arafat
Palestinian leader Yasser Arafat
Palestinian leader Yasser Arafat
Palestinian leader Yasser Arafat
Palestinian leader Yasser Arafat
Palestinian leader Yasser Arafat
Palestinian leader Yasser Arafat
Palestinian leader Yasser Arafat
Palestinian leader Yasser Arafat
Palestinian leader Yasser Arafat
Palestinian leader Yasser Arafat
Palestinian leader Yasser Arafat