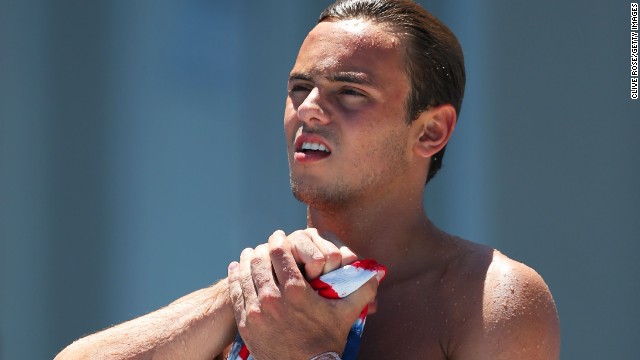 British Olympic diver Tom Daley announced he is in a gay relationship in a YouTube clip. He tweeted to his 2.4 million followers before asking them to watch the video.
Daley, 19, revealed he has been dating the man for several months and felt compelled to make the news public after claiming he was misquoted in an interview.
Daley has become a celebrity ever since bursting onto the international stage as a 14-year-old at the Beijing Olympics in 2008. He won bronze in London last year.
Daley will now head off to Houston, Texas, for a training camp with Team GB before returning home for Christmas.
Diving Daley
Tucked up
Olympic hero
Training time
STORY HIGHLIGHTS
British diving star Tom Daley reveals he is in a gay relationship
The 19-year-old announces the news in a YouTube clip
Daley says he is still attracted to girls, but has never been happier
He won bronze medal at the London Olympics in the 10-meter platform
(CNN) -- Tom Daley wanted the world to hear the truth straight from his mouth.
The 19-year-old diver, who was one of Britain's heart-throb poster-boys for the London 2012 Olympics, took to YouTube Monday to reveal he is in a relationship with a man.
After complaining that he had been misquoted in an interview over his sexuality, Daley recorded a five-minute clip before tweeting: "Got something I need to say...not been an easy decision to make, hope you can support me! :)."
In the short video, he said: "In spring this year my life changed massively when I met someone, and they make me feel so happy, so safe and everything just feels great.
"That someone is a guy."
Earlier this year, in September, the London 2012 bronze medalist was voted the world's sexiest man by leading gay magazine, Attitude.
While Daley has always been cautious in commenting on his private life, he felt the time was right to make the revelation after being angered by quotes attributed to him in a recent interview.
He said: "One thing I consider to be pretty important is having a private life and you're probably thinking, 'Why did you do a book, why did you do a documentary?'
"In an ideal world I wouldn't be doing this video because it wouldn't matter, but recently I was misquoted in an interview and it made me feel really angry.
"For me honesty is important and I've always been honest. I may have been vague in some of my answers, but I've always been honest.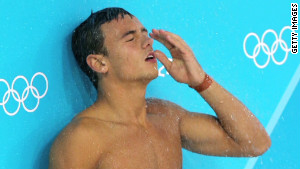 UK diver targeted by Twitter 'troll'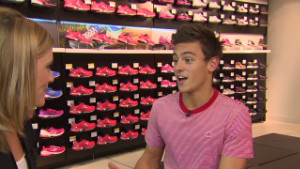 Tom Daley looks back at London 2012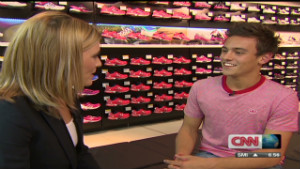 Olympic medalist admires David Beckham
"One thing I've never really felt that comfortable with talking about is relationships. I've never really had a serious relationship to talk about."
Daley said he has been dating the man for several months.
"It did take me by surprise a little bit," he said. "I did have in the back of my mind that something like that could happen.
"It wasn't until spring this year that something just clicked and felt right. My whole world just changed there and then.
"Of course I still fancy girls. Right now I'm dating a guy and couldn't be happier. I feel safe and it really does just feel right. People are going to have their own opinions and I think people are going to make a big deal about this.
"Is it a big deal? I don't think so. I wanted to say something and I feel like now I am ready to do it."
Daley shot to prominence in 2008 after reaching the finals of both the individual 10-meter platform and 10-meter platform synchro events at the Beijing Olympics at the age of 14.
He has since go on to establish himself as a celebrity both in and out of the diving arena, gaining over 2.4 million Twitter followers and even having his own television show in the UK, called "Splash."
His life in the public eye has not come without its problems.
Daley suffered bullying at school and was subjected to vile online abuse last year after placing fourth in the synchro event at London 2012, before bouncing back to stand on the podium in the individual competition.
He also lost his father Rob in 2011 following a five-year battle with cancer.
But Daley says his announcement would not have been a problem for his father, although he does concede there have been "mixed opinions" within his family.
"People think: what would your dad say? He always said to me, 'As long as you are happy, I'm happy.' And right now I couldn't be happier.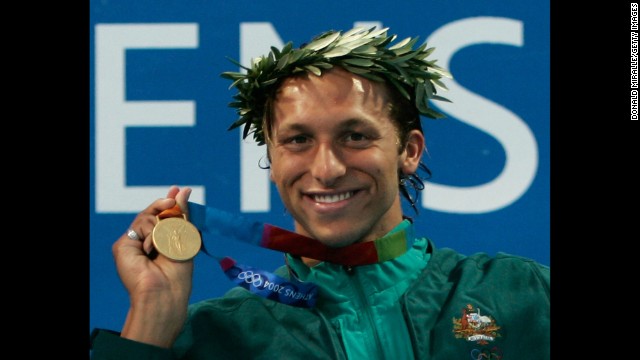 Swimmer Ian Thorpe, seen here in 2004 with one of his five Olympic gold medals, told an Australian news outlet that he is gay in an interview that aired on Sunday, July 13. Click through to see other openly gay athletes.
Former Missouri defensive end Michael Sam told ESPN and The New York Times that he is gay on February 9. Sam later became the first openly gay player to be drafted by a NFL team when he was taken by the St. Louis Rams in the seventh round.
Robbie Rogers became the first openly gay male athlete to play in a professional American sporting match when he took the field for Major League Soccer's Los Angeles Galaxy during a match against the Seattle Sounders on May 26.
"I didn't set out to be the first openly gay athlete playing in a major American team sport. But since I am, I'm happy to start the conversation," NBA player Jason Collins said in a Sports Illustrated article.
Sheryl Swoopes, a retired WNBA star and coach of the Loyola University Chicago's women's basketball team, came out in 2005.
Brittney Griner, selected No. 1 in the 2013 WNBA draft by the Phoenix Mercury, is openly gay.
In an exclusive interview with CNN, former San Francisco 49ers player Kwame Harris came out as gay after rumors circulated in the media.
Rugby player Gareth Thomas of Wales spoke about being gay to a British news channel in 2009.
Justin Fashanu became the first openly gay soccer player in Europe when he came out in 1990. Eight years later, he took his own life.
Tennis great Martina Navratilova came out in 1981.
After his retirement in 2007, basketball player John Amaechi announced he was gay.
After retiring from professional football in 1972, David Kopay acknowledged to the Washington Star that he was gay.
Villanova University's Will Sheridan came out to his teammates in 2003.
In 2012, U.S. women's soccer player Megan Rapinoe confirmed in Out magazine that she was a lesbian.
Champion figure skater Johnny Weir confirmed in his 2011 memoir, "Welcome to My World," that he was gay.
Australia's Matthew Mitcham came out in an interview with the Sydney Morning Herald in 2008.
In 2012, Orlando Cruz became the first active professional fighter to publicly announce that he was gay.
Openly gay British dressage rider Carl Hester helped his team win gold at the 2012 Olympics.
English cricketer Steven Davies announced he was gay in 2011.
Germany's Judith Arndt won the silver medal in cycling at the 2012 Olympics.
Billy Bean, a former Major League Baseball player, discussed being gay in a 1999 New York Times article.
Tennis legend Billie Jean King was outed by a former female partner in 1981.
In 2002, professional football player Esera Tuaolo came out on HBO's "Real Sports."
French tennis player Amelie Mauresmo came out in 1999.
Greg Louganis, who won four Olympic golds for the United States during his diving career, has been openly gay since 1995.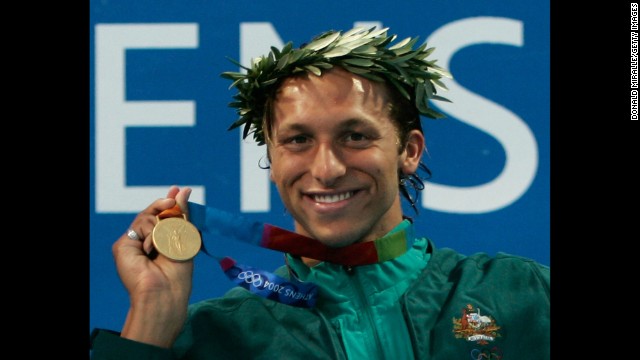 Photos: Openly gay athletes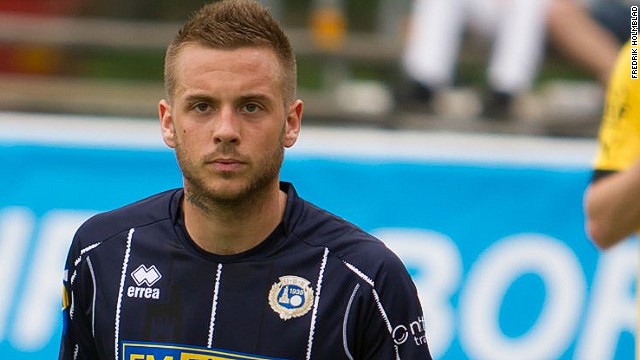 In 2011, Anton Hysen became only the second active footballer to come out as being gay -- more than 20 years after Justin Fashanu did so. While Fashanu was a high-profile star in England, Hysen plays in Sweden's lower leagues.
Hysen supported a campaign asking players to wear rainbow-colored laces to promote awareness of homophobia in football. However, Fulham's David Stockdale (pictured) was one of the few players at British clubs who took up the invitation.
Former United States and Leeds United striker Robbie Rogers used his website to announce he was gay earlier in 2013 -- but then promptly retired from football at the tender age of 25. However, just months later he returned to the game with Major League Soccer team Los Angeles Galaxy.
England international striker Fashanu, the country's first £1 million black footballer, could not live with the scars of his revelation. He committed suicide in 1998.
Former NBA player John Amaechi, who was raised in Britain, broke barriers as the first professional basketballer to announce he was gay in 2007. He made the revelations in his autobiography after retiring from the game.
Jason Collins of the Washington Wizards became the first active NBA player to announce that he is gay on April 29, 2013. The 34-year-old was made a free agent in July but said he wanted to continue playing.
Sport's biggest lesbian star is 18-time grand slam tennis champion Martina Navratilova, who announced she was gay shortly after gaining U.S. citizenship in 1981. Her revelation came relatively early in her career and she went on to win many more titles.
American four-time Olympic gold medallist Greg Louganis came out as gay when he was diagnosed with HIV in 1988. He told CNN's Piers Morgan in 2012 he believes in "equal rights for everybody."
Former Wales rugby union captain Gareth Thomas described the conflict between his sport and his sexuality when he came out in 2009, telling the Daily Mail newspaper: "It is barbaric. I could never have come out without first establishing myself and earning respect as a player."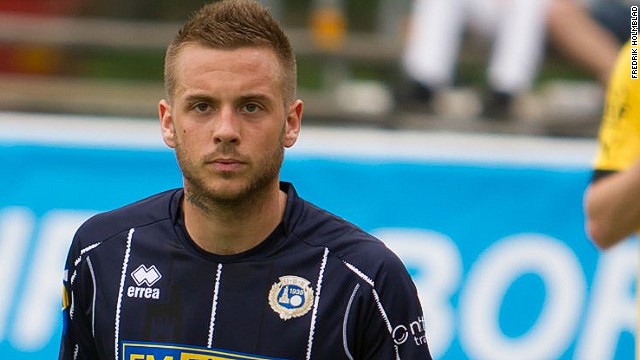 Gay sports stars
"My mum (Debbie) has been so supportive as well. All the friends and family I have told have been so supportive, which has been great.
"I told the rest of my family today, and let's just say they had mixed opinions. Lots of them did not believe it. Lots of them wanted me to keep it quiet.
"I didn't want to get my words twisted. I wanted to put an end to all the rumors and speculation, and just say it and tell you guys. It's what I want to do.
"My friends and family are always there to support me. And I hope you guys can be too. I mean I'm still Tom, I still want to win an Olympic gold medal in Rio 2016 for Great Britain. I am still as motivated as ever to do that. It would be great to have you guys on that journey, too."
Daley will now head to Houston, Texas, for the Team GB training camp until Christmas.
He follows other leading divers in making a public statement about their sexuality.
Australia's Matthew Mitcham announced he was homosexual before he won gold in Beijing, while four-time Olympic champion Greg Louganis came out as gay after quitting the sport in 1995.
Read: Gay athlete promises openly defiant stance at Games
Read: Hysen says gay soccer players want to come out
Read: U.S. soccer star comes out as gay