These shoes were made for ... traveling
updated 4:36 PM EST, Fri November 29, 2013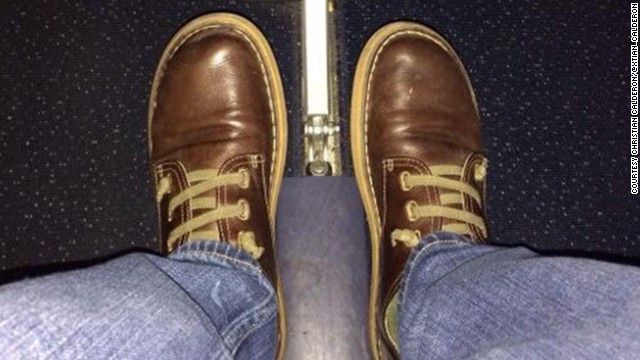 Enough with the selfies of your face. We want to see what's on your feet. We asked holiday travelers to tweet their airport footwear choices using #ATL24.
Christian Calderon
Tweeted these lace-up lookers en route from Atlanta to Fort Lauderdale-Hollywood International airport.
world's busiest airport
, TGU bound," tweeted
Ana Melgar
from ATL on the way to Toncontin Airport in Honduras.
"My #travelshoes at
Angela Schroeder
-- and companion -- were headed. Gone are the
stacked heels of summer travelers
; now it's about warmth -- and style.
Cleveland to Nebraska to Iowa! That's where
Cindy Hughes Lynch
sports cozy Dansko clogs for her hop from New York's JFK to ATL.
Cheryl Levy
shared these sunny sneaks en route from Dallas to Austin, Texas.
@TheBrandonJ
made the long haul from Richmond to Orlando to Phoenix.
@joshua_sj
made the jump from Abu Dhabi International Airport to Berlin's Tegel Airport in these glowing sneakers.
Globetrotter
@katieamazeballz
and this fuzzy creature made their way from Los Angeles to Detroit.
Rebekah Michaels
tweeted that she's logged "400,000+ miles in the Vibram Five fingers!"
The airport trek
The airport trek
The airport trek
The airport trek
The airport trek
The airport trek
The airport trek
The airport trek
The airport trek
The airport trek