Argentina threatens companies over Falklands oil drilling
updated 8:05 AM EST, Fri November 29, 2013
STORY HIGHLIGHTS
Argentina's Congress has passed a new law over oil drilling in disputed seas
Argentine law threatens jail terms, fines, confiscation
Britain: "Argentine domestic law does not apply to the Falkland Islands"
(CNN) -- Argentina intends to go after companies drilling for oil off the disputed Falkland Islands, triggering a fresh diplomatic row with Britain.
The Latin American country's Congress passed a law Thursday threatening "criminal sanctions" on companies and individuals involved in "the illegal exploration" of hydrocarbons in the area, the Argentine Embassy in London said in a prepared statement.
"The law provides for prison sentences for the duration of up to 15 years; fines equivalent to the value of 1.5 million barrels of oil; the banning of individuals and companies from operating in Argentina; and the confiscation of equipment and any hydrocarbons that would have been illegally extracted," it said.
In response, the British Foreign Office said: "The UK government unequivocally supports the right of the Falkland Islanders to develop their natural resources for their own economic benefit.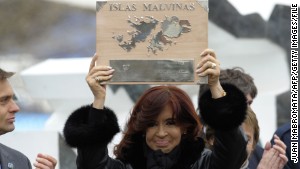 Argentina still fighting for Falklands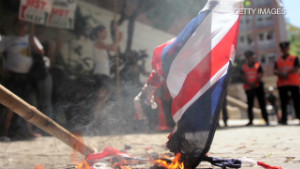 2012: CNN Explains: Falkland Islands
"Argentine domestic law does not apply to the Falkland Islands or South Georgia and the South Sandwich Islands, which are UK overseas territories."
It said hydrocarbon activities by companies operating on the continental shelf of the Falkland Islands were regulated by legislation of the Falkland Islands government and in accordance with the United Nations Convention on the Law of the Sea.
The Argentine Embassy said it had already sent more than 200 letters to companies directly or indirectly involved in drilling activities, warning that they are "liable to administrative, civil and criminal actions in accordance with the laws governing such activities, including environmental protection laws."
Argentina and Great Britain went to war over the territory in 1982 after the then-military government in Argentina landed troops on the islands, which Argentinians call Las Malvinas.
Argentina says its death toll from the conflict was around 645. Britain, then under Prime Minister Margaret Thatcher, has reported 255 civilian and military deaths.
Earlier this year, residents of the Falklands Islands voted to remain a British overseas territory.
CNN's Claudia Rebaza contributed to this report.