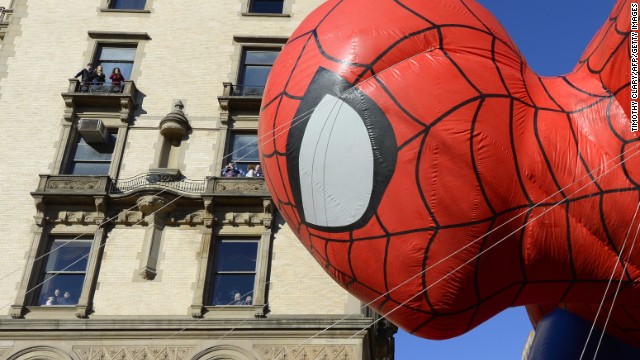 The Spider-Man balloon floats down New York's Central Park West during the Macy's Thanksgiving Day Parade on Thursday, November 28. After fears they could be grounded due to high winds, the parade's iconic balloons were given the all-clear from the New York Police Department.
A balloon depicting the "Peanuts" character Woodstock casts a shadow on a building behind spectators.
A performer on the Cirque du Soleil float fires confetti into the crowd.
A performer slides down a pole on the Cirque du Soleil float.
People peer through windows as the "Elf on the Shelf" balloon flies by.
The Lakota West High School marching band performs on Sixth Avenue in Manhattan.
Spectators watch the parade pass along Central Park West.
The Uncle Sam balloon is marched down Sixth Avenue.
A Native American performance group marches down Sixth Avenue.
Performers march in the parade.
A performer on stilts walks near a candy cane balloon.
People on the Santa Claus float wave at the crowd.
A boy waves at the Santa Claus float.
The Snoopy balloon floats down the street.
The Ronald McDonald balloon appears to give a thumbs-up to observers on a balcony.
Spectators watch the Hello Kitty balloon float by.
SpongeBob SquarePants makes his way down Central Park West.
Sonic the Hedgehog flies between Manhattan skyscrapers.
Spectators stand behind police barricades as they wait for the parade to start.
Balloon handlers prepare for the parade.
2013 Macy's Thanksgiving Day Parade
2013 Macy's Thanksgiving Day Parade
2013 Macy's Thanksgiving Day Parade
2013 Macy's Thanksgiving Day Parade
2013 Macy's Thanksgiving Day Parade
2013 Macy's Thanksgiving Day Parade
2013 Macy's Thanksgiving Day Parade
2013 Macy's Thanksgiving Day Parade
2013 Macy's Thanksgiving Day Parade
2013 Macy's Thanksgiving Day Parade
2013 Macy's Thanksgiving Day Parade
2013 Macy's Thanksgiving Day Parade
2013 Macy's Thanksgiving Day Parade
2013 Macy's Thanksgiving Day Parade
2013 Macy's Thanksgiving Day Parade
2013 Macy's Thanksgiving Day Parade
2013 Macy's Thanksgiving Day Parade
2013 Macy's Thanksgiving Day Parade
2013 Macy's Thanksgiving Day Parade
2013 Macy's Thanksgiving Day Parade
STORY HIGHLIGHTS
Lighter winds meant the balloons could fly for the Macy's parade
Roads in parts of the Northeast are still slick
Trains and planes stay on track
Black Friday becomes Black Thursday
(CNN) -- It came down to the wire, but one Thanksgiving tradition went off without a hitch.
The 16 giant balloons that are a signature of the Macy's Thanksgiving Day Parade floated serenely over Thursday's event in New York.
The balloons' use had been in question because of possible high winds, but calmer winds prevailed.
New York police, however, asked that the balloons be flown five feet lower than normal, just to be safe.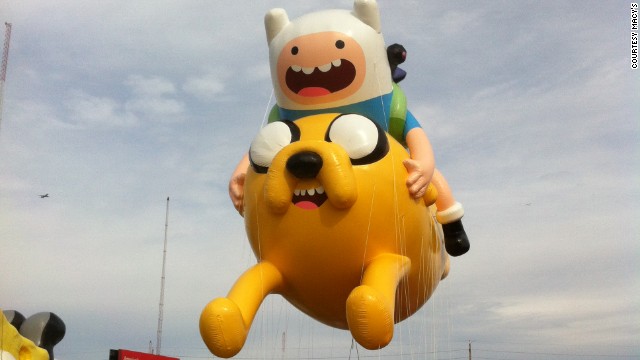 The Macy's Thanksgiving Day Parade, as much a holiday tradition as turkey, football and dinner table debates, celebrates its 87th anniversary with a host of new floats and balloons that will begin to make their way down New York City streets Thanksgiving morning. Finn & Jake from the popular Cartoon Network show "Adventure Time" will appear this year. The balloon is three stories tall and requires 90 balloon handlers. Take a look back at the other star-studded balloons that have included more than 100 of the worlds most famous characters.
While the first Macy's Day Parade took place on Christmas of 1924, the first giant balloon to debut in the parade wasn't until 1927 with Felix the Cat. Before the balloons organizers would use animals from the Central Park Zoo.
In 1929, the balloons became equipped with safety valves to allow helium to slowly seep out, allowing the balloons to be released into the air at the end of the parade. The balloons would have return address labels attached so if any viewers were lucky enough to find the balloons they would get a special gift from Macy's
Macy's designers collaborated with Walt Disney to produce the first Mickey Mouse balloon to debut in the parade in 1934. Throughout the years Macy's has produced four more versions of the famous mouse, with a more updated look in 1977, Bandleader Mickey in 2000 and Sailor Mickey in 2009.
The police have always been associated with the parade, whether they are patrolling the streets or they are a balloon. "Officer SOS 13" debuted in 1937 and was an amazingly huge representation of the dedication of law enforcement officials.
"Its a bird! Its a plane!" No, its a typical joke that is associated with the helium inflated Superman balloon that debuted in 1939. The Man of Rubber has graced the parade with three different versions of himself, also in 1966 and in 1980. The third version of himself is the largest balloon ever to appear in the history of the Macy's Parade, at 104 feet long.
Eddie who? Eddie Cantor, the "Banjo Eyes" song and dance man who had already peaked in popularity before he floated down Broadway. He is known for songs like "Makin' Whoopee," and being only the second balloon in the parade to be based on a living person. After, of course, The Marx Brothers. Cantor's balloon doesn't appear in the parade anymore, and neither do other balloons based on real people.
A parade wouldn't be the same without good ole' Uncle Sam bouncing around in the wind in 1940. Two years later, Macy's brought the parade to a halt for the first time. World War II had started and due to rubber and helium shortages, balloons were deflated and donated to the government, providing 650 pounds of scrap rubber for the war effort. The parade came back in full swing in 1945 with a record-breaking 2 million spectators lining the streets.
An elf gnome smiles at the camera in 1947. Hurray! The parade went live for the first time locally in 1946 and nationally in 1947. It first appeared on CBS, but NBC has been the official broadcaster since the 1950s. There have been a variety of hosts for NBC's coverage of the parade, including "Bonanza" star Lorne Greene, Betty White, Ed McMahon, Bryant Gumbel, "Today" host Willard Scott, Wheat Thins spokesperson Sandy Duncan, Katie Couric, "Today" anchors Meredith Vieira, Ann Curry, Matt Lauer and weatherman Al Roker.
Mighty Mouse soars above the crowd as he hogs the spotlight in his 1951 balloon debut.
Popeye's first balloon debut was marked by rainy weather in 1957. That ol' spinach-eating sailor was constructed with an indentation on the top of his hat. During the parade, the downpour filled his cap with gallons of water and caused him to veer over the crowd, where he dumped cold water all over the surprised spectators.
Donald Duck makes his second appearance in 1962.
The Sinclair Oil Dinosaur balloon looks like it is diving toward the crowd during its debut in 1963.
"There's no need to fear, Underdog is here!" flying above the crowds in 1965.
While a Kilgore, Texas, band struts its stuff, the character with the most balloons in history follows behind. Seven different versions of the Snoopy character have appeared in the parade, the first being Aviator Snoopy in 1968. Astronaut Snoopy appeared in 1972 (a tribute to Apollo 11), Skating Snoopy in 1987, Snoopy with Woodstock in 1988, Millennium Snoopy in 1999, Flying Ace Snoopy in 2006, and the seventh one will appear in the 2013 parade. He not only has the most balloons in history, he also has appeared in 32 parades, more than any other character.
A Muppet Show photo ad promotes the launch of the Kermit the Frog balloon for the 1977 parade. After a few mishaps in the 80s and 90s, Kermit went on a 11-year hiatus until 2002.
The Woody Woodpecker balloon makes its first appearance during the 1982 parade. This was the first year since 1927 that the Goodyear Tire and Rubber Co. in Akron, Ohio, did not make the balloons for the parade. During 1981 to 1982 the Bob Kemp of Kemp Balloons was assigned the task of producing and maintaining the balloons, thus the Olive Oyl, Woody Woodpecker and Yogi Bear balloons were born.
Garfield's grin keeps getting wider as technicians pump helium into the big balloon at 77th Street and Central Park West. Garfield was one of a group of cartoon characters being readied for the 58th annual parade in 1984.
A large crowd got an advance look at the new character, Woodstock, who sashayed through midtown in the 62nd Macy's parade.
Bugs Bunny levitates over the Great Lawn in Central Park. The big balloon was given a trial run before it's debut at the Macy's Parade in 1989.
"Cowabunga!" Bart Simpson skateboards down Broadway, making his debut in 1990. In 1993 "El Barto" split his seams due to the extremely windy conditions.
Izzy, the mascot for the 1996 Olympic Games in Atlanta, got his day in the sky in the 1995 parade, carrying the Olympic torch.
Blue from "Blues Clues" rides high above the marchers in the 73rd parade in 1999.
The Ask Jeeves balloon casts a reflection in a Times Square window during the 74th annual parade. Jeeves was the mascot for the search engine Ask.com, then known as "AskJeeves" that launched in 1997.
"Pikachu, I choose you" to float over New York in its first appearance in the Macy's parade in 2001. The loveable Pokemon wasn't the only balloon to debut that year. Curious George, Big Bird, Jimmy Neutron and Cheesasaurus Rex glided their way above the crowds.
Everybody's favorite sponge, SpongeBob Squarepants, left his pineapple home in the sea to attend his first Macy's parade in 2004.
The Scooby-Doo balloon hangs over Central Park West as it is pulled through the parade in 2005.
Buzz Lightyear floats down Broadway at the 82nd parade in 2008.
The Pillsbury Doughboy balloon hovers over Manhattan highrises during the 83rd parade. The 2009 parade route changed for the sixth time in parade history, and it was the first time it did not travel through Broadway on it's way to Macy's flagship store on 34th Street.
"B," designed by Tim Burton, floats during its first appearance in the Macy's Parade in 2011.
The Macy's parade reveals its star elf, the Elf on the Shelf, which was created by Keith Lapinig of Queens, New York, for the Nationwide Contest to Design an Elf Balloon for the 85th Anniversary of the Macy's parade in 2012. Following approximately 1,000 entries on Macy's Facebook page, the general public voted for their favorite out of 85 best submissions.
Also brand new to the scene, Toothless from "How to Train Your Dragon" will debut in the 2013 parade. Toothless is four stories tall, as long as 12 bicycles, as wide as seven taxi cabs and requires 90 handlers.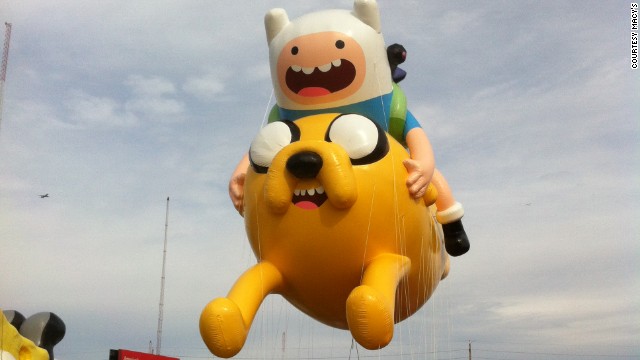 History of Thanksgiving parade balloons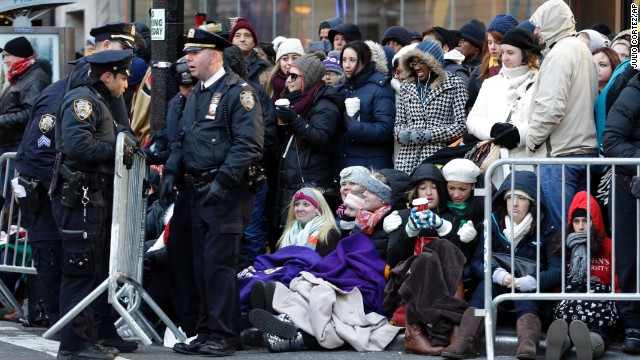 Police officers adjust a barricade as people wait in cold weather along the route of the Macy's Thanksgiving Day Parade on Thursday, November 28, in New York.
Passengers wait for a BoltBus to arrive during a light rain on Wednesday, November 27, in New York. A wall of storms packing ice, sleet and rain threatened to suspend holiday travel plans as millions of Americans took to the roads, skies and rails.
The Snoopy balloon for the Macy's Parade is partially inflated on Wednesday, November 27, in New York. High winds threatened to keep the balloons on the ground during Thursday's Macy's Thanksgiving parade. A colossal storm system that began in California complicated Thanksgiving travel plans all the way to the Atlantic, causing many transportation delays.
An employee signals a plane out of the gate at Ronald Reagan National Airport outside of Washington on Tuesday, November 26.
Travelers wait in security lines at Reagan National Airport on November 26.
Vehicles pick up passengers in heavy rain at Reagan National Airport on November 26.
A pedestrian walks through snow showers along Penn Ave in Pittsburgh on November 26.
Mark Swigart uses a leaf blower to remove snow from the sidewalks November 26 in Pittsburgh.
Holiday travelers make their way to their car on November 26 after arriving at Pittsburgh International Airport.
People walk in the rain through Union Square in Manhattan on November 26. New York was bracing for severe weather as the storm made its way east.
Employees at Dallas-Fort Worth International Airport de-ice a plane before departure on Monday, November 25.
A fallen tree is removed from a car in Odessa, Texas, on November 25.
A plow and sanding truck heads up Paseo del Norte in Albuquerque, New Mexico, on Sunday, November 24.
Cars slide on Paseo del Norte in Albuquerque on November 24.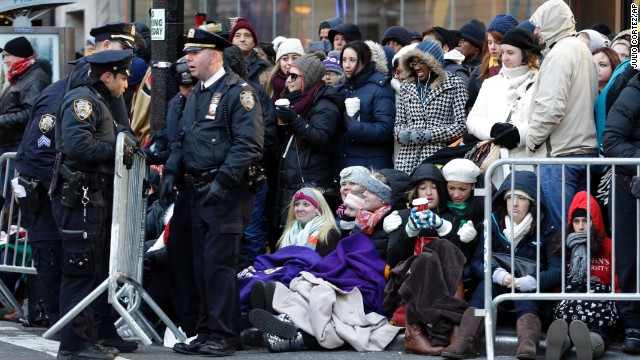 Photos: Weather threatens holiday plans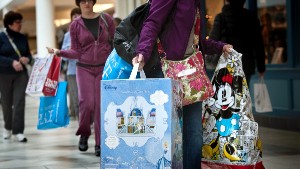 Working on Thanksgiving -- Do or Don't?
Some worried before the parade that they wouldn't get to see the famous balloons.
"We came all the way from Puerto Rico to see the parade, so it will be a disappointment if we can't see the balloons," said Jose Ramirez, who was in New York with his family.
The same goes for the Mastandano family.
"They have to fly," said Joely Mastandano. "Somebody has to make them fly."
Parade officials had good reason for being cautious.
In 1997, a woman spent more than three weeks in a coma after the Cat in the Hat balloon -- tossed by heavy winds -- struck a pole that hit her. In 2005, two other people were hurt in a similar incident involving the M&Ms balloon.
Wind gauges will line the route to make sure it's not too breezy, according to New York Police Commissioner Ray Kelly.
"We have a sergeant assigned to each of the balloons," Kelly said. "They can be lowered all the way to the ground."
It's Thanksgiving
Forecasters had predicted major delays as people traveled for the annual holiday, but the big, scary storms they spoke of didn't quite materialize.
Except for a few areas where heavy snow fell, this week's wintry storm system was more of a nuisance than anything to most Americans.
Early reports had us thinking flights would be stranded and roads too slick to travel on, especially in the Northeast.
Not quite.
Cold weather and blustery winds are the leftovers from this storm.
Faring well
Planes and trains fared well as the storm slipped to the north. No major delays were reported.
That was good news for people like Latasha Abney, who joined the more than 43 million Americans expected by AAA to travel over the Thanksgiving holiday weekend.
Abney said Wednesday that she arrived more than two hours early at Washington's Reagan National Airport to catch a flight to New York's JFK on Wednesday.
"Security was a breeze," she said. "I walked right up, the TSA agent checked my info ... Happy Thanksgiving!!!!"
#ATL24: A day in the life of the world's busiest airport
Amtrak reported no major delays across its system. Using the weather as a marketing tool, the nation's rail system was adding seats on some routes.
"Rail travel remains one of the most reliable and comfortable transportation options, especially in weather conditions that negatively impact other modes," Amtrak said.
5 healthy eating tips for holiday travelers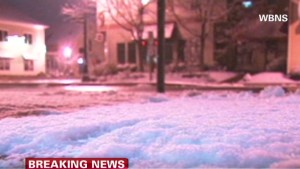 Storm threatens holiday travel
Deadly roads
Although planes were in the air and trains were on track, automobiles were having a tougher time on the northern fringes of the nation.
Up to a foot of snow fell in parts of Pennsylvania, and it was falling from upstate New York into Canada, where more than a foot was possible. Snow also continued to fly in the central Appalachians and around the Great Lakes as cold air moved in and produced lake-effect snows.
Road conditions were not great in much of the Northeast.
Over the last week, 12 people died, most of them in car crashes, as the storm system iced roads from the Rockies to Texas and Oklahoma. More than 100 vehicles ended up in wrecks.
Storm prompts airlines to relax travel policies
Black Friday, or is that Thursday?
Travel? Check. Turkey? Check. Now it's time to shop.
All the buzz is about Black Friday, at least for serious shoppers.
But it's a bit of a misnomer. More and more, Black Friday is becoming Black Thursday.
Kmart is the early bird with a 6 a.m. opening, and will stay open 41 straight hours.
"People don't just want to sit at home all day on Thanksgiving. They want to get out and do things, shop," said Bill Bonsor, the Kmart store manager in Mableton, Georgia. "It's just evolved into a bigger shopping day -- almost as big a shopping day as Black Friday."
Other retailers like Toys R Us, Walmart, Macy's, Kohl's, J.C. Penney and Sears wait until Thursday evening to open their doors.
Electronics are again popular "doorbuster" items. Look for specials on TVs, Kindles, iPads and other tablets.
Not wanting to miss out on such deals, some folks had already pitched tents outside the Best Buy in Burbank, California, on Wednesday.
"It's mainly for the experience," said Gabbie Slayton. "Because it's been a tradition for six years."
A passerby chastised the group for not being home with their families, but Tim Gaze defended the outing.
"So, you're focused on your family, and, if your family all comes to shop, then that's fine."
Gobble, gobble and Happy Thanksgiving.
CNN's Jason Carroll, Ben Brumfield, Dave Hennen, Aaron Cooper, Alexandra Field, Shannon Travis and Greg Botelho contributed to this report.