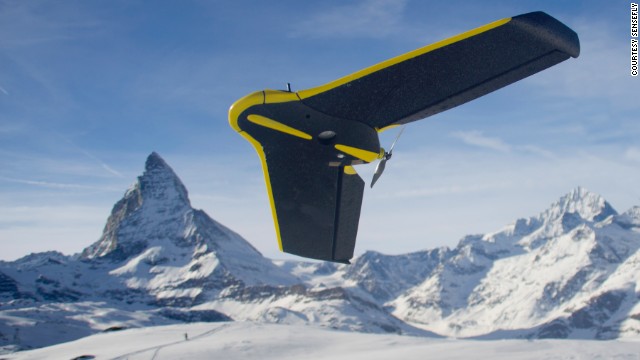 Christmas is coming!
From a clownfish-shaped blimp to a mountaineering surveillance aircraft -- take a look at the flying robots that could deliver themselves down chimneys this year.
Price: Around $49.99
The Drop Strike toy gives military drones a run for their money with the ability to drive, eject from its chassis, fly away and launch (toy) missiles.
Price: Around $29.99
Looking for something a bit more delicate? How about a flying fairy that you control by moving your hand underneath it. It's high tech in shiny pink packaging. Toys 'R' Us and the UK Toy Retailers Association have named it as one of their hottest toys in 2013.
Price: Around $24.99
Robot pets are top of kids' wish lists this year, says world-renowned British toy retailer Hamleys. But isn't a robo-pet just an inferior substitute for the real deal? Not when it's a 4½ foot flying remote-control clownish filled with helium. Also comes in killer whale, shark, bass and Angry Birds editions.
Price: Around $299.99
A true big-kids' toy, the Parrot Drone is a quadcopter controlled using any iOS or Android smartphone or tablet. It can record and stream HD video straight from the Drone to your screen. Home movies this Christmas just got extreme.
Price: Around $1,199
Hoping to go one better, DJI's flying machine boasts 1080p video (to Parrot's 720p) and a 14 megapixel still camera. The vehicle's controller clips to your smartphone, allowing the phone to act as an in-flight computer, showing the display from the Phantom, plus vital stats including air speed, altitude and flight distance. It's not cheap, though.
Lil' Draganflyer Plus - Price: Around $129.95. X-6: Price: Around $12,000.
One of the oldest names in consumer micro air vehicle technology, Draganflyer produces toys for kids and parents. The micro-sized Lil' Draganflyer Plus can host accessories including a camera, missile launcher, water cannon, hook and basket, and bubble blower. The big Draganflyer X-6 can shoot professional quality video. Strictly for techies who don't mind breaking the bank.
Price: Around $12,000
OK -- so this one definitely isn't a stocking filler. But if you want to seriously impress the U.A.V-lover in your life, this fixed-wing vehicle can fly at speeds of over 50km/h, and cruise for over 45 minutes, capturing aerial photography with its 16MP camera. SenseFly recently showed off what the eBee was capable of by mapping a mountain in a few hours, revealing the paths down from the snowy peak of the Matterhorn.
Flying robots for Christmas
Air Hogs Drop Strike
Flying Fairy by Flutterbye
Air Swimmers eXtreme Giant Flying Clownfish
Parrot AR.Drone 2.0
DJI Phantom 2 Vision
Draganflyer
SenseFly eBee