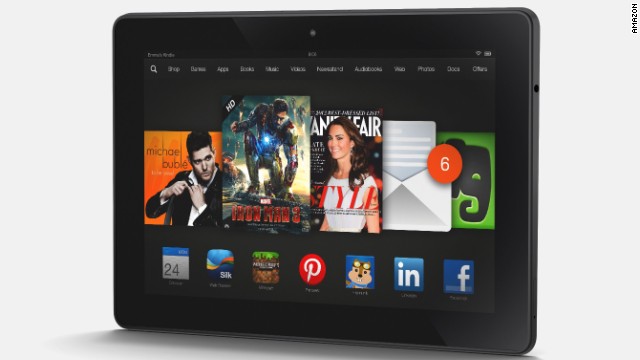 Kindle Fire HDX.
OK, so the Kindle Fire HDX is a tablet and therefore familiar. But it comes with something unfamiliar: a
human tech support representative
available at the touch of a button. This could be the tablet for your tech-unsavvy relatives. (Amazon.com, $229-309 depending on memory size)
Nest Protect smoke alarm. From the company that brought you the smart thermostat comes a rethinking of another home necessity: a smoke alarm and carbon monoxide detector. Instead of shrieking beeps, the Nest Protect offers remote access, chimes and an urgent voice. It's a touch of "civility," The New York Times said. Also, it knows the difference between a raging fire and burnt toast. ($129)
Google Chromecast.
Yes, it's basically a glorified thumb drive that fits in one of your HDTV's HDMI slots. But it
promises a great deal
. After plugging it into a TV, you can send the bigger screen videos over Wi-Fi from your smartphone or tablet. Moreover, it supports Netflix, Hulu Plus, Pandora, YouTube, Google Play and now HBO Go -- and it's cheap. As more people cut the cord, Chromecast may be their choice. ($35)
FINIS SwiMP3 Neptune. The idea of a waterproof MP3 player isn't new -- there's even a waterproof iPod -- but one that doesn't use conventional headphones remains unusual. The FINIS Neptune, an update of its SwiMP3, transmits sounds through your cheekbones to the inner ear. It includes 4GB of memory and an integrated OLED display. Waterproof to 10 feet. ($159.99)
Romo smartphone robot.
Back in the '90s, there was a big fad for Tamagotchis, little LCD "pets" that required owners to hit buttons to provide care. The latest twist on digital friends is the
Romo robot
. Simply take an iPhone and put it in the slot of Romo's moving base, and it comes alive. Over time Romo adjusts to its owner's behavior and can even communicate long-distance. The product has won a number of awards and accolades -- which should make it smile. ($149.99)
Goal Zero Nomad solar panels. Portable solar panels have become a mainstay of hikers and mountaineers, and Goal Zero offers a variety of sizes and wattages. The 20-watt model, for example, folds up small, weighs just 2½ pounds and is strong enough to power a laptop. (Batteries are required to store charges.) ($199)
Bare Conductive Electric Paint.
Think of it as
"liquid wiring."
BarePaint can be drawn on a variety of surfaces with just a pen, and when it dries, it will conduct electricity. It's not a new idea, but the product is more flexible than industrial versions and nontoxic. Light it up! ($24.95 for 50ml of paint; $9.95 for a 10ml pen)
iTwin Connect personal VPN. One of the problems of using public Wi-Fi is that it's, well, public. That means your information might be exposed when you're online in your local coffee shop. Enter the iTwin, which plugs into a USB slot and encrypts all of your data by running it either through iTwin's servers -- or your own network, even if that's in a different city. Instant privacy. ($99)
Fitbit Flex.
Fitbit's wellness-tracking hardware has become de rigueur for fitness junkies since its introduction five years ago. The
latest addition to the lineup
is the Flex, a wristband that tracks movement 24/7, including your sleep. Sync it up with your computer or smartphone and see how you're doing. About the only thing it won't do is your exercise routine. ($99.95)
Narrative Clip lifelogging camera.
Who needs a journal? The Narrative Clip (formerly known as Memoto) is a small (about 1.5 inches square) wearable camera that shoots a single geotagged frame every 30 seconds. It holds about 4,000 frames. Download them and there you are -- your every waking moment. The company raised more than a half-million dollars on Kickstarter and is now taking orders. (Available through
getnarrative.com
, $279)
Epishock travel speaker.
What's that? Want to blow out a party but you left your Cerwin-Vegas in your other jacket? Perhaps you should try the Epishock. About the size of a camera lens, the Epishock produces
big sound when placed on a flat surface
. Simply plug it into an audio device, place it on a table, and voila! Instant tunage. ($44.99)
Mophie Juice Pack Air, PRODUCT (RED) edition.
We've all been there. It's been a long, energy-sucking day, and your iPhone is out of power. The Mophie Juice Pack Air is both a case and battery pack that can double battery life. Some funds from sales of the PRODUCT (RED) edition
go to AIDS research
. It's a winning combination all around. ($79.99-119.99, depending on specs)
GoPro Hero3 camera.
The GoPro has already become a must-have for photographers and thrill-seekers who want to capture first-person views of their lives. The latest model, the
GoPro Hero3
, comes in three versions (depending on memory size and features) and is just as versatile as ever. Just check out
CNN's #atl24
, which used GoPros for a variety of shots showcasing airport activity. ($199 and up)
Sennheiser Momentum On-Ear.
Headphone reviews are subjective. We know that. Nowadays, there's not only sound quality and price points to consider but stylishness, too. Sennheiser Momentum On-Ear headphones satisfy on a number of levels. They've gotten
great reviews
, look terrific and have a price competitive with those designer cans you see on the street. Worth a listen. ($229.95)
iKettle
. Sure, you can fill a pot with water and let it heat up on the stove. But where's the fun in that? The iKettle will wake you up, boil your water and do it all remotely. Sure, it's more expensive than standard kettles, but that's a small price to pay for a product that "may cause you to fire your butler/maid and throw away your alarm clock," in the words of its promotional material.
(Available through Firebox
, $160.79)
Great gadgets for the holidays
Great gadgets for the holidays
Great gadgets for the holidays
Great gadgets for the holidays
Great gadgets for the holidays
Great gadgets for the holidays
Great gadgets for the holidays
Great gadgets for the holidays
Great gadgets for the holidays
Great gadgets for the holidays
Great gadgets for the holidays
Great gadgets for the holidays
Great gadgets for the holidays
Great gadgets for the holidays
Great gadgets for the holidays