STORY HIGHLIGHTS
Rory McIlroy says pressure in sports is leading to increase in stress-relates illnesses
England cricketer Jonathan Trott left the Ashes series this week citing a stress-related illness
McIlroy says it shows the mental toll sport can take on athletes
The Northern Irishman was speaking ahead of this week's Australian Open in Sydney
(CNN) -- Rory McIlroy is well versed to talk about the pressures the modern day sport star faces.
As a former world No.1 golfer and one half of a sporting super couple -- with tennis ace Caroline Wozniacki -- the Northern Irishman knows all about living in the full glare of the media spotlight.
So perhaps it is not surprising that the two-time major winner has warned that as the global interest in sport increases, so will players have to deal with the type of stress-related illness that prompted England cricketer Jonathan Trott to pull out of the Ashes tour.
Trott's decision to come home from Australia has prompted a debate about the relentless schedule of many sports and the support on offer to players if they succumb to mental health issues.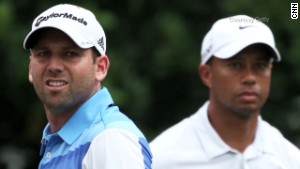 Garcia sorry for 'fried chicken' slur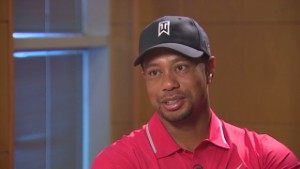 Tiger Woods' nickname: Urkel?
"It's sad to see something like that happen and it just shows what a mental toll sport can take on you sometimes," McIlroy told reporters at Royal Sydney, ahead of this week's Australian Open as he talked about Trott's decision to leave the tour.
"Hopefully he gets home and spends some time with his family and recovers and can come back.
"As sport becomes so big and there's so much pressure and so much on the line, it's becoming more and more common that these sorts of stress-related illnesses are happening and it just shows how much of a mental toll it takes on you sometimes."
The rivalry between the England and Australia cricket teams is one of the oldest and fiercest in world sport, with the players often exchanging insults on the pitch -- a practice known as "sledging."
The sledging in the current series, which Australia lead 1-0 after winning the first Test match in Melbourne, saw Australia captain Michael Clarke fined for a barb aimed at England bowler James Anderson.
Read: Tears of joy for World Cup winner Day
"I think the sledging this year has probably been a bit worse than other years as well," said McIlroy. "It looks like they're just having a go at each other after every ball ... it would be really tough to take that for however long you're out there for.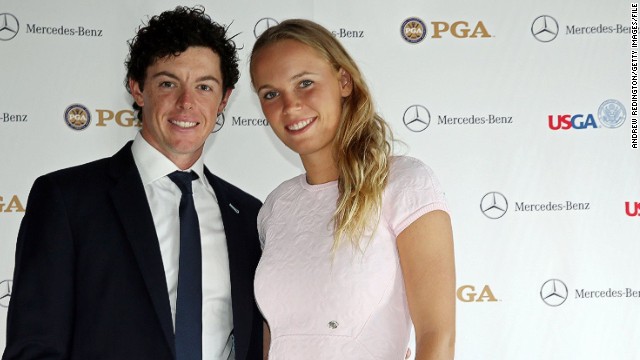 It's official -- double major winner Rory McIlroy and former world No. 1 Caroline Wozniacki are no more. McIlroy says he realized he wasn't ready for marriage when their wedding invitations were mailed out. When it comes to sport, the path of true love rarely runs smooth and in this gallery, CNN looks at sporting couples who have aced their relationships and those who have seen their private lives hit the rough.
American lovebirds Jimmy Connors and Chris Evert won both singles titles at Wimbledon in 1974 and were engaged, but by the time the grass-court grand slam came around in 1975 the wedding was off. Decades after splitting from the eight-time grand slam champion, Evert swapped the tennis court for the golf course...
After the break up of her marriage to British tennis player John Lloyd in 1987 and a divorce from Olympic skier Andy Mill in 2006, Evert tied the knot with Australian golf star Greg Norman. But it would not be a case of third time lucky for Evert as the pair separated in 2009 after 18-months.
Adam Scott followed in the footsteps of his hero Norman by sparking a golf and tennis romance of his own in 2010 with Serbia's Ana Ivanovic. The pair split after both saw their form suffer, before unsuccessfully reuniting in 2011. Scott captured the first major title of his career at the Masters in 2013.
When Australian Lleyton Hewitt began a romance with fellow tennis ace Kim Clijsters in 2000, the former world No. 1's country took the Belgian to their hearts. She was dubbed "Aussie Kim" and it looked like they were set to live happily ever after when a wedding was scheduled. The pair split in October 2004, but Clijsters would still find her happy ending...
Now retired, Clijsters is happily married to former American basketball player Brian Lynch, with whom she has two children.
Like Clijsters, Maria Sharapova found love on the basketball court. The four-time grand slam winner got engaged to former Los Angeles Lakers star Sasha Vujacic, before ending her relationship with the Slovenian in 2012. She is now dating fellow tennis star Grigor Dimitrov.
Radek Stepanek of the Czech Republic knows more than most about the trials and tribulations of a tennis fling. He was engaged to marry former world No. 1 Martina Hingis before the two called off their nuptials in 2007.
Undeterred, Stepanek started a second tennis fling with compatriot Nicole Vaidisova and the couple married in June 2010, but subsequently announced they had filed for divorce. Stepanek has since dated 2011 Wimbledon champion Petra Kvitova but they split in April.
Tennis super stars Andre Agassi and Steffi Graf are living proof that sporting couples can go the distance. The former world No. 1s married in 2001 and have two children together.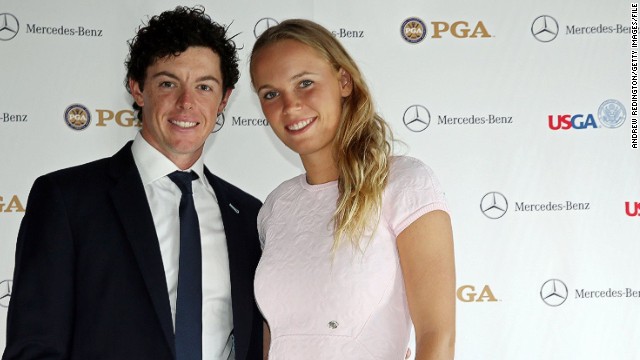 Courting romance: Ups and downs of tennis love affairs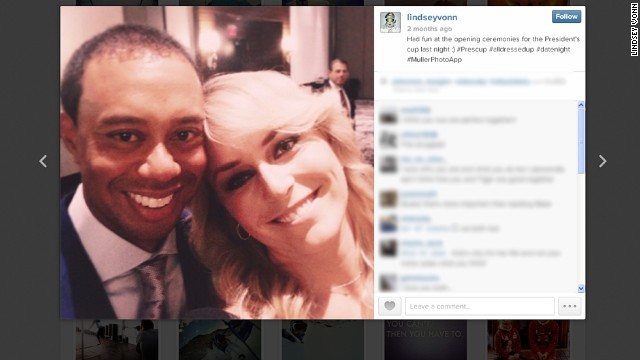 It's official, selfie is the global word of 2013 according to the Oxford Dictionaries. The global craze for taking photos of yourself at every available opportunity continues unabated, and sports stars are no exception. So is this the ultimate sporting selfie? Champion skier Lindsey Vonn uploaded this snap of herself with boyfriend Tiger Woods -- the world's No. 1 golfer -- at October's Presidents Cup.
Vonn isn't shy when it comes to a selfie. The U.S. Winter Olympic gold medalist took this picture of herself doing what she does best -- taking to the slopes.
Not to be outdone by his golf and skiing counterparts, six-time grand slam winning tennis star Novak Djokovic uploaded this picture of him and his fiancee Jelena Ristic to his Instagram account.
When it comes to selfies the Brazilian football team take some beating. This photo of Brazil and Barcelona forward Neymar (far right), accompanied by (left to right) Thiago Silva, Dani Alves and Robinho, was taken when the Brazil squad were in Miami.
David Luiz is another member of the Brazil team who can't resist a selfie. The Chelsea defender even took a snap from his hospital bed after undergoing surgery on a broken nose in July.
Mario Balotelli is a footballer who has developed a huge following on social media for his on-field skill and off-field antics. The AC Milan striker's Instagram account features photos of him with his pet pig, named "super pig" as well as this surprisingly serene self portrait.
Lolo Jones is the darling of social media, with the former U.S. Olympic sprinter never afraid to strike a pose on Twitter or Instagram. This photo, displayed on her Instagram account, shows Jones in training with the U.S. bodsled team ahead of the Sochi 2014 Winter Games.
Here is a more traditional selfie from Sabine Lisicki. The German tennis ace snapped this on her way to the London 2012 Olympic Games.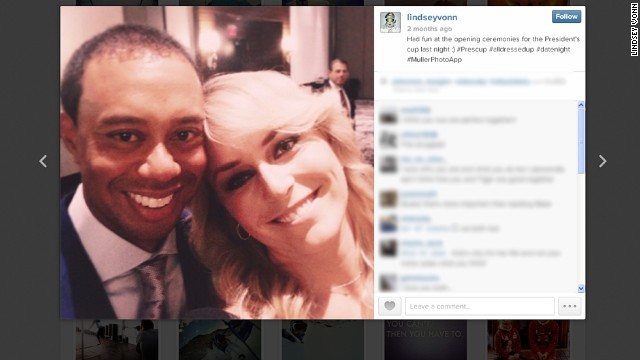 Sporting selfies
"They seem to really get at each other's throat whenever they're in there."
For McIlroy, 2013 has been a frustrating year.
Since switching to playing with Nike clubs, he has struggled to recapture the form which saw him win four PGA Tour and two European Tour events in 2012 as well as the PGA Championship.
"It's been a long year, I guess mentally more than physically," said the world No. 6.
"Physically, golf doesn't take that much out of you but mentally it's quite draining, especially this year for me, not just the golf and being frustrated with my game but having to answer the questions and having to come up with reasons why I'm not playing well and all that stuff."
McIlroy will hope to end the year with a win, but he is up against a strong field in Sydney featuring world No. 2 and home-crowd favorite Adam Scott.
"I've said for the last couple of months I just wanted to try and finish this season strongly and get some momentum to go into 2014," added the 24-year-old McIlroy.
"This would be the perfect place to get that first win of the year and give me a sort of springboard into the next season."
Read: Sergio Garcia learned from 'horrible' Woods slur